News
Star Wars: Daisy Ridley Not Sure She'll Play Rey After Episode IX
Daisy Ridley reveals that she doesn't have plans to play Rey beyond the Sequel Trilogy.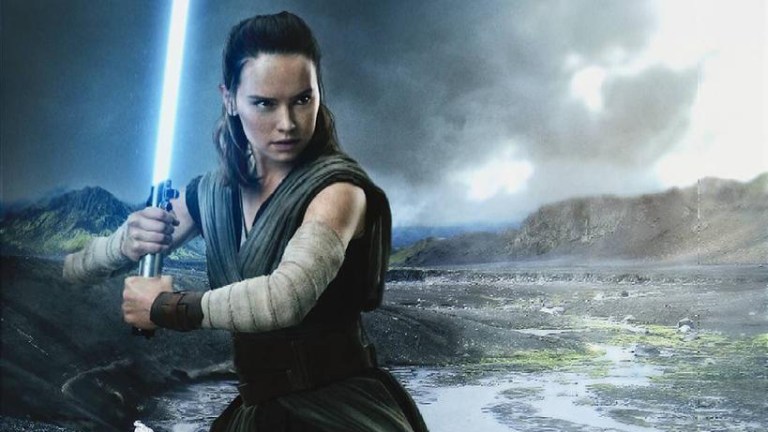 Star Wars Episode IX might mark the end of Rey's story, if a Rolling Stone interview with Daisy Ridley is any indication. The actress expressed in her chat with the magazine that she may be headed for the exit after the final installment in the Sequel Trilogy concludes.
"I am really, really excited to do the third thing and round it out, because ultimately, what I was signing on to was three films," said Ridley. "So in my head, it's three films. I think it will feel like the right time to round it out."
Ridley later told Comicbook.com that she'd been misquoted by Rolling Stone, saying that what she meant is that she saw Episode IX as an ending in the current chapter of Star Wars and that could mean the end of her character (not that she knows what might happen to Rey in IX). 
"Misquoted. I was misquoted," said Ridley. "I was asked — by the way, at the end of a very long day, at the end of a very long shoot — I was asked how I felt going forward. And I said, in my mind, the story finishes at Episode IX."
"Obviously, Rey will always be Rey… and obviously I don't know what happens in Episode IX, or even if I'm in it," Ridley continued. "But for now I think it would be- To me, IX was always the end of this chapter. So, it's not me going 'I don't want to.' It's just that's what I always pictured."
Either way, Ridley won't close the door completely on more Star Wars after the Sequel Trilogy is done. She told Rolling Stone that she could be game to come back down the line after a pretty big break – perhaps 30 years down the line. 
"Who knows? I honestly feel like the world may end in the next 30 years, so, if in 30 years we are not living underground in a series of interconnected cells … then sure. Maybe. But again, it's like, who knows. Because the thing I thought was so amazing, was people really wanted it. And it was done by people who really love it."
By that point, Ridley will be 55, just the right age to get Han Solo'd in a new trilogy. Either way, there's a sense of finality in Ridley's words, like Episode IX will be a definitive end to her character's story. 
In fact, The Force Awakens and Episode IX director J.J. Abrams also told Rolling Stone that the Sequel Trilogy might mark the last part of the Skywalker story in general. 
"I do see it that way," said Abrams about closing out the Skywalker saga with Episode IX, which he was hired to direct after Colin Trevorrow (Jurassic World) was dismissed earlier this year. "But the future is in flux."
You'll probably never hear someone at Lucasfilm confirm that the Skywalker story is over, especially when the saga films make billions of dollars at the box office, but there's every indication that the Skywalkers will be taking a break after the credits roll on Episode IX. After all, there's a new trilogy on the horizon, one helmed by The Last Jedi director Rian Johnson, who's developing a story that will explore a new corner of the Star Wars universe that has nothing to do with the main saga.
In total, there are 10 more years of Star Wars movies being planned at the moment, according to a quote from Lucasfilm president Kathleen Kennedy. And while stories with Rey, Finn, Poe, BB-8, and company are being considered, Kennedy said that she's looking forward to "working with people that are interested in coming into the Star Wars world and taking us to places that we haven't been yet, and that's exciting too because it's a vast galaxy far, far away. The possibilities are endless!"
If Disney wants to continue to push Star Wars closer to the shared universe of Marvel movies, expansion is key. Telling stories outside of the Skywalker saga will be a nice way to introduce new narratives that aren't restricted by what's come before, and in that way Disney can shape a movie universe any way it wants. 
The question is how many of the characters introduced in the Sequel Trilogy will make it to this next era of films. Time will tell. For now, we have The Last Jedi, the second installment in the Sequel Trilogy, to look forward to on Dec. 15.