News
Star Wars Celebration: What We Learned at The Force Awakens Panel
Den of Geek was on the floor for the big Force Awakens reveal at Star Wars Celebration. Here's what we learned.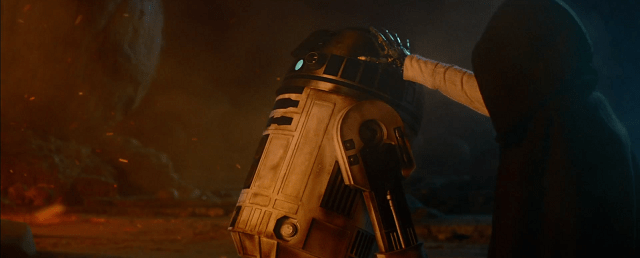 The festive panel that kicked off Celebration Anaheim revealed the next trailer for The Force Awakens, and the short glimpse of the film felt like much more than a teaser. Fans had already gotten to see the stars of the saga both new and old, as Daisy Ridley, John Boyega, Oscar Isaac, Mark Hamill, Carrie Fisher, Anthony Daniels, and Peter Mayhew took the stage along with Kathleen Kennedy, J. J. Abrams, and a battalion of stormtroopers.
The stadium adjacent the Anaheim Convention Center was almost filled with eager fans. Abrams emphasized the fact that the film will be using mostly practical effects, which got big cheers from the crowd. The trailer also revealed sweeping, effects-heavy scenes, including the Millennium Falcon darting among wreckage and a beautiful, crashed Star Destroyer nose-down in the sands of planet Jakku.
The name of that planet wasn't the only revelation about the movie. We can piece together more of the plot now: Rae, a scavenger, lives a solitary life until meeting Finn. Ace pilot Poe Dameron also has a life-changing meeting with Finn during one of Dameron's missions for "a certain princess."
The cast remained tight-lipped to some degree; J. J. Abrams jokingly hit John Boyega's shoulder when Boyega seemed about to say something regarding his character's affiliation (or non-affiliation) with the Empire.
One thing on which Abrams was not tight-lipped was his own history with Star Wars: he first saw the films at age 11, and said "11 was a great age to have my mind blown." He emphasized the fact that Star Wars made him laugh, and that it made him believe in its world. Taking the reins on The Force Awakens was "an incredibly daunting task" that he initially refused: however, Kennedy's plans for the sequels intrigued him to the point that  "It was impossible to say no."
"Star Wars is as much a Western or a fairy tale as it is anything else," Abrams said, and that more than anything seems to indicate that he gets it; gets Star Wars as allegory, as playful story with resonant messages. In regards to the special and practical effects he spoke about Star Wars feeling legitimate and authentic. Those key words were clearly felt at Celebration, where thousands of people who have already found those worlds authentic enough to inhabit, as closely as they can, for years.
"While there were moments of sheer horror," Abrams said of taking the job, "the reality is I've never had more fun in my life doing anything."
Kathleen Kennedy spoke about her now-famous recruitment of the R2-D2 builders who crafted the droids for The Force Awakens. An R2-D2 took to the stage without a mishap, as did an extraordinary BB8, its dome rolling around on a perfectly round body. The people who figured that out are certainly the kind of builders that will make the effects in The Force Awakens feel magical. Kennedy said that she was "wildly unprepared" for the level of fan creativity that she saw at Celebration in Essen, and knew that day that she needed to hire fans, specifically Lee Towersey and Oliver Steeples, from the R2 Builders Club. The duo also showed images of other droids used in the film, R5 and R6 units which will be customized to individual X-Wing pilots.
Kennedy also spoke of the need for more female characters in Star Wars, prompted by the question of what kind of character she would want to be in that universe. Options for women have been limited so far, she said, sharply, viciously classy, and noted that fans had been concerned about the appearance of only one woman in the now-iconic The Force Awakens cast photo. More, varied female characters will appear later in the Sequel Trilogy, she said. Meanwhile, there's still the possibility that Gwendoline Christie is under that chrometrooper helmet…
Hamill, Fisher, and Mayhew were gracious to the fans, with Mayhew giving an especially moving statement about the fandom that brings us all together. It will be wonderful to see the new members of the Star Wars family continue to join the old at fan events and premieres. Oscar Isaac told a story about his callback for the role as well. When he realized he had been chosen, he thought that he might not be able to do it – until he grabbed a shampoo bottle from his hotel room and made spaceship noises, flying it around, playing pretend. That he said, is what made him think he could do it. It reminded him of his own abilities, and that, I think, is another thing that is key to Star Wars. It is a remembrance, a casting back to childhood. All it takes to turn a person into an X-Wing pilot is to play pretend.
John Boyega told his own stories, of asking Harrison Ford to sign a Han Solo doll ("He was like, 'This is weird,'") and of holding off on telling his parents that he'd gotten the role. Instead, he told them he was shooting "24."
All it takes to turn pretend into action is a little organization, too. The Force for Change raised $6 million for UNICEF over the course of the program, with more coming next: Kennedy said that Force for Change will partner with UNICEF's Kid Power program, in which kids wear fitness bands that translate movement into points which UNICEF can use to supply therapeutic food to malnourished children. There's some irony in using what is potentially a weight-loss program to help those who need to be able to gain weight. Regardless, this continues the partnership that helps Star Wars fans help people in need.
Anthony Daniels summed it up well when he talked about the transformation from a "crazy little film that none of us ever thought any of you would come to see" to a legacy of fans and entertainment. The party atmosphere in the stadium ahead of J.J. Abrams' and Kathleen Kennedy's appearances marked an anticipation, but also a chance to treasure a singular moment, defined by its impermanence. We will never have that anticipation again, and that's a relief: instead, we've taken more steps into a new era for Star Wars.