Features
Star Wars Blaster Canon Podcast: Thrawn: Alliances, Most Wanted, Last Shot
The hosts of our Star Wars podcast tackle a few of the latest tie-in novels, including a Comic-Con exclusive for Thrawn: Alliances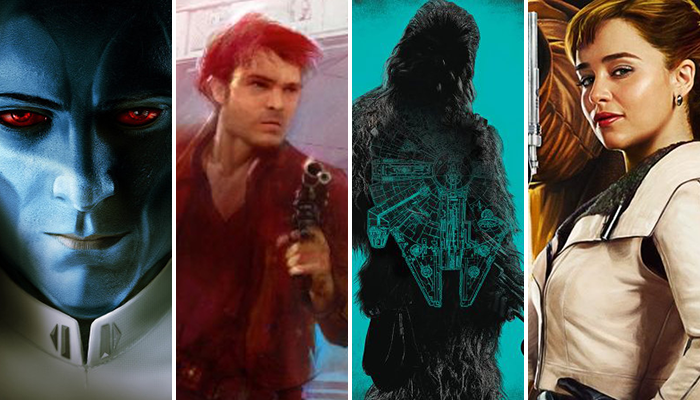 Solo has come and gone, and Blaster Canon is back to cover Star Wars tie-in novels and discuss what — if anything — went wrong with Solo's marketing and reception. In the world of books we review Last Shot by Daniel José Older and Most Wanted by Rae Carson, both of which flesh out characters from the standalone film. How does L3's role in Last Shot compare to her story in the film, and do either justify her fate?
In other books news, the fandom is buzzing with the announcement of an exclusive San Diego Comic Con edition for Thrawn: Alliances by Timothy Zahn and an excerpt featuring Anakin Skywalker. Speaking of Clone Wars-era content, an excerpt released after we recorded also features Padmé Amidala.
At the end of the episode we zoom out to take a look at Star Wars books of the present era as a whole. How does the current crop compare to the old Expanded Universe? Has the secrecy around the Sequel Trilogy kept the books from achieving the sprawling story and memorable cast that the previous canon had, or have we just not had enough time to see which stories will loom the largest in the new canon? Catch up with all things Star Wars expanded universe on Blaster Canon.
Subscribe to Star Wars Blaster Canon wherever you get your podcasts so that you never miss an episode! Or simply listen below:
Timestamps:Standalone rumors: 00:38Thrawn: Alliances excerpt and exclusive cover: 17:23Most Wanted: 24:34Last Shot: 36:57The current state of Star Wars novels: 56:15