Features
Star Wars Blaster Canon Podcast: Discussing the Expanded Universe
Hosts Megan, Paul, and Saf share their thoughts about everything Star Wars related, from movies and TV to novels and comics.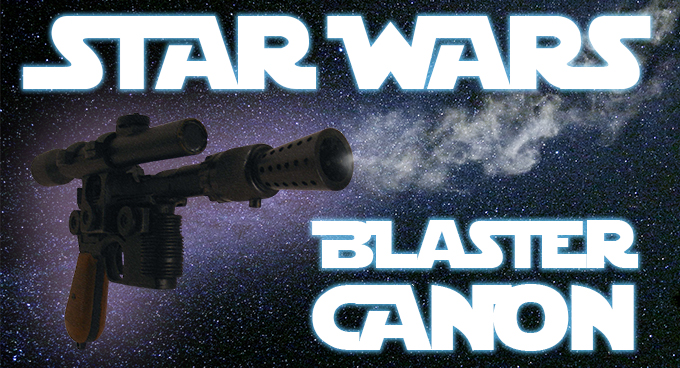 There's always something going on in the Star Wars Expanded Universe, whether it be production news from the set of the next movie or excerpts from an upcoming novel. Blaster Canon is a podcast designed to introduce and analyze everything from trailers to comic titles, and the hosts of the program, Megan Crouse, Paul Hermann, and Saf Banner are the experts you can rely on to find the best of the best in the SWEU.
If you've enjoyed the Star Wars discussion that Blaster Canon has brought to the coverage here at Den of Geek, please leave a review and rating wherever you access your podcasts! This helps others find this great show so that they can join in the fun. Return here each month for more great content!
Star Wars Blaster Canon 2017: Latest Episode
Star Wars Blaster Canon 13: Episode IX News, Comics, Phasma Novel
JJ as new Episode IX director – 0.50Brief
Princess of Alderaan
talk – 13:25
Star Wars
comics reviews – 16:00
Phasma
– 30:00
---
Obi-Wan standalone rumors – 1:00Rey's lineage in The Last Jedi – 10:44Luke in The Last Jedi – 16:00Phasma novel blurb – 26:23Donald Glover interview in THR – 32:19Inferno Squad – 41:30
---
The Last Jedi Behind-the-Scenes – 1:00Star Wars Land – 29:48SDCC Book News – 44:17Forces of Destiny – 1:01:28
---
Han Solo Movie News – 0:58Books We're Reading – 22:24Battlefront II – 28:32Star Wars Rebels Season 3 – 36:31
---
Star Wars Blaster Canon 9: The Last Jedi Set News, Del Rey & Disney Books
The Last Jedi Phots and News – 3:22Del Rey and Disney Books – 33:29
---
Star Wars Blaster Canon 8: The Last Jedi Trailer, Forces of Destiny, Rebels
Celebration Orlando 2017 – 1:29The Last Jedi Trailer – 5:24Battlefront II Trailer and Tie-In Novel – 35:50The Forces of Destiny Cartoon, Toys, and Books – 46:28Journey to Star Wars: The Last Jedi & Other Books – 53:47Star Wars Rebels Discussion – 1:07:05
---
Star Wars Blaster Canon 7: Inferno Squad, Thrawn, Aftermath: Empire's End
Star Wars Rebels News & Discussion – 3:33Inferno Squad by Christie Golden – 9:52Thrawn by Timothy Zahn – 16:57Aftermath: Empire's End by Chuck Wendig – 23:45
Star Wars Blaster Canon 2016
Star Wars Blaster Canon 6: Rogue One
Rogue One Discussion – 2:11
---
Star Wars Blaster Canon 5: Grand Admiral Thrawn, Aftermath: Life Debt
Grand Admiral Thrawn in Rebels – 1:23Catalyst by James Luceno – 26:53Rogue One (Novelization) by Alexander Freed – 31:20Black Series Figures – 40:13Aftermath: Life Debt by Chuck Wendig (spoiler-free) – 42:21Aftermath: Life Debt by Chuck Wendig (w/spoilers) – 52:50
---
Star Wars Blaster Canon 4: Marvel's Main Series Comics
Rogue One News – 1:00Marvel's Star Wars Main Main Series Comics – 45:26
---
Star Wars Blaster Canon 3: Darth Vader Comic, Bloodline
Episode 8 News – 0:38Celebration Orlando 2016 – 3:31Darth Vader Comic – 9:44Bloodline by Claudia Gray (spoiler-free) – 20:41Bloodline by Claudia Gray (w/spoilers) – 34:49
---
Rogue One Trailer – 1:02Poe Dameron Comic – 25:08Aftermath: Life Debt by Chuck Wendig – 33:34Star Wars Rebels Season 2 Finale – 38:39
---
Introductions: What We Love About Star Wars – 1:15Expanded Universe News – 9:21Rogue One News – 25:29Han Solo Comic – 35:50Before the Awakening by Greg Rucka – 41:11