News
Star Trek: Leonard Nimoy – an appreciation
Karl gives an appropriate four-fingered salute to the glacial splendour of the original Mr. Spock...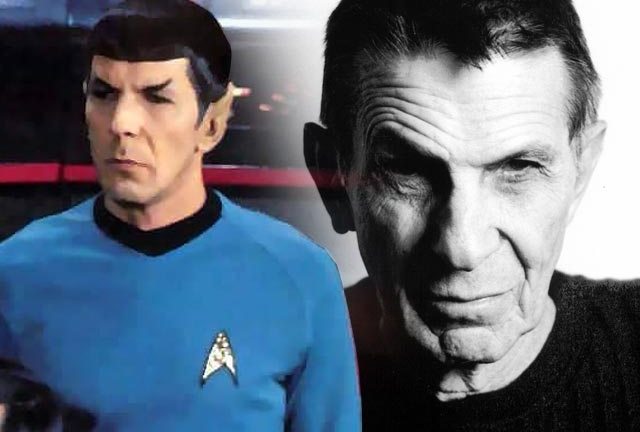 When my parents put me in my baby bouncer in front of Star Trek's first UK run, it wasn't Kirk that I grokked, it was Leonard Nimoy's Spock. Apparently, I'm not alone in this. NBC didn't even want Spock on the show.
The notes on the original pilot were, basically, 'DEAR GENE. NICE SPACE SHOW BUT NO CAN DO. GET RID OF THE SMARMY WOMAN AND THE WEIRD LOOKING DEVIL MAN AND MAKE IT DUMBER. THEN WE CAN TALK.'.
But, shortly after the first few episodes aired, those memo-writing guys had face omelettes. Eggs are what make omelettes, you see, and they had it on their faces. Egg that is. Lots of it. It was more like souffle, actually.
Bottom line: Spock was such a big hit he threatened to usurp Kirk from the centre spot. The legend goes that following the character's emotional breakdown in the fourth broadcast episode The Naked Time – that's the one where the crew are infected by a virus that unlocks their inhibitions – Nimoy's fanmail threatened to shut down the Los Angeles postal system. That's a lie, by the way.
But still – there was a lot of it. So much that the memo guys started writing new memos. 'DO MORE EPISODES WITH THE DEVIL MAN IN THEM', they might have written. Famously, Nimoy recalls that he improvised the entire scene that got folks in such a lather. Considering that consists of him blurting "I must. Control. My emotions" while not controlling his emotions for five minutes, we can believe it.
Though we jest about the retrospective cheesiness of this moment – this is the point that Spock became 3D, a character with a background, a history and inner demons to delve into and explore. It was this that set Star Trek apart from its peers. Not the pontificating about peace or the United Nations crew. Star Trek was about character as much as it was about whacky sci-fi adventures. Land Of The Giants and Lost In Space didn't have a chance.
Despite a love/hate relationship with the role over the years (Nimoy famously called his first biography I Am Not Spock redressing the balance a couple of decades later with a new tome titled I Am Spock) the actor contributed much to the alien mythology of his pointy-eared alter-ego.
More than one source suggests that Nimoy was a keen memo writer himself, issuing a stream of notes on whether Spock would really change into a grey jumpsuit after being infected by hippy spores – or batter his best mate with a lirpa just because he fancied a bit of how's-your-father. And, of course, Nimoy invented Spock's split fingered salute – based on a Jewish ritual sign he sneakily spied as a child.
Nimoy's rounded and thoughtful portrayal made Spock so popular that every subsequent incarnation of Star Trek has had its own Spock. Or, in some cases, its own Spocks.
In the Next Generation, we get a near-Vulcan Captain in the shape of the scholarly and logical Jean Luc Picard. The more alien aspects of Spock – including his frustrated fascination with humanity and lack of emotion – were embodied by Commander Data.
Voyager and Enterprise had their own token Vulcans on deck, while Deep Space Nine's Spock avatar was Odo – a grumpier alien other, but an alien other nevertheless.
Still, there has been no better Spock than Nimoy's Spock. So far, that is. In the new Star Trek we literally have two Spocks for the price of one. Or two Spocks for half price, if you go on Orange Wednesday. Leonard Nimoy, creeping close to 80 years old, reprises his most loved creation for – perhaps – the last time. But, you already know that, of course.
There are many, many things about Abram's Trek reboot that make me want to squee like a Japanese schoolgirl. The new Enterprise, Kirk's academy days and Simon Pegg as Scotty barely get a look in next to the thought of seeing Leonard Nimoy playing Spock again. Live long, and prosper, old timer.