News
Star Trek Beyond Cast Would Love to Make Star Trek 4
But the Star Trek reboot's Dr. McCoy admits he doesn't know what's going on…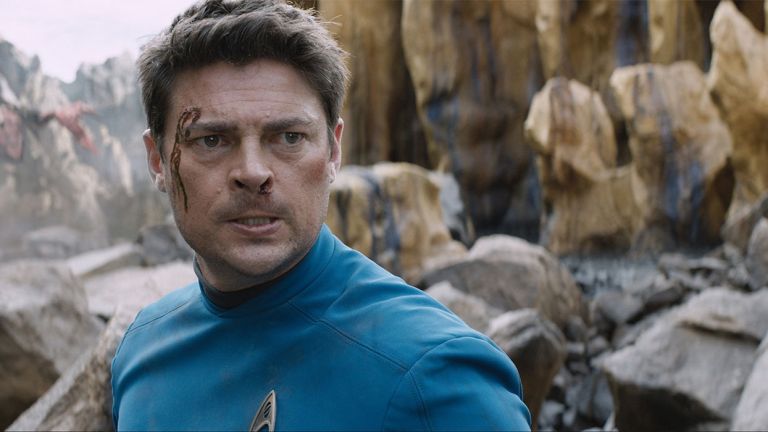 It's been a while since we last heard anything about a fourth film in the rebooted Star Trek universe. Just before Star Trek Beyond premiered in July 2016, the next chapter in the series — set to feature a meeting between Jim Kirk (Chris Pine) and his deceased dad George (Chris Hemsworth) — was announced with great fanfare, although no director or release date was unveiled. Since then, however…crickets, except for vague word here and there of a script in the writing stages.
The relatively soft box office performance of the expensive Beyond may have had something to do with the sudden quiet, along with the emphasis placed back on TV (or streaming anyway) with the arrival of Star Trek: Discovery. During the recent press junket for Thor: Ragnarok, we spoke with Star Trek's own Dr. McCoy (who plays Skurge in the new Marvel epic) and asked what he knew about Star Trek 4 (or 14, depending on how you look at it):
"I know nothing," Mr. Urban admitted. "I haven't heard anything, I certainly know that the cast would love the opportunity to come back and make another Star Trek film. We had a lot of fun making the last one, but if Star Trek Beyond is the last Star Trek movie that we are blessed to make then I'm happy with that. It was a good note to end it on."
Responding in typically Bones-like fashion when asked what direction he'd like to see the series take ("I'm an actor, not a writer"), Urban added, "I wouldn't speculate on it. We would just be blessed to have the opportunity to make another one."
We've heard unofficially that the script for Star Trek 4 involved some sort of time travel device that both the Federation and the Klingons were eager to get their hands on, hence the hook of Kirk being able to finally introduce himself to his late dad (we also heard the concept would allow room for Kirk Prime, a.k.a. William Shatner, to show up). Whether that script is still in the works or not — and whether the project is even alive and kicking at this point — remains to be seen. All we know is that Dr. McCoy himself is not getting any clear life signs at the moment…
Read the full Den of Geek NYCC Special Edition Magazine right here!