Reviews
Star Stories series 2 DVD review
Obvious targets it may have, but Star Stories still wrings laughs out of them...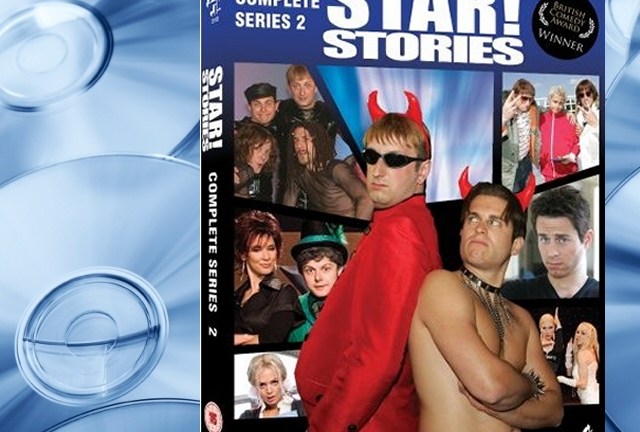 Star Stories is by all rights a show I should absolutely hate.
For starters, I dislike several of the main stars. Part of Channel 4's current crop of young, supposedly hip alternative comedians, actors such as Kevin Bishop, Thaila Zucchi and Rhys Thomas completely turn me off. Their brand of comedy seems to stem from a world where constant profanities and horrendously un-PC jokes are more important than a good old-fashioned one-liner. Zucchi in particular is all too familiar in this type of environment, having made a name for herself in the desperately unfunny Balls of Steel by carrying out her 'Bunny Boiler' routine. Always smug and nowhere near as talented as they seem to think they are, this new breed of performer does absolutely nothing for me. The exception to this is Steve Edge, familiar from Phoenix Nights and BBC comedy The Cup, who stands head and shoulders above the rest due to the fact that he is genuinely funny.
Then there's the issue of that un-PC, frankly vulgar humour. I'm no prude but swearing for the sake of it has never been funny in my eyes. Billy Connelly swears with the best of them but he uses it in his act for effect. In Star Stories, it feels as though every second word is a sh*t, f*ck or tw*t. Worse than the swearing are the offensive jokes against disabilities that crop up in one episode. Not funny, and unnecessary for the plot, it's distasteful and off-putting.
So why was it that I found myself regularly laughing out loud at this second series? Well, while the targets are obvious (celebrities and the fame culture) and the treatment often profane, there is a childish delight in seeing a bunch of grown men and women dressing up as famous people and knocking them down a peg or two.
The four episodes included on this disc clock in at just over twenty minutes each and cover Take That, Simon Cowell, Tom Cruise and Britney Spears respectively. The format of each is that of those dreadful biography shows broadcast on channels like E! Charting each star's rise to fame and the well-publicised incidents along the way (Brit's fateful meeting with K-Fed, Cowell's never-ending talent for finding new shows, Robbie Williams' Glastonbury meeting with Oasis), Star Stories throws up fake video biographies on each of its targets, complete with purposely not very good impressions of the stars and their entourage of friends and hangers on.
The wonderfully silly humour inherent within these impressions and the stories works wonders at bringing out the adolescent in you, and I quickly found myself chortling at scene after scene, whether it be Bishop's impression of Robbie Williams performing single 'Fat Tw*t', aimed squarely at Gary Barlow, or the cast's interpretation of Westlife. The song 'To Be Sure' is an obvious swipe at their identikit collection of songs but when it's carried out with this much gusto, it becomes very funny indeed.
When it comes down to it, much of Star Stories' appeal lies in the efforts that the cast put into it. Like kids in the school panto dreaming of making it in the West End, each performer does seem to throw themselves into their role with gusto.
In the end, it's this enthusiasm that shows through most of all. In spite of all the swearing, crudeness and obvious comedy targets, the cast and crew's passion for their project makes it very appealing. The fact that it regularly hits the funny bone, albeit the adolescent one, helps.
Extras Having already established my disapproval of many of the comedians in Star Stories, it's little surprise that the extras left me cold. Without wanting to cast aspersions, four short behind the scenes featurettes (totalling just shy of half an hour) show the performers up for being the smug, self serving comedians I suspect them to be. Consisting primarily of gag reels and a bunch of clips showing them messing around, it's not a gang I'd like to be part of – but then I doubt I'm ever going to get an invite so that's just fine.
Better are the 12 minutes of extended scenes and deleted material, with a full 'Take That' performance, fronted by Steve Edge, stealing the show.
Series:
Extras:
---