News
Spike Lee to Direct Frederick Douglass Now
Spike Lee will direct his third Roger Guenveur Smith play adaptation with Frederick Douglass Now.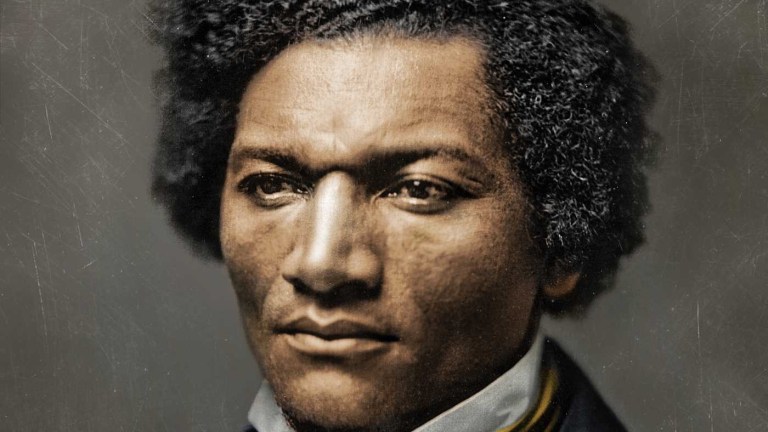 The first act of rebellion Roger Guenveur Smith committed for Spike Lee's camera lens was to put a photograph of Malcolm X and Martin Luther King Junior on the Italian Wall of Fame in a pizza parlor in Bed Stuy, Brooklyn, in Do The Right Thing. Lee went on, not only to cast Smith in another 10 roles, but to adapt two of his plays to film. Lee's next joint will be lit by Smith's one-man play Frederick Douglass Now, which the director will turn into a biopic about the 19th century abolitionist, author and self-emancipated slave, according to Variety.
Frederick Douglass Now will be produced by Buffalo 8, which produced Rodney King, another Lee movie adapted from a play by Smith, along with Luna Ray Media. Spike who is hot off this year's subversive comedy, BlacKkKlansman, also adapted Smith's A Huey P. Newton Story, about the co-founder of the Black Panther Party, to film in 2001. Smith first acted for Lee in his second feature, School Daze in 1988.
Further reading: BlacKkKlansman: Spike Lee Explores Racism in Classic Hollywood with New Movie
Smith has been performing and updating Frederick Douglass Now for more than twenty years. The play translates Douglass's essays and letters into 21st century language. The hour-plus monologue play features Smith's original rap music. The upcoming film adaptation will be scored by Marc Anthony Thompson, who wrote the music for A Huey P. Newton Story and Rodney King, and feature music from jazz artist Branford Marsalis.
Douglass wrote five autobiographies, beginning with Narrative of the Life of Frederick Douglass, an American Slave, which came out in 1845. He escaped slavery in Maryland and lived in New York at the safe house of abolitionist David Ruggles. Douglass married Anna Murray, a free black woman from Baltimore in September 1838, and settled in New Bedford, Massachusetts, where Nathan and Mary Johnson, a married couple who were born "free persons of color," lived. Douglass went on, not only to fight for abolition and equal rights for African Americans, but also for women's rights.
Further reading: BlacKkKlansman Review: Spike Lee's Own Electrifying History of American Hate
Lee's BlacKkKlansman, which premiered at the Cannes Film Festival in May, followed as the Colorado Springs police department took on seventies racism, but ended with the 2017 Unite the Right rally in Charlottesville, N.C., to show how far the country has to go politically and culturally. Rodney King is currently available for streaming on Netflix.
There is no word yet on Frederick Douglass Now casting, production or a release date.
Culture Editor Tony Sokol cut his teeth on the wire services and also wrote and produced New York City's Vampyr Theatre and the rock opera AssassiNation: We Killed JFK. Read more of his work here or find him on Twitter @tsokol.