Reviews
Spider-Woman 1979 Complete Series DVD review
Rob takes a look at one of Marvel's more obscure cartoon shows...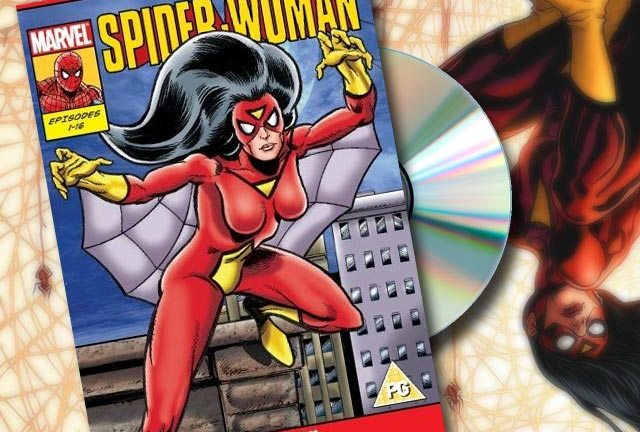 Up until maybe five years ago probably only Brian Michael Bendis and I knew who Jessica Drew was. However, thanks to Marvel's recent fascination with her alter ego Spider-Woman, she's now known through comics such as Avengers, and the recent crossover Secret Invasion (where the invading Skrull Queen used Drew's secret identity to infiltrate and try to take over the world). Spider Woman has moved away from comic obscurity to become one of the biggest female characters Marvel has to offer.
Before the animated adventures of the 'X-Men', the' Fantastic 4' and even 'Spiderman and his amazing friends' Spider-woman was web-spinning, zapping and trying to capture all manner of bad-guys in a show that, in all its bell-bottom goodness shows how far animation has come in twenty-five years, but still retains a sense of innocent fun.
The character of Spider-Woman had only been on the comic scene for two years before making her way into animated form and even then did not really make a huge impact on the printed page. Originally created by Archie Goodwin and Sal Buscema her first appearance was in Marvel Spotlight #32 and with the 'success' of her cartoon starred in 50 issues of her own book at the beginning of the 1980s however it really is the adventures in cartoon form that she is best remembered.
It seems very strange then that for a character who never really made the big leagues as far as her own comic profile was concerned got her own cartoon show back way back 1979, however the influences are clear with homages to Wonder Woman, Shazam/Isis and Incredible Hulk of whose live action adventure were aired when this show first hit our screens.
Produced by DePatie-Freleng's and Marvel studios the animated incarnation of Spider-Woman is a little different to the convoluted character of the comics. Gone is the upbringing by Hydra and the various brainwashing and undercover aspects of the character and instead replaced by a early teen reporter who thanks to her father (who injected her with an untested spider-serum…thanks dad!) is imbued with spider-like powers such as erm…flying and shooting lasers.
Silly powers aside, Jessica Drew and 'partner' Jeff Hunt (who looks suspiciously like Peter Parker) are a reporting team for 'Justice Magazine' and are assigned to investigate strange and unusual happenings such as UFOs, dinosaur sightings and general plot devices that will have Spider-Woman appear and save the day.
The cartoon is basic, fun and drenched in nostalgia, with the fashion and soundtrack boasting a huge amount of funk, disco and early-80s design.
The animation is unremarkable at best, by today's standards, and is very similar to the more popular 'Spider-Man and his Amazing friends'. That's not to say it's all stick men and paper-cut outs. There are some well designed creatures for Jessica Drew to tackle, and having special guest star Spider-Man in a few episodes helps the proceedings (what Spiderman is doing in Egypt is the first episode is never really explained, but never mind).
Added to this, third-string characters from the official Marvel Universe, including Steel-Jaw and 'Dr Strange' baddie Dormannu pop up on occasion, which is fun. But mostly the villain of the week is one of various monsters, aliens, dinosaurs and even ghost Vikings – really all stuff that kids (and me) like.
With Spider-woman again ready to make her animated return to Marvel in the form of the 'Spider-Woman: Agent of SWORD' digital comic by Bendis and artist Alex Maleev (which can be found at www.marvel.com)  this two-disk release from Clear Vision Ltd is a timely release. While it may not appeal to the wide cartoon-watching audience for recent Marvel releases such as 'Hulk Vs', 'Iron Man' or 'Wolverine and the X-Men', this little slice of nostalgia dusts off the figure-hugging red and black costume of Spider-Woman, and  is a welcome addition to fans of obscure cartoon heroes and heroines.
Specs: – 16 episodes, 2 discsExtras: – none, apart from language selection.
Disc:
Extras:
Spider-Woman 1979 Complete Series is out today.