News
Spider-Man Rejoins MCU, Release Date Set for Third Movie
Marvel and Sony have solved their differences and Spider-Man 3 will take place in the MCU!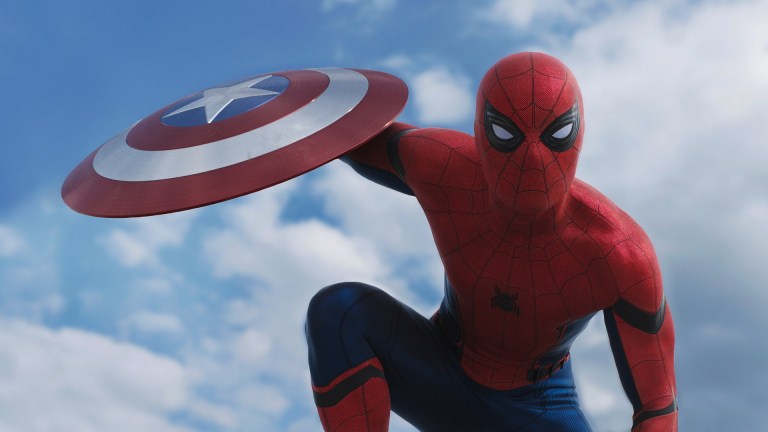 It's a miracle!
After a controversial split that left both media giants pointing their web-gloved fingers at the other, Marvel Studios and Sony returned to the negotiating table and figured out a way to keep Spider-Man in the MCU. While the details of the new deal aren't currently available, it would appear to be at least similar to the one that was struck in order to bring Spidey to the Marvel Cinematic Universe in the first place. 
"I am thrilled that Spidey's journey in the MCU will continue, and I and all of us at Marvel Studios are very excited that we get to keep working on it," Marvel Studios honcho Kevin Feige said in a joint statement (via Variety). "Spider-Man is a powerful icon and hero whose story crosses all ages and audiences around the globe. He also happens to be the only hero with the superpower to cross cinematic universes, so as Sony continues to develop their own Spidey-verse you never know what surprises the future might hold."
"This is terrific," adds Sony's Amy Pascal. "Peter Parker's story took a dramatic turn in Far From Home and I could not be happier we will all be working together as we see where his journey goes."
Deadline adds that Jon Watts, director of the excellent Spider-Man: Homecoming and Spider-Man: Far From Home will almost certainly return for Spider-Man 3.
Disney will contribute to 25% of the funding for the new movie in exchange for a 25% stake. But really, all fans need to know is that the still-untitled Spider-Man 3 will take place in the MCU, and Tom Holland's Spider-Man is available to interact with Avengers and other beloved Marvel characters for one more movie after that. If we want a fourth Spidey movie in the MCU and more team-ups after these two movies, Sony and Disney will likely have to return to the negotiating table again.
Sony, of course, is continuing with their various solo movies and spinoffs for other characters in Spidey's world. Just know that we'll get to see Tom Holland's Spidey resolve that crazy cliffhanger from Spider-Man: Far From Home when Spider-Man 3 arrives on July 16, 2021.
The full schedule of upcoming Marvel movies for MCU Phase 4 can be found here.