News
Spider-Man: Into The Spider-Verse – Reveals Spider-Ham Animated Short Teaser
Peter Porker stars in his own animated mini-adventure, which will feature on the home release of Spider-Man: Into the Spider-Verse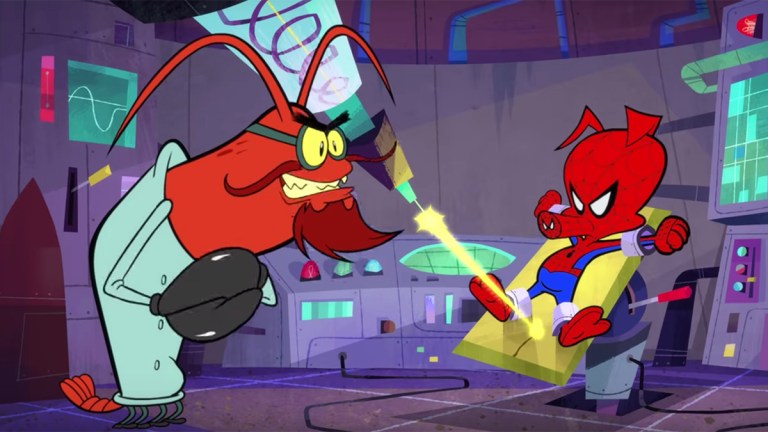 There were many things to love about the gleefully surreal Spider-Verse – not least the wisecracking porcine webslinger himself (voiced by comedian John Mulaney), who's making the move from support act to leading ham (sorry). Question is, can he successfully carry his own mini-movie – and could this lead to bigger and better things for Peter Porker?
You can watch the clip below…
While the preview clip doesn't give too much away, it does showcase a nice James Bond nod and some gloriously hammy one-liners ("What am I? Pulled pork?"), as Spider-Ham's lunch is interrupted by a mysterious lobster-like baddie. No word on who that baddie is just yet – although the comics did feature a crustacean version of classic Spidey villain Kraven the Hunter, imaginatively named Crayfin the Bunter…
read more – Every Marvel Easter Egg in Spider-Man: Into the Spider-Verse
This likely isn't the last we'll see of Spider-Ham. Thanks to Spider-Verse's good word-of-mouth, decent box-office haul and awards-season success (including a Golden Globe and a Bafta for Best Animated Film), Sony Pictures Animation is already working on ideas for both a sequel and a female-led spin-off, centered around Spider-Gwen (voiced by Hailee Steinfeld).
In the meantime, the full version of Caught In The Ham will feature on the Blu-ray and digital release of Spider-Man: Into The Spider-Verse, which arrives on digital formats on February 26 and DVD, Blu-ray, and more on March 19.