News
The Spider-Man: Into the Spider-Verse Almost Featured Doctor Strange
Producers Phil Lord and Chris Miller reveal who showed up in an early draft of Spider-Man: Into the Spider-Verse.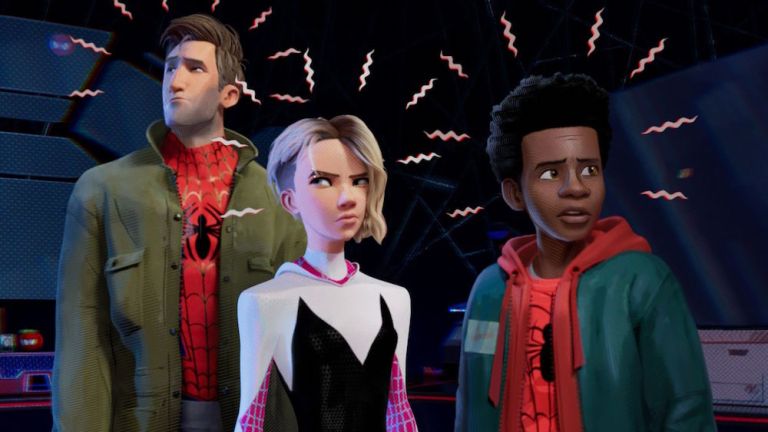 Spider-Man: Into the Spider-Verse, as we all know by now, follows high school student Miles Morales (voiced by Shameik Moore) as he not only dons the identity of Spider-Man but discovers that there are multiple universes out there. Each contains its own variation on the webslinging superhero, in the form of Spider-Gwen, Spider-Ham, Spider-Man Noir — and even an original Spider-Man, Peter Parker (voiced by Jake Johnson), from a different universe.
The existence of the multiverse is revealed thanks to plot machinations we won't get into here, but suffice to say that when you're dealing with endless and overlapping realities, things can get a little…cosmic. So much so that we half-expected Doctor Strange himself to show up and try to get a grip on the quickly escalating situation.
But as a matter of fact, the film's producers, Chris Miller and Phil Lord (the latter of whom also co-wrote the screenplay with co-director Rodney Rothman), told us that an early draft of the script actually did feature a cameo from Marvel's favorite dimension-hopping superhero:
"The first draft ended with (Strange)," recalled Lord as Miller exclaimed "Oh, that's right!" while we sat around an interview table at the Spider-Verse junket this past weekend. Lord continued, "It ended with him saying, 'Okay, I have some things to tell you…' It was the first draft, like three years ago. It ended with Doctor Strange. Literally, the last frame was Doctor Strange, going, 'Hello.'"
read more – Every Marvel Easter Egg in Spider-Man: Into the Spider-Verse
We didn't have time to get further into it with Lord and Miller and find out why Strange ended up not making the cut, but the idea of the Sorceror Supreme stepping into the proceedings as multiple realities collide certainly makes sense to us. Perhaps the idea can be revisited for the sequel.
In the meantime, watch out for our full interview with Lord and Miller in the days ahead and see which other Marvel characters turn up in Spider-Man: Into the Spider-Verse when it opens on December 14. You can read our full review here.
Don Kaye is a Los Angeles-based entertainment journalist and associate editor of Den of Geek. Other current and past outlets include Syfy, United Stations Radio Networks, Fandango, MSN, RollingStone.com and many more. Read more of his work here. Follow him on Twitter @donkaye