News
Spawn Movie Reboot Moves Forward With Jamie Foxx in Lead
Todd McFarlane's long-gestating Spawn movie reboot is finally becoming a reality.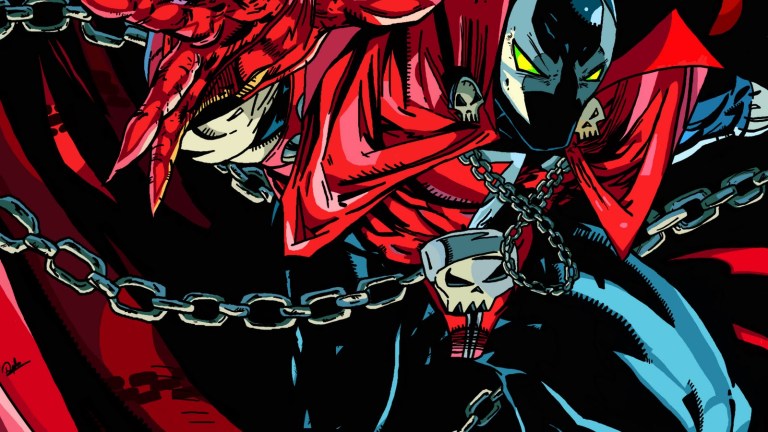 Todd McFarlane has been trying to get a new Spawn movie made for the past few years, and it looks like it's finally going to happen. Jason Blum and his Blumhouse Productions – you know them from horror movies like Get Out, Split, Paranormal Activity, and many more – will team up with McFarlane to make the new R-Rated movie.
McFarlane, who created the character back in 1992, will write, direct, and produce the film himself. He previously announced that he'd completed the first draft of a script for the film, which he's described as a smaller affair than some of the current superhero spectacles. 
At New York Comic Con 2017, he announced that the script is ready, and the movie would begin filming in February 2018. Obviously, that didn't happen, but it's a lot closer to reality today than it ever has been, as they've just secured a star. A big one, too.
Jamie Foxx will play Al Simmons, the CIA black ops agent who finds himself reborn as a being with the powers of hell itself at his command…but with a price. Michael Jai White played the role in a pretty dreadful 1997 movie, with Keith David voicing the character in an HBO animated series that ran for three seasons. 
"The scariest movies, from Jaws to John Carpenter's The Thing, or The Grudge and The Ring, the boogeyman doesn't talk," McFarlane told "It confuses people because of the comic book industry, and because they all default into their Captain America mindset and I keep saying, no, get into John Carpenter's mindset or Hitchcock. This is not a man in a rubber suit, it's not a hero that's going to come and save the damsel. It's none of that. At the end of the movie, I'm hoping that the audience will say either, is this a ghost that turns into a man, or is it a man that turns into a ghost?"
McFarlane says he has "a trilogy in mind" and that the first movie won't be an origin story. "I'm mentally exhausted from origin stories," he said. "Luckily, there's a movie that just came out that helps my cause. In A Quiet Place, the first thing on screen is a card in black and white letters that says Day 89. It doesn't care about what happened in those first 88 days. There are a couple headlines, but then we are on day 450. That movie doesn't worry about explaining and giving all the answers."
"We are thrilled Jamie Foxx will be playing the title role in our movie adaptation of Spawn," added Jason Blum in a statement. "He is an incredible actor and a huge fan of the Spawn Universe that Todd McFarlane created. With the depth of talent Jamie can commit to the role and Todd at the helm bringing the world of Spawn to life, we could not be more excited for this film."
There's currently no release date, but we'll let you know as this develops.