Reviews
South Park season 6 DVD review
South Park's sixth season hits DVD - and Ryan says it's probably the best season to date. Yay!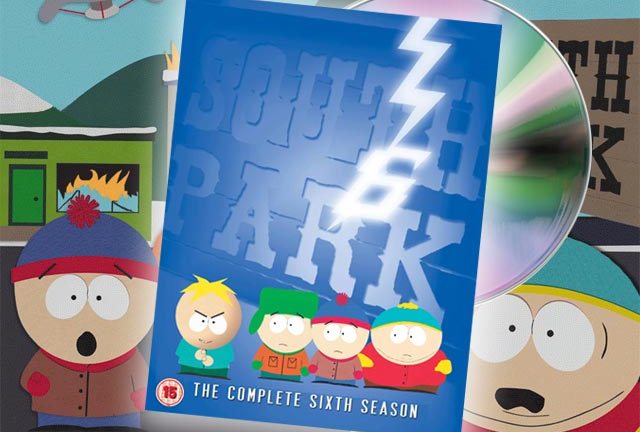 Originally aired in 2002, South Park season 6 sees Stan, Kyle and Cartman return for more scatological, gleefully blasphemous humour in what is probably their most consistently funny run to date. No institution is safe from the show's merciless brand of satire, whether it's Hollywood, the Catholic church or fraudulent TV psychics…
Jared Has Aides
The boys meet Subway spokesman Jared Fogle, whose inability to distinguish between the word 'aides' and 'AIDS' gets him in serious trouble with the townsfolk.
Asspen
While their parents are held hostage by a pair of sinister Timeshare salesmen, the boys learn to ski.
Freak Strike
Butters is coerced into appearing on a daytime TV show with balls on his chin.
The New Terrance and Phillips Movie Trailer
The funniest episode so far, mostly thanks to the 'Russell Crowe's Fightin' Round The World' show.
Fun With Veal
Stan, Kyle, Butters and a largely indifferent Cartman attempt to rescue some baby cows.
Professor Chaos
Butters is sacked from his position as the late Kenny's replacement, and the boys set about finding a new friend to fill the void, eventually choosing twitchy caffeine addict Tweek. Meanwhile, Butters decides to become a Marvel comics style villain.
Simpsons Already Did It
Another classic episode, and may qualify as the best one ever. Frustrated by his dull new Sea Monkey pets, Cartman mixes semen (don't ask) into their water and unwittingly creates a miniature civilization.
Red Hot Catholic Love
Priest Maxi is horrified to discover that child molestation is written into Vatican Law, and Cartman stumbles upon a new method of ingesting food…
Free Hat
Appalled by the 'digitally enhanced' re-release of E.T., the boys start a campaign to prevent Steven Spielberg and George Lucas from ruining their old films.
Bebe's Boobs Destroy Society
Cartman playing a game he calls 'Lambs' ('it puts the lotion in the basket or it gets the hose again') is easily the standout scene.
Child Abduction Is Not Funny
Media-fuelled hysteria causes the parents to erect a giant wall around South Park to keep out would-be child kidnappers.
A Ladder To Heaven
Cartman mistakes Kenny's ashes for milkshake powder, and becomes possessed with his spirit.
The Return of the Fellowship of the Ring to the Two Towers
A genuinely funny episode. Butters falls under the corrupting influence of a pornographic video. Stan, Kyle and Cartman embark on a quest to return the tape to the video shop before anyone else falls under its spell.
The Death Camp of Intolerance
Mr Garrison goes to extreme lengths to get himself fired, and the entire fourth grade end up in a camp designed to make them more politically correct.
The Biggest Douche in the Universe
A sceptical Stan ends up in a showdown with TV psychic John Edward. Meanwhile, Chef attempts to exorcise Kenny's spirit from Cartman.
My Future Self n'Me
After finding marijuana in the playground, Stan meets his dishevelled future self, and uncovers a strange conspiracy.
Red Sleigh Down
It's Christmas, and Santa's been shot down over Iraq. Stan, Kyle and Cartman, aided by Mr Hankey and Jesus, stage a daring rescue attempt, lampooning movies
Black Hawk Down
and
Three Kings
in the process.
Extras: Extras are limited to a brief commentary from the creators at the beginning of each episode.
Overall, while it's safe to say that South Park's chaotic, provocative humour isn't for everybody, series six is an essential purchase for fans – though the standard of writing is consistently high throughout, the episodes 'Simpsons Already Did It', 'Red Hat', and 'Return of the Fellowship of the Ring to the Two Towers' stand out as probably the funniest in the entire South Park canon.