News
Sorry to Bother You Trailer is NSFW Madness
The debut film from musician Boots Riley is one of our favorite movies of the year, and the new trailer shows why.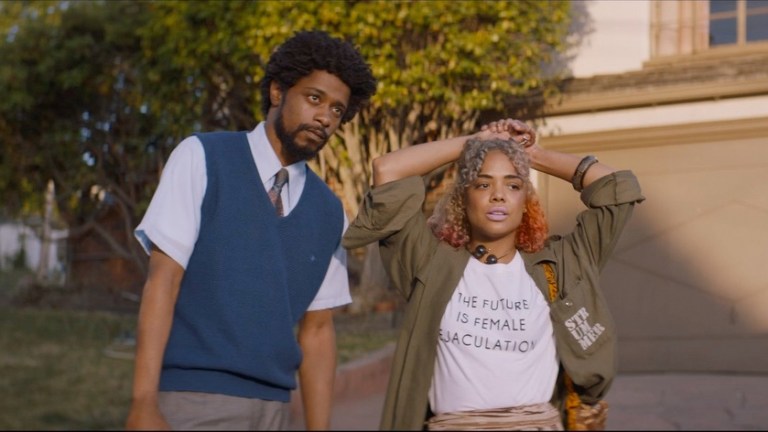 Everything about Sorry to Bother You seems pretty demented (in the best possible way) from the outset. It is written and directed by long-time rapper and first-time filmmaker Boots Riley. It stars wonderfully spacey Atlanta and Get Out actor, Lakeith Stanfield. It features Armie Hammer as a WASPy, cocaine snorting degenerate. It's about a down and out black telemarketer who rises to success by adopting a "white-sounding" voice on the phone. It's magical realism with a terrifyingly real hook.
Still, even with all that set-up, Sorry to Bother You's second trailer is still surprisingly and satisfyingly stranger than expected, complete how it begins with the aforementioned Hammer snorting coke and ends with Tessa Thompson demanding complete attention via Lily James' most posh vocal affectation.
Yes, that's that Tessa Thompson (of Thor: Ragnarok and Westworld) wearing "Murder" and "Kill" earrings before going full performance artist and promising a "transformative experience." Yes, that's that Armie Hammer (of Call Me by Your Name and The Social Network) making our protagonist a written offer that reads "I am offering your $100,000,000" with a smiley face. And yes, that is David Cross speaking through Lakeith's Stanfield's mouth and Steve Buscemi speaking through Danny Glover's. 
There's a lot to love in this trailer, as well as the original one that predated it (you can view that below). The look, sounds, and tone all seem novel and unique. Not only that, but there is a strong TV and geek culture presence with Steven Yeun (The Walking Dead) and Omari Hardwick (Power) central parts of the cast. We saw it a few months ago out of SXSW and we haven't stopped raving since. 
Stanfield plays Cassius Green, a laconic Oakland man with little drive. He sleepwalks through life until he happens upon a special gift: the ability to speak with a white man's voice. Cassius rides this ability to the very top of his company where he crosses paths with his boss Steve Lift (Hammer).
Sorry to Bother You is one of the more buzzed-about movies from the festival scene after Sundance and SXSW, and Annapurna Pictures has picked it up on a seven-figure deal with a theatrical debut set for July 6, 2018.