Reviews
Son Of Rambow DVD review
Hitch-Hikers Guide director Garth Jennings turns his attentions to a rather more Earth-bound tale of aspirational film-makers...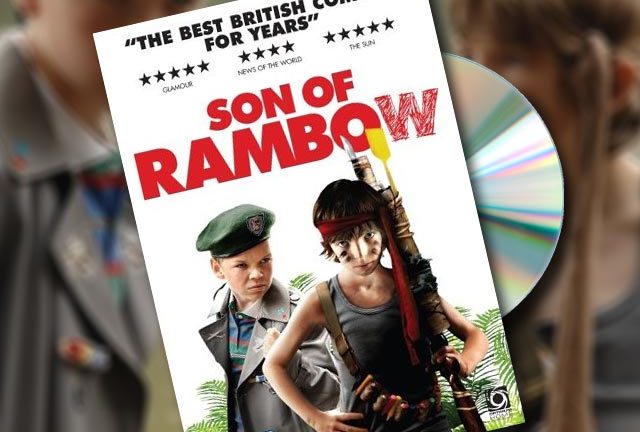 If the first film you ever saw, at the age of 12, was Rambo, chances are it would do something odd to your cinematic mindscape. Who knows, it might even make you want to recreate your own movie. Stallone's action-fest had a huge influence on Hitch-Hikers Guide To The Galaxy writer-director Garth Jennings, and this rather sweet Brit-flick is the fantasy you suspect Jennings wanted to carry out as a youngster…
Not that this would be an exact recreation of the bland suburbs of the 1980s, but it does a nice job of bringing together two children with very different backgrounds and overactive imaginations into the creation of their own version of the iconic film. Will Proudfoot (Bill Milner) is a shy, artistic child from the family of ultra-religious Plymouth Brethren, who is at first bullied into appearing in school tearaway Lee Carter's (Will Poulter) screen test video.
Will, whose religion forbids him to watch any form of television, accidentally watches Lee's knock-off version of Rambo and is so hooked that, in his head, he creates his own version of the action-movie, complete with flying dogs, evil scarecrows and and extra 'W' on the end of Rambo. It's a shocking scene when the introverted Will runs home after watching Rambo, before stopping to stab a scarecrow several times. Both the ultra-religious and libertarians could use this for their own arguments on the perils, or merits, of letting children watch violent films.
Lee is impressed by Will's creativite spirit, and the pair soon grow beyond their initial one-sided relationship into firm friends as they plot their movie masterpiece. But it's not just the film that brings them together – it acts as a conduit for a deeper bond, that of absent fathers. In lesser hands, this could have been a cue for schmaltz, but Jennings neatly side-steps the pitfalls that many a sentimental childhood film falls into.
This being movie-making, nothing quite goes smoothly and it's here where Jennings moves from sweet-natured buddy-movie to a gentle satirical poke at the Hollywood movie machine. Ultra-cool French exchange student Didier sees the pair making their stunts and decides he wants in, and it's not long before his assorted hanger-ons and female admirers get involved and Lee's production spirals out of control, much to his displeasure. Sadly, this is the flattest part of the film – while Didier's scenes are light comic amusement, it gets a little too unbelievable, and doesn't quite fit with the rest of the film.
But even this slight misstep can't distract from a charming film that, even though there's punctuated with saccharine sweetness, never becomes too much to stomach, and the performances of the two young leads more than see the film through its slight dips. Poulter in particular captures the character of vulnerable bully and aspiring film-maker Lee Carter perfectly, and both child leads hold their own against more established actors such as Jessica Hynes and, – in a frankly bonkers cameo – Eric Sykes as Rambo.
If Jennings had made Son of Rambow before The Hitchhikers' Guide to the Galaxy, you can understand why, with his perfect capture of English suburban life and light touch, he would have fitted the job perfectly. As it is, Rambow is a lot more accomplished than his first big screen outing and hopefully constitutes the start of a very inventive director finding his voice. If nothing else, Jennings has shown that he can out-'feelgood' more established directors of such nostalgic whimsy.
Extras: A so-so 'making of' feature, along with a set of rather bland interviews from Jessica Hynes, Bill Milner and Will Poulter. Rather more fun is Jennings' own teenage attempt for Screen Test – Aron Part 1, a short, rather fun attempt at a Rambo/Bond adventure, where a military man rescues the head of MI5. Watching this, it's easy to see exactly where the idea for Son of Rambow comes from.
Film:
Extras:
Son Of Rambow is out now.