News
Solo: A Star Wars Story VR Clip of Han and Lando's Card Game
Witness the adversarial first meeting of Han and Lando – in full 360°– in this Solo: A Star Wars Story VR clip.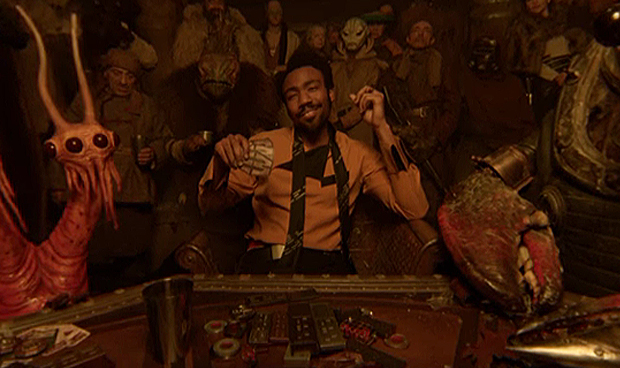 Solo: A Star Wars Story will soon bring to life what was merely myth regarding the circumstances that led Han Solo down a path to become (at least, in his own mind,) one of the galaxy's most notorious smugglers. Now, just in time for Star Wars Day, a different kind of clip has been released, which not only shows Han's fateful first meeting with Lando Calrissian in a (very fateful) game of Sabacc, but an interactive 360° virtual reality format that gives you a glimpse at the plethora of new aliens at the table.
Don't let the first 30 seconds of the clip fool you into thinking that your 360° experience will be limited to a fake theater. Indeed, things don't really get started until around the 40-second mark, at which point you are whisked away to a seedy setting in which you become the panoramic centerpiece of a table where a high-stakes game of Sabacc is taking place. While the table is predominantly occupied by an array of aliens that are new to the Star Wars cinematic canon, we quickly see that the game is dominated by two newly-acquainted humans, Han Solo (Alden Ehrenreich) and Lando Calrissian (Donald Glover).
In case you're left in awe by the additional dimension, what we're witnessing here isn't just a random collision course of scruffy-looking nerf herders, but, rather, an adversarial beginning to what will become a fateful friendship (albeit one that will be temporarily in jeopardy during the events of The Empire Strikes Back). Of course, when we see the already-high Sabacc stakes upped when the two pirates add their own ships to the pot, we already know that fate has intervened yet again, since Lando's ship happens to be a brand-spanking-new Corellian freighter, called the Millennium Falcon. Thus, it wouldn't be a spoiler to offer the result of this game, since said ship will, most definitely, know a new owner in Han Solo; the beginning of a fateful friendship in its own right.
From that point, the pieces will fall into place when Woody Harrelson's Tobias Beckett makes Han and Lando part of a team of rogues that will also consist of Chewbacca (Joonas Suotamo), Qi'Ra (Emilia Clarke), Val (Thandie Newton) and droid L3-37 (Phoebe Waller-Bridge).
Solo: A Star Wars Story will hit theaters on May 24. Tickets have just gone on sale today!