News
Solo: A Star Wars Story Release Date, Cast, Trailer, Story, and More Details
Everything you need to know about the Han Solo movie, Solo: A Star Wars Story, including latest news, release date, trailers, and much more!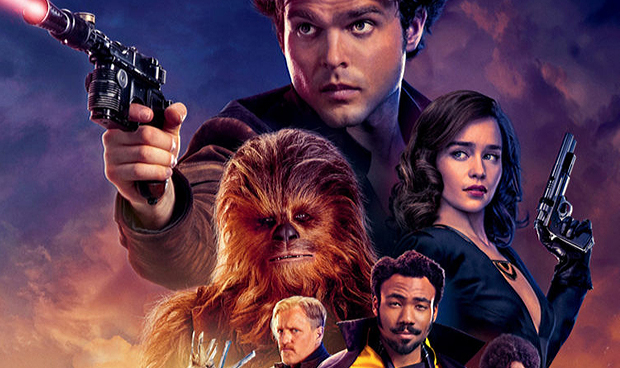 Solo: A Star Wars Story is the next standalone Star Wars movie. This origin story will tell the story of how Han Solo met Chewbacca and Lando Calrissian as well as his early years in the criminal underworld and his brief stint at the Imperial Academy. Alden Ehrenreich stars as the scoundrel and Donald Glover is Lando.
The film is written by Kasdan and his son, Jon. It's Kasdan's final Star Wars script. John Powell will compose the score. Powell will only be the third composer to work on a Star Wars film, following John Williams and Michael Giacchino. Powell is mostly known for his scoring work on animated films such as Shrek, Kung Fu Panda, and How to Train Your Dragon. 
Academy Award-winner Ron Howard replaced Phil Lord and Chris Miller as director in summer 2017. Lord and Miller (The Lego Movie) announced their exit and Howard was named the new director only a few days later. The news came as a shock since filming, which began in Feb. 2017, was well underway at that point. It's rumored that Howard reshot much of Lord and Miller's work.
It was reported by THR that Lord and Miller clashed with Solo co-writer Lawrence Kasdan and Lucasfilm head Kathleen Kennedy over the tone of the film as well as its portrayal of the smuggler, prompting a conflict that ultimately ended with Kennedy firing the directors.
Game of Thrones star Emilia Clarke will also appear as femme fatale Qi'ra, who is described as "shadowy." Variety reports that Clarke beat out fierce competition from Tessa Thompson (Selma, Westworld), Zoe Kravitz (Mad Max: Fury Road, Divergent), and Naomi Scott (Power Rangers). We went into some detail about her character here.
And to absolutely nobody's surprise, Chewbacca will also be in this movie. A "younger" Chewbacca, played by Joonas Suotamo, who has largely taken over the role from the legendary Peter Mayhew in the Disney era. But considering how Wookies age slower than Corellians, well, you won't see much of a difference.
further reading: The Must See Movies of 2018
Woody Harrelson (True Detective) has been cast in the film as criminal Tobias Beckett. Harrelson has previously described himself as "a mentor" to Han. 
Fleabag star Phoebe Waller-Bridge plays a key part in the film as a CG character named L3-37, Lando's protocol droid and co-pilot on the Millennium Falcon.
Paul Bettany (Avengers: Age of Ultron, Captain America: Civil War) is crime boss Dryden Vos. Bettany replaced Michael K. Williams, who was forced to leave the film due to scheduling conflicts during reshoots.
Thandie Newton, who blew some minds while having her own mind blown as Maeve on HBO's Westworld, plays a character named Val.
It's been confirmed that Warwick Davis will appear in the film. It was revealed on Twitter by director Ron Howard, who mentioned that he'd already filmed some scenes with Davis.
This is a bit of a shocker: the Rosencrantz and Guildenstern of the old Star Wars Expanded Universe, Tag and Bink, are set to appear in Solo, according to a pair of tweets by Howard and co-writer Jon Kasdan. Kasdan confirmed the news and revealed that he will play one of the characters himself. This is a surprising addition to the movie, to say the least. Tag and Bink weren't even part of the old continuity back when it was canon. Instead, they existed in the Elseworlds-style Infinities timeline that altered the history of the Star Wars films. These dopes cross paths with all of the major characters in the saga, usually mucking things up for the main heroes. They're quite funny. 
Spencer Wilding, who portrayed Darth Vader in Rogue One, is rumored to appear in the movie in an undisclosed role. 
Clint Howard, director Ron Howard's borther, will make an appearance in the movie now, as well.
Solo: A Star Wars Story Plot
Here's the official synopsis:
"Board the Millennium Falcon and journey to a galaxy far, far away in Solo: A Star Wars Story, an all-new adventure with the most beloved scoundrel in the galaxy. Through a series of daring escapades deep within a dark and dangerous criminal underworld, Han Solo meets his mighty future co-pilot Chewbacca and encounters the notorious gambler Lando Calrissian, in a journey that will set the course of one of the Star Wars saga's most unlikely heroes.
---
Discussing Solo trailer theories on the Star Wars Blaster Canon podcast:
Subscribe: Apple Podcasts | Stitcher | Soundcloud