Reviews
Snoop Dogg's Hood of Horror DVD review
Matt's got something to confess to: he used to be a big fan of Snoop Dogg. There's no danger of that encompassing this movie, though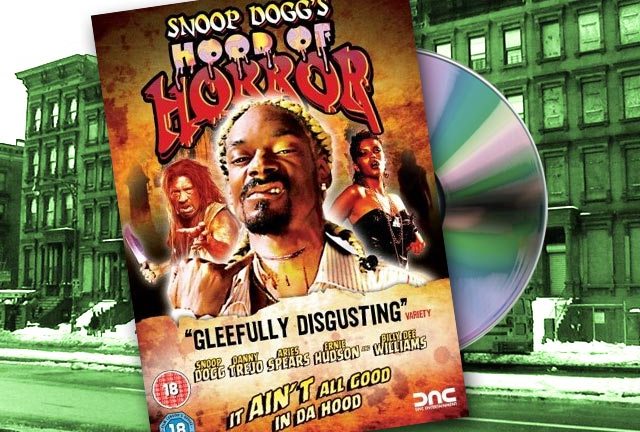 There are certain things I like to keep secret. I like to keep different things to myself for a variety of reasons, but the most common one is to avoid embarrassment. For the sake of this review, I'm going to put one of them out there; I'm just going to own it and take any resulting shame on the chin. The truth is this; there was a point in my life where Snoop Doggy Dogg was something of a hero to me.
As a teenager I was a huge fan of 'gangsta rap' and even now will acknowledge Snoop's debut disc, 'Doggystyle' as a solid, good album. It's got too many skits but otherwise, it features top notch production and Snoop on the finest form of his career. Unfortunately, Snoop and I haven't seen eye-to-eye on anything he's produced since. Still, it seems that with Snoop Dogg's Hood of Horror 'Tha Doggfather' is at least trying meet me half way.
Snoop Dogg's Hood of Horror is an anthology horror movie in the style of Creepshow and the many other films and television series inspired by EC comics. Snoop serves as a crypt-keeper style character, linking the stories together (his own terrible tale told in an anime-inspired cartoon intro).
The tales include the story of Posie, a graffiti artist haunted by her tragic past, who is given strange powers by a heavily tattooed Danny Trejo (is there any other kind of Danny Trejo?) But if Spider-man has taught us nothing else, it's that with great power comes great responsibility. Will Posie use her new powers for good or for her own personal vengeance?
The second is the story of a rich Texan hillbilly, who in order to receive a large inheritance from his recently deceased father must live with his fathers former army platoon for a year. Whilst the idea is to instil him with some character, he soon makes slaves of broken old men and pushes them to breaking point. But it turns out that this platoon is ready to fight in one final battle.
The final story is of a young rapper who pledges eternal gratitude and servitude to God in exchange for success. By the time success arrives his ego is so out of control that servitude is the last thing on his mind, certainly behind bitches, money and accolades. A mystical Lin Shaye appears and exacts a fitting revenge on him and his posse.
I had serious problems with this film. As much as I'd have liked to, I didn't enjoy it at all. The first of the three stories features major plot-holes and delivers a message that contradicts the point of the final segment. The effects, whilst occasionally interesting, are all CG and there's no real effort to build any kind of atmosphere at all.
The second segment features a reasonable set up, with the idea of the Texan redneck making the old black guys his slaves serving as an interesting nod to America's attitudes towards its past racial indiscretions. Unfortunately, nothing is made of it. Instead, we get a predictable and unfunny trudge through to an anti-climactic finale.
The final segment feels rushed and suffers from budgetary constraints. One minute an aspiring rapper (amusingly named 'Sod') is begging for super stardom, the next he's apparently the biggest rapper since 50 Cent (that reference earns me some street cred, right?) with no time frame and few visual acknowledgements of the change. It's difficult to make a film about someone rich when you have no money. In this instance, it really doesn't look very good.
Perhaps the reason the film doesn't feel like it works to me is the same as why I can't enjoy Snoop's music anymore. It's not particularly fun and I can't take it seriously. It's too much moody posturing and not enough camp or over-the-top. It's a shame, too, because there's a great cast involved. Asides from those already mentioned, there's also Ernie 'Winston from Ghostbusters' Hudson and Lando 'Billy Dee Williams' Calrissian.
So the final verdict? This isn't a hip-hop themed horror movie, it's a horror themed hip-hop movie. There are millions of people still buying Snoop's records and this may well be for them. But for horror enthusiasts, all the CG blood and bad scripting means that Snoop Doggy Dogg remains vanquished very firmly in the doghouse (I know, unforgivable wordplay, but how could you not?).