News
Slice Trailer: Horror Comedy with Deadpool 2's Zazie Beetz and Chance the Rapper
Horror-comedy movie Slice has Chance the Rapper and Zazie Beetz investigating the monstrous murders of pizza delivery drivers.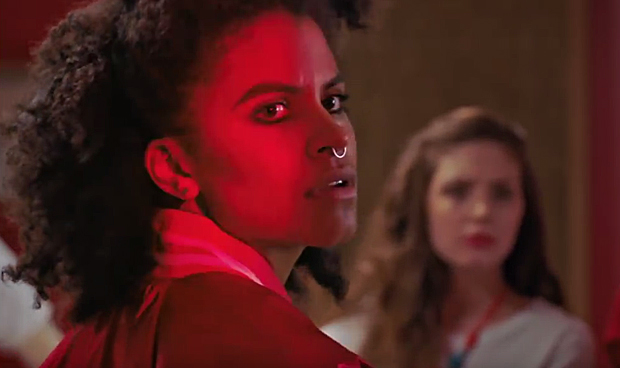 Slice is an indie horror-comedy movie (distributed by A24,) that seems to be – appropriate to its title – put together with genre slices of old-school 80s occupational comedies and straight up gore-fueled horror. The film focuses on the killer crucible of a town whose pizza delivery drivers are getting brutally mauled, apparently by mysterious monsters.
Deadpool 2 standout Zazie Beetz shares the Slice marquee with Chance the Rapper, who is making his onscreen (non-music video) debut. Fortunately, Chance got to work with a familiar director in Austin Vesely, who directed his music videos for 2016's "Sunday Candy" and 2015's "Angels." It also happens to be the feature debut for Vesely, who worked off a script that he wrote.
Slice Trailer
The Slice trailer is every bit the off-the-wall romp of gore and humor that one would expect from a film that brandishes the premise of pizza delivery drivers getting mauled by monsters. We see an obviously concerned – and apparently prepared – pizza deliverer in Astrid (Zazie Beetz), who's convinced that a werewolf – one that apparently really hates pizza – is loose and it looks like it's Dax Lycander (Chance the Rapper, billed as "Chance Bennett").
Also involved is nosy reporter Sadie (Fear the Walking Dead's Rae Gray) and intrusive photog Jack (Stranger Things' Joe Keery), who are doing some digging on their own, likely at their own peril. However, as the trailer makes apparent, the source of the town's woes is the pizza place itself, which was built on a gateway to Hell; something that tends to be a wrench in the works for any pizza joint's business model.  
The League's Paul Scheer, Broad City's Hannibal Buress and SNL alumnus Chris Parnell also appear in the film.
Interesting factoid: Director Austin Vesley plays Sean, the pizza delivery guy who gets killed in the beginning of the clip.
Slice Release Date
Slice has yet to announce a release date, only teasing a release sometime in the remainder of 2018.
Here's the film's official poster, which brandishes the tagline, "Dead. In 30 minutes or less."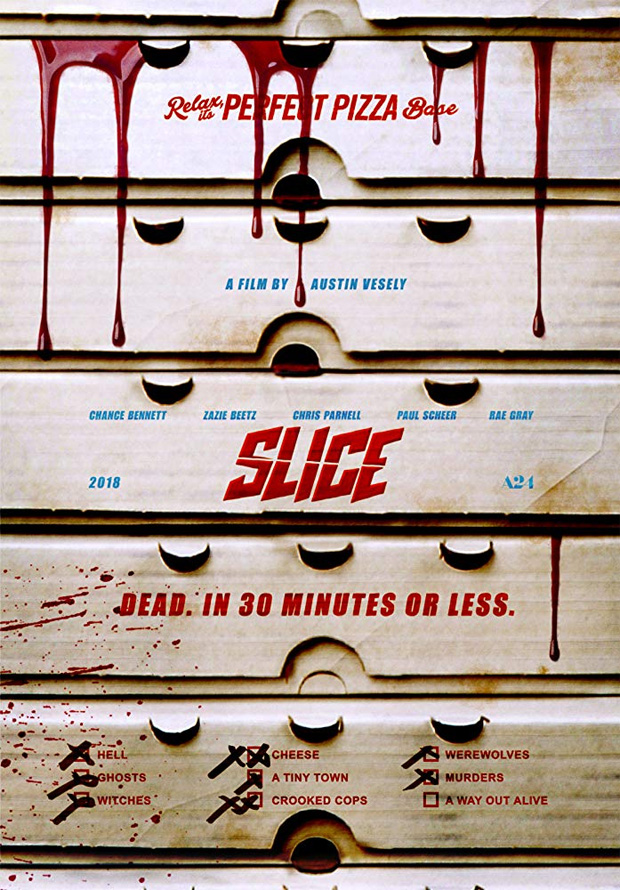 Joseph Baxter is a contributor for Den of Geek and Syfy Wire. You can find his work here. Follow him on Twitter @josbaxter.
Read the latest Den of Geek Special Edition Magazine Here!