Reviews
Sky: The Complete Series DVD review
A supernatural children's drama from the '70s, melding ecological matters with classic elements from the Famous Five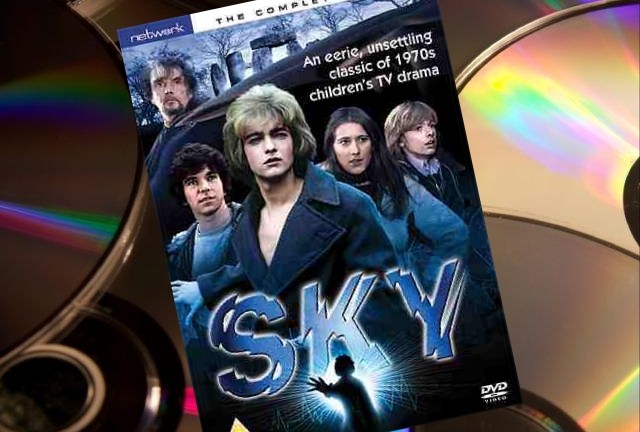 A blond-haired blue eyed stranger appears in a wood, semi-naked and bemused, only to collapse and almost be buried alive by the leaves around him. So begins this latest supernatural tale uncovered from ITV's archives of 1970s children's dramas. It's a reworking of a stranger in a strange land, trying to return home. With Ace of Wands focusing on magic and Children of the Stones on more mystical material, Sky is more about elemental forces, combined with telepathy and a sliver of time travel, which add an eerie tone to the story.
Set in the England's West Country (it was filmed by HTV in 1975), Sky is discovered during a local hunt. Befriended by local tearaway Arby, his sister, Jane and their friend, Roy, the trio attempt to help him return to his own reality by locating the mysterious force known as the Juganet. Of course, it means they're fighting against the forces of nature, which like anti-bodies fighting any disease, want to wipe out the alien invader. So the natural world conspires to destroy him at every opportunity.  At one stage, he's in danger of being impaled by tree roots. Adding dramatic tension and layers to the plot are the normal problems the kids have to deal with, such as conflict with their parents. Finally, there is the enigmatic Goodchild, who has more sinister intentions for the young stranger.
The series was created by Bob Baker and Dave Martin, who contributed to some of Tom Baker's Doctor Who – they brought us K-9 – as well as being responsible for another classic series, Into The Labyrinth.  It takes elements from classic children's adventure stories such as the Famous Five with those traditional types – the troublemaker, the tomboy and the posh kid –  and sweeps them up in science fiction themes involving telepathy and humanity's future, before wrapping it all up in an ecological plot, ancient mysteries and old abandoned houses. 
Marc Harrison stars in the lead role as the nascent deity, looking suitably human and alien, his blond hair and blue eyes enhanced by a permanent glow that radiates from his expressionless face. He doesn't actually have a name; instead, it's Alby that christens him 'Sky'. It sets him apart from the ordinary look of Alby and his chums, whose dress and home life mirrors our own. The main cast of relative unknowns give a roughness to their performances[ Stuart Lock as Alby; Cherrald Butterfield as Jane and Richard Speight, playing Roy, who had made an impact as Peter in The Tomorrow People. The only familiar name is TV veteran Jack Watson, (Redgauntlet, Arthur of the Britons) who has little to do apart from being Roy's stern father and squire. Robert Eddison (Goodchild), had also made numerous TV appearances but one of his last roles was in Indiana Jones and the Last Crusade.
The story is spread over seven episodes and takes its time to develop. It is sometimes a little too pedestrian trying to convey the otherworldiness of Sky. However, it's filmed in and around Avebury, Glastonbury Tor, and Stonehenge, locations with traditional mystical resonances that add an authentic air to a landscape shaping up as the battleground.
 It's in the closing episodes, however, that the mystery of Sky unravels and the ecological message comes home. He becomes a golden deity with the ability to travel through time and observe mankind. Goodchild is the embodiment of the Earth's lifeforce determined to fight back against alien invaders who have encouraged man's evolutionary progress. The Juganet is the gateway to travel through time and is found, not surprisingly, at Stonehenge. When Sky vanishes into the future, Alby follows and in the process, encounters the People, Earth's descendants who have survived the oncoming chaos, rejected technology and learned to live with nature. There's echoes of Timeslip and Survivors in its prophetic visions of the future.
Whilst Sky is in danger of getting lost in its own green philosophy, it makes its case effectively enough about the consequences of exploiting the planet's natural resources. Memory has been a little kinder to the series than rewatching it has proven to be and if the picture quality varies in some episodes, it's a result of some of the master recording being lost. The fact that the series can be viewed as a whole is rewarding enough. This is an effective time-travel ghost story, and an intriguing companion to those tea-time fantastical experiences of childhoods gone. So let's get back to our roots before those roots rise up to get us.