News
Sit-down Standup Comedy Legend Shelley Berman Dies at 92
Shelley Berman, who played Larry David's father on Curb Your Enthusiasm, leaves a diverse legacy.
Influential comedian and actor Shelley Berman, best known for bringing modern anxiety to early standup and playing Larry David's father on Curb Your Enthusiasm, died at his home in Bell Canyon, Calif., this morning, Sept. 1. He was 92. According to Berman's official website, Berman died from complications of Alzheimer's disease.
Berman was one of the first comedians to find equal success live, on album or on TV. He made his first appearances on The Ed Sullivan Show in 1959, the same year he released his first album, Inside Shelley Berman, which was the first record to win a Spoken Word Grammy Award. Berman was nominated for an Emmy for his role as Nat on Curb Your Enthusiasm's season 6 episode, "The Rat Dog." He reprised the role 12 times over four seasons. Berman auditioned right after Shecky Greene, and agreed to play the part without his hairpiece. He last appeared on Curb Your Enthusiasm in 2009. He most recently appeared on TV in a 2012 episode of Hawaii Five-0.
Shelly Berman was born in Chicago on Feb. 3, 1925, He trained with legendary NYCacting teacher Uta Hagen and studied drama at Chicago's Goodman Theatre. He met his wife, then-theater costume searmstress Sarah Herman, while he was in between pants, but not in between engagements. They were married in 1947.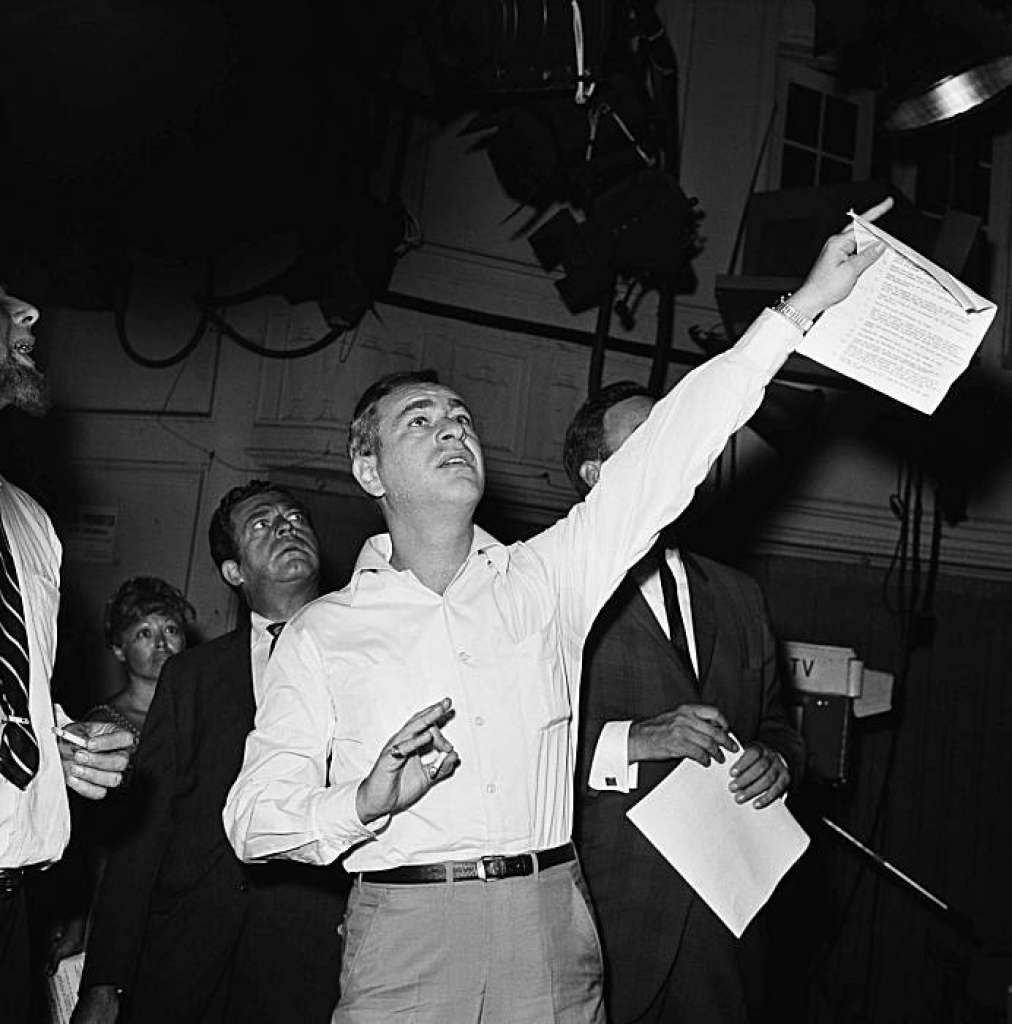 Before heading out on stage with the Chicago improv troupe the Compass Players, Berman wrote skits for Steve Allen's Tonight Show. The Compass Players included the legendary team of Mike Nichols and  Elaine May. He made his first standup performances at the Chicago nightclub Mister Kelly's. Berman performed standup comedy while sitting down. Mort Sahl suggested Berman record his first record at San Francisco's the hungry i. Inside Shelley Berman hit Billboard's number two slot for five weeks. Berman recorded six more albums for Verve Records.
Berman appeared on The Ed Sullivan Show over 20 times, as well as most of the variety shows of the early sixties. He filmed the documentary Comedian Backstage for NBC in 1963. In it, his act was interrupted by a ringing phone, this in the days before cellphones, and he yelled "I'll pull the damn phones out of the wall" on camera, getting him a reputation as a troublemaker.
Besides comedy appearances, Berman acted on television shows like Peter Gunn, Bewitched, The Man From U.N.C.L.E., The Mary Tyler Moore Show, Mary Hartman, Mary Hartman, L.A. Law, Night Court, MacGyver, The King of Queens, The Bernie Mac Show, Hawaii Five-0, Boston Legal, CSI: NY, Pushing Daisies, Hannah Montana, Entourage, and Grey's Anatomy. He was Rachel's boss on Friends.
Berman appeared the  films as Divorce American Style (1967), which starred Dick Van Dyke and Debbie Reynolds; Every Home Should Have One (1970); Teen Witch (1989); The Last Producer (2000); Meet the Fockers (2004); The Aristocrats (2005); The Holiday (2006) and You Don't Mess With the Zohan (2008).
Berman starred in A Family Affair on Broadway in 1962 and headlined the 1980 headlined a one-man show, Insideoutsideandallaround With Shelley Berman. He also taught taught humor writing at USC, and published a book of poetry.
Berman is survived by his wife Sarah. Their son Joshua, died in the seventies of brain cancer, at the age of 12.
SOURCE: VARIETY