News
Singin' in the Rain Director Stanley Donen Dies at 94
Stanley Donen, legendary director of Singin' in the Rain, Seven Brides for Seven Brothers, and Charade, has passed away.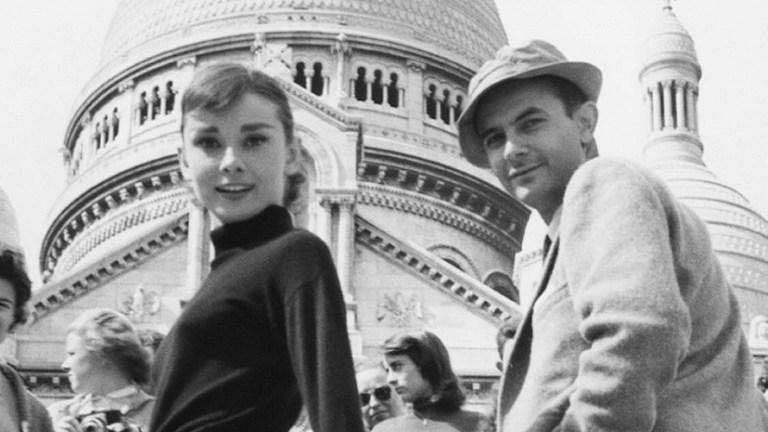 Stanley Donen, one of the filmmakers most associated with the Golden Age of Hollywood movie musicals out of the MGM Freed unit, has passed away at the age of 94, leaving behind a legacy that includes Singin' in the Rain, Seven Brides for Seven Brothers, On the Town, Funny Face, and non-musical Audrey Hepburn classics like Charade and Two for the Road.
The news was confirmed by one of Donen's sons to The Chicago Tribune critic Michael Phillips. The journalist tweeted Saturday morning, "Confirmed by one of his sons this morning: Director Stanley Donen has died at 94… A huge, often neglected talent."
Born in South Carolina in April 1924, Donen said later in life that he was inspired by the likes of Fred Astaire and Ginger Rogers musicals of the '30s, including Flying Down to Rio (1933). The irony of course is that he would one day direct Astaire in one of the legendary song-and-dance man's greatest numbers, the one where he dances on the ceiling and walls of a rotating room in Royal Wedding (1951). It was Donen's only second directorial credit.
His break came when as a teenager he moved to New York City and became a dancer in Pal Joey, a 1940 musical starring Gene Kelly. He impressed the then relatively unknown (at least in Hollywood) Kelly, who hired Donen as his assistant choreographer on the Broadway musical Best Foot Forward (1941). He eventually took Donen with him to Hollywood a few years later, still as an assistant choreographer, when MGM bought the movie rights for Best Foot Forward. He was just 19. He continued to choreograph for MGM's legendary Arthur Freed Unit, which specialized in the studio's glitzy musicals, as well as Columbia, before co-writing with Kelly Take Me Out to the Ball Game, a musical starring Kelly, Frank Sinatra, and Esther Williams.
It paved the way for his first helmer credit as co-director, along with Kelly, in On the Town (1949), the now classic musical about Kelly, Sinatra, and Jules Munshin as a trio of sailors who have a day of leave in New York, so they go on a whacky madcap Manhattan adventure that includes songs about touristing and romance. It's most famous now for the three days of actual location-shooting they did in New York City, including on the Empire State Building.
Of course the crown jewel in Kelly and Donen's partnership is Singin' in the Rain (1952), the pitch perfect movie musical daydream that acts as a love letter and lighthearted satire of the awkward years where Hollywood transitioned from silent movies to talkies. Starring Kelly, Debbie Reynolds, and Donald O'Connor, it reappropriated classic 1920s-era songs, including "Singin' in the Rain" which was written by Arthur Freed and Nacio Herb Brown, and immortalized them in moments such as Kelly happily bouncing along puddles and jumping on street lamps (the actor had a cold at the time).
But Donen also found success away from Kelly in the 1950s and '60s. As we've previously written, I'd argue Singin' in the Rain and Seven Brides for Seven Brothers (1954) are the two greatest classic Hollywood musicals ever produced, and they both came from the Freed unit and were both directed by Donen. The latter was a movie he didn't even initially wish to make, and then insisted if he did there would be very little dancing. Instead he wound up helping choreograph and shoot the greatest dance scene in movie history. Set in the backwoods of Oregon during the 19th century, the film follows a love story between a rugged mountain man (Howard Keel) and tenacious young woman (Jane Powell), who then teaches his uncouth six younger brothers how to go "courtin.'" The resulting dance sequence where they attempt to steal six town girls from their local beaus is a sequence Martin Scorsese still marvels at. It's still one of the very finest examples of CinemaScope.
As the musical faded in the '60s and '70s, Donen had other successes away from it. After helming Audrey Hepburn in her first musical via Funny Face (1957), which co-starred Fred Astaire, he directed her in two of the best films of her career: the still influential comedic thriller Charade (1963) and Two for the Road (1967). The first co-starred Cary Grant and is a '60s classic about the un-grieving widow of a dead man whose old business partners from the War come stalking her for some hidden treasure before they all start dying themselves; the latter was a fairly innovative romance for Hollywood that was in the death throes of its studio system. Through nonlinear storytelling, Two for the Road tells the love story of two drifters played by Hepburn and Albert Finney who deal with cynicism, suspicion, and adultery during their otherwise idyllic annual road trips through Europe.
Donen's success waned in the 1970s, though he directed Bob Fosse in The Little Prince (1974), which if nothing else likely was an inspiration on Michael Jackson's own dance choreography. He also directed Michael Caine in Blame It on Rio (1984), the one where he has an affair with his best friend's daughter. Heh.
Stanley Donen never received an Oscar nomination, a shame that was only slightly righted when he received a lifetime achievement Oscar in 1998. The award was presented to him by Scorsese. Upon receiving the honor, he quoted Irving Berlin's "Cheek to Cheek," which Astaire sang in Top Hat (1935). "Heaven, I'm in in Heaven, any my heart beats so that I can hardly speak." For many fans of his genre, it will always beat.