News
Silver Surfer Movie in Development
There's a new Silver Surfer movie currently being written.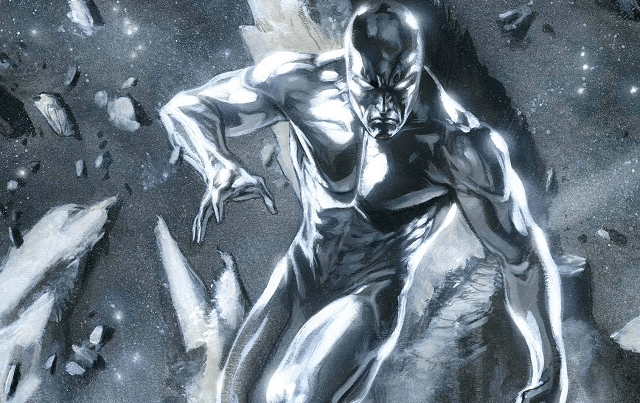 Despite the looming specter of Disney, 20th Century Fox isn't slowing down their plans to make as many movies as possible with the Marvel licenses they currently hold. With recent announcements of a Kitty Pryde movie and a Multiple Man movie, two films that fit into the X-Men franchise, they've made it clear that they aren't going to let a possible future impact their present plans. And it seems that way with the stalled Fantastic Four franchise, as well, with word that a Silver Surfer movie is also in development.
THR reports that Fox is "going 100 miles per hour" to utilize their Marvel brands, including a Silver Surfer movie script from celebrated comic book writer Brian K. Vaughn (you are reading Saga, right?). No other details on the Silver Surfer movie are currently available, but getting a massively popular comic book writer to develop a superhero movie screenplay seems to be right in line with their recent strategy. For example, the untitled Kitty Pryde movie is being written by Marvel favorite (and future DC writer) Brian Michael Bendis.
As you might expect, there are no other details on the Silver Surfer movie at this time. Marvel's Silver Surfer came to Fox as part of the deal that granted them the Fantastic Four characters, and while Fox has seen tremendous success with the X-Men license, taking it to new heights of critical success by releasing risky, R-rated takes on the characters with Deadpool and Logan over the last couple of years, they have struggled mightily with the Fantastic Four end of things. The 2015 film was a critical and commercial failure, while entries from 2005 and 2007 were serviceable, but failed to ignite ongoing interest. The 2007 film, Fantastic Four: Rise of the Silver Surfer, featured Doug Jones as the Silver Surfer (who was voiced by Laurence Fishburne), and loosely adapted Stan Lee and Jack Kirby's "Galactus Trilogy" from the Fantastic Four comics of 1966. While the Surfer was an impressive visual, it ended that iteration of the FF movies.
Marvel has long looked at the Silver Surfer as a potential standalone movie character, though, with studios attempting to develop solo movies since the 1980s. The character is a striking visual, and his story, of an alien man who gives up his normal life to save his planet, at the cost of becoming the herald of an unimaginable cosmic power, is one that would seem like a natural fit for the big screen. The character has featured in numerous comics, video games, and cartoons, and was even the subject of his own animated series, which ran for one season in 1998. It's excellent and you should check it out.
THR reports that there has been "zero slowdown on [the Marvel] front" at Fox, even with the possibility that the studio will be absorbed by Disney in the near future. Note that Disney's bid to buy 20th Century Fox hasn't been finalized, and there are still all manner of legal and financial hiccups that could prevent it from happening. But in the meantime, they're still continuing with previously announced projects like Drew Goddard's X-Force movie, Noah Hawley's Doctor Doom, the long-troubled and currently dormant Gambit movie with Channing Tatum, and others.
We'll let you know if the Silver Surfer movie develops further. In the meantime, it still doesn't sound like we'll be seeing the Fantastic Four teaming up with the Avengers any time soon. The full schedule of upcoming X-Men movies can be found here.