News
Silver & Black: Spider-Man Spinoff Pulled From Release Schedule
Sony's Spider-Man spinoff, Silver & Black, won't be making its 2019 release date.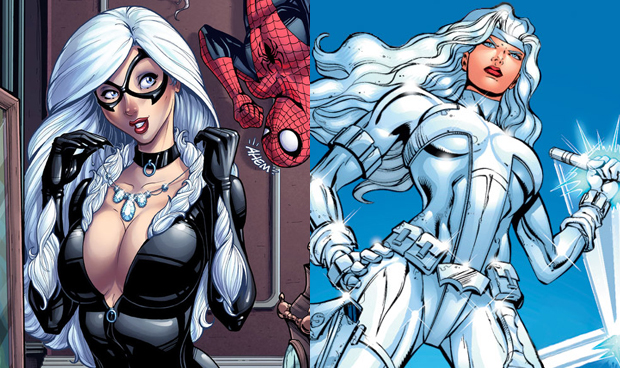 As with the surprising revelation that a Venom spinoff was back on at Sony Pictures, the studio is still making the best of their Spider-Man license. After DC's stunning success with 2017's Wonder Woman, Sony will kick off Marvel's answer to that burgeoning movement with a Black Cat and Silver Sable team-up movie, titled Silver & Black.
This project, which has appointed Gina Prince-Bythewood as director, has apparently been long in the works, predating the deal with Marvel Studios that ended Andrew Garfield's wall-crawling days in The Amazing Spider-Man franchise and led to Tom Holland's screen-stealing Captain America: Civil War debut. Apparently, the title previously known simply as "secret female spinoff project," the movie is intended to flesh out the Black Cat and Silver Sable characters from the Spidey pantheon. Originally, Felicity Jones played Black Cat's alter-ego, Felicia Hardy, in 2014's The Amazing Spider-Man 2, however it would be likely recast here.
Silver & Black Release Date
Silver & Black just had its release date revoked.
While the Black Cat/Silver Sable team-up movie had been set to arrive on February 8, 2019, Exhibitor Relations has revealed that Sony Pictures has inauspiciously updated the film's status to "Undated," which would validate the recent report of an indefinite delay. However, the studio is reportedly searching for a new release date.
Should that ultimately prove accurate, then it could mean that the studio is reassessing its Spider-Man spinoff strategy, especially in the wake of the ho-hum reaction to the first trailer for the first such spinoff, the Tom-Hardy-starring Venom solo movie. There's more to come on this issue for sure.
Silver & Black Details
The film is being produced by frequent Spider-Man stalwarts Amy Pascal and Matt Tolmach, although intriguingly Avi Arad is not listed as attached. Further, it is ambiguous whether it is related at all to Spider-Man: Homecoming and the greater MCU. According to THR, the project is not an "offshoot" of Spider-Man: Homecoming, but based on the larger "Spider-Man universe" that Sony has the rights to. However, just because it isn't directly linked to Homecoming does not necessarily mean it is not in the same "Spider-Man universe."
Gina Prince-Bythewood steps into the director's chair for Silver & Black. She will work off a script by Lindsey Beer and Geneva Robertson-Dworet. Prince-Bythewood has been behind the camera for dramatic films such as 2014's Beyond the Lights, 2008's The Secret Life of Bees and 2000's Love & Basketball, along with television work on series such as the current Fox crime drama Shots Fired along with sitcoms Girlfriends and The Bernie Mac Show. Relevant to the Marvel Cinematic Universe (extended and otherwise), Prince-Bythewood has written the pilot for Freeform's Cloak & Dagger television series, which is set to debut sometime in 2018.
Silver & Black Story
Black Cat was created by Marv Wolfman and Keith Pollard in The Amazing Spider-Man #194 (1979). She is the daughter of a famous (and famously incarcerated) cat burglar whom she inherits a knack for acrobatics and flexible morals. She breaks him out of prison while he's on his deathbed, and also reveals herself to be something of a Spider-Man fangirl, seducing the wallcrawler when he tries to take her old man back to prison.
Possibly influenced by the Catwoman character at DC (although Marvel continues to strongly deny the notion,) Felicia Hardy developed a unique role in Spidey mythos by becoming Spider-Man's partner, sidekick, lover, and confidant, knowing his identity and still working with him as his closest costumed associate after he married Mary Jane Watson (awkward).
Silver Sable is also known for her somewhat amorous lifestyle as a mercenary and bounty hunter. She debuted in The Amazing Spider-Man #265 (1985) by Tom DeFalco and Ron Frenz. Sometimes an ally to Spider-Man and other times an adversary due to her violent, merciless tactics, Silver Sable distinguishes herself in comic book stories filled with her soldiers of fortune, called the Wild Pack, due to the fact that she is the CEO of the successful Silver Sable International corporation, a "security" firm that is the financial backbone of Marvel's fictional country, Symkaria.
From the sound of those character descriptions, this movie will be about Silver Sable and her crew hunting down jewel thief Black Cat, but don't be surprised if they end up teaming up by the end.
Silver & Black Characters
According to That Hashtag Show, the film will feature Dominic Fortune, a character who was all set to star in an Agents of SHIELD TV spinoff that never happened. Fortune has long been part of Silver Sable's comic book world, and That Hashtag Show describes the movie version as a Department of Justice employee helping Sable in her hunt for Felicia "Black Cat" Hardy. They have some other details as well, including the inclusion of supporting characters from Sable's '90s series Silver Sable & The Wild Pack, like Agents Powell and Klein and new character Agent Mark Sim.