News
Silence: Liam Neeson on How the Scorsese Film Challenged His Faith
Liam Neeson tells us about how the experience of playing an apostate priest in Martin Scorsese's Silence affected his faith.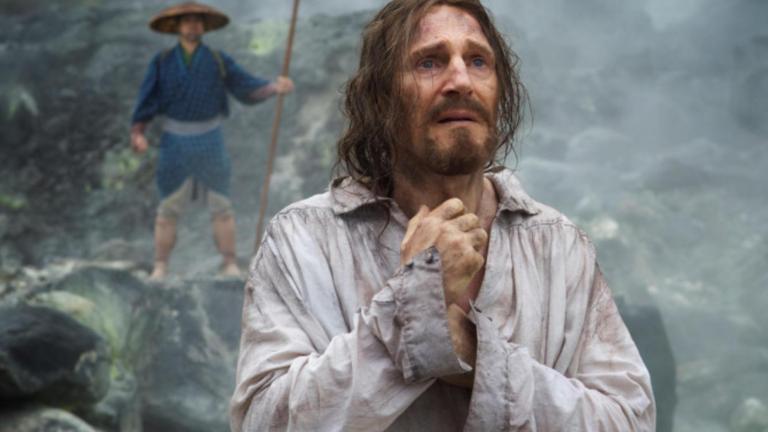 Liam Neeson plays a very complicated character in the new Martin Scorsese film, Silence. As Father Cristóvão Ferreira, the Irish actor is embodying one of the more infamous, and embarrassing, Jesuit priests in Catholic history. Respected and revered in his own time, Ferreira was a Portuguese missionary who, after spending 15 years in 17th century Japan, found himself tortured and abused in a number of ways because Christianity had become outlawed—upon which time he committed apostasy, renouncing his faith and belief in Jesus Christ.
His off-screen capitulation is the inciting incident for Scorsese's film, inspiring his two most devout protégés, Father Rodrigues (Andrew Garfield) and Father Garrpe (Adam Driver), to travel to Japan and learn if the stories of Ferreira's betrayal are true. However, they will likely not be happy with what they find, including a chilling scene for Neeson where a man of faith must passionately defend his new stance that Christianity and the Japanese people are absolutely incompatible. This scene of militant surrender, written for the screen by Scorsese and Jay Cocks, is one of several moments that caused Neeson to at least examine his own belief system after making a film about the most personal of sacrifices for the glory of Christ.
"There was certainly the political history at that time was very, very fascinating to me, and especially the Jesuit history," Neeson said during a press conference that I attended. "I mean, when [Father] Francis Xavier went over there in the 1500s, it's interesting. I saw the Portuguese word for God is 'Deus,' and the Japanese word for the Great Lie is 'Ōuso' [Pronounced Di-Oso]. So how Francis navigated all that?! And the Japanese at the time, I believe, thought that Christianity was a form of Buddhism. And I think the arguments [Ferreira] puts forward to Rodrigues are very, very interesting and believable. I couldn't better that argument."
For that reason, and after the completion of filming, Neeson became intrigued with indulging his doubt and challenging his faith in a response to Ferreira's own seeming despair.
"But Martin brought this up, interestingly enough, last night, and I've never really thought about it. But I don't believe you can have deep faith without deep doubt. I think they both go hand-in-glove. I'm convinced of that now.
"That's certainly affected me when I came back from shooting the film. I was delving into Richard Dawkins books of The God Delusion and stuff like that. And science journals about the inroads they're making in the brain, and the discovery of neurotransmitters and the natural opioids in the brain that can explain, perhaps, faith. Can explain religion, you know? All of that's really interesting to me."
Neeson then pauses before smiling, "But I still believe in a God."
You can see how Silence might cause you to examine your own belief system when the film opens in limited release on Dec. 23.