News
Sicario: Day of the Soldado Brings Life/Death Issues Home
The Sicario sequel's Blu-ray and digital release further explores the grave dilemmas posed by the first film.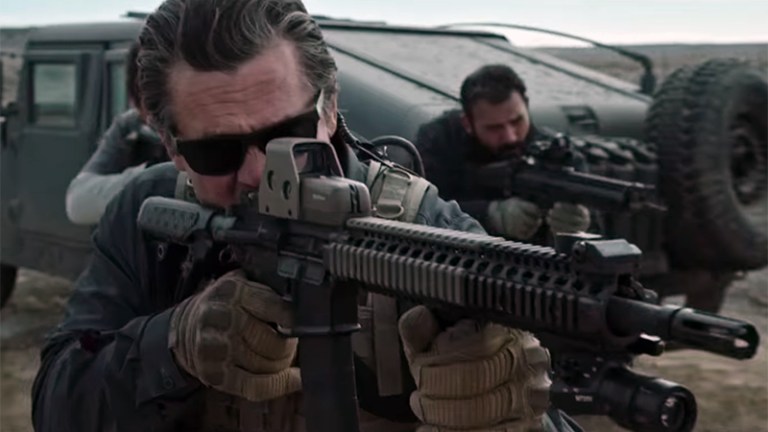 In Sicario: Day of the Soldado, the moral quandaries first presented in the 2015 film Sicario take a dark and frightening turn.
CIA special agent Matt Graver (Josh Brolin) and black ops assassin Alejandro Gillick (Benicio del Toro) find themselves increasingly at odds as the U.S government uses continually questionable methods to bring down the drug cartels suffocating Mexico. As the body count mounts, the betrayals escalate around them and the methods become more brutal, the two one-time associates soon find themselves on opposing sides, with neither man willing to bend.
The moral gray issues of the original film become even murkier in this year's sequel, which found Italian director Stefano Sollima (Gomorrah) taking over behind the camera for Denis Villeneuve as Brolin and Del Toro further explored the characters they created in the first chapter. "The two characters are facing now a completely different moral issue than the first one," says Sollima. "It was a sort of process to see together what will happen to the character if you put him in this situation."
The stark questions of right and wrong — and when the lines between the two blur — are highlighted in this exclusive clip from the bonus features included with the home video release of Sicario: Day of the Soldado. "If you're trying to fight for the soul of the country, when you've already lost your soul, what do you turn into?" asks producer Basil Iwanyk:
Sicario: Day of the Soldado, like its predecessor, paints a bleak portrait of the lengths that human being will go to while protecting their country and their loved ones. Yet at the same time it is an explosive and electrifying thriller, featuring two great central performances from two of our finest actors.
After opening in theaters last June, the movie is out digitally and on Movies Anywhere on September 18 and on Blu-ray/DVD on October 2.
Don Kaye is a Los Angeles-based entertainment journalist and associate editor of Den of Geek. Other current and past outlets include Syfy, United Stations Radio Networks, Fandango, MSN, RollingStone.com and many more. Read more of his work here. Follow him on Twitter @donkaye