Reviews
Shut That Door: Larry Grayson At ITV DVD review
Network's DVD celebration of Larry Grayson brings together much surviving material from the 1970s. And it's an exhaustive release...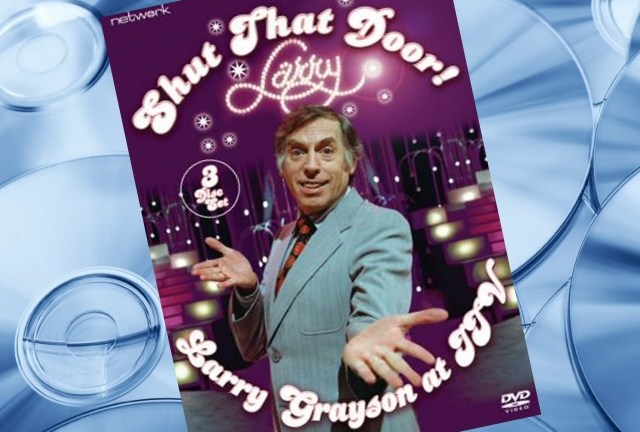 Before Julian Clary, Graham Norton or Alan Carr, there was Larry Grayson, the undisputed king, or maybe queen, of camp humour.
It's been 14 years since Larry passed away, aged 71, but time has done nothing to diminish his appeal as a first-rate comedian of the old school, as watching Shut That Door! – Larry Grayson At ITV attests to.
Network DVD already has a shining reputation among afficionados of classic TV for releasing fondly-remembered but criminally unrepeated shows from the depths of the archives. Shut That Door is no exception, and over its three discs serves as the perfect introduction to the performer as well as a bygone age of prime-time entertainment.
Fame didn't come quickly for Larry. He'd been touring the comedy circuit in male revues and drag shows for over 30 years before finally getting noticed. By the time he made his TV début on Saturday Variety, in 1971, he was pushing 50, though in his trademark smart attire he looked younger. In today's climate, where youth is as important to TV execs as any amount of talent, Larry would probably never have made it.
Originally booked for one appearance, Larry was asked back the following week, and the next, before getting a spot for the whole series. From the clips on the DVD, it's easy to see why he was an instant hit with the audience.
It's not the endless stream of double entendres or the substance of the material that makes the viewer first warm to Larry  – it's his gentle, open manner. His anecdotal style of comedy makes you feel like you're involved in a conversation with the man; one where you willingly bite your tongue just to hear what he'll come out with next.
For it's very funny listening to him talk about his fictional troop of friends and the little things they've been up to. Even their names raise a smile: Everard Farquharson, Larry's "close friend", Slack Alice, Apricot Lil, who works in the jam factory, and Pop-It-In-Pete, the postman. Not for nothing does ITV executive chairman Michael Grade describe Grayson's humour as "gossip comedy".
The thing that strikes you about this pun-laced, observational material is how innocent it all is. When Larry talks about Pop-It-In-Pete, saying, "The things I've had through my letterbox!", there's a smutty implication to be picked up for sure, but it's expressed in such an ingenuous way that it makes the joke twice as funny. To take one of  Grayson's many expressions, he "seems such a nice boy". The only other person able to spout such filth while still wearing an angel's halo was I'm Sorry I Haven't A Clue's late chairman, Humphrey Lyttelton.
The other things that makes Larry so watchable are his charming quirks and highly quotable catch-phrases. Coming out onto the stage, he will launch into an anecdote then stop momentarily to complain he's feeling "giddy", or that there's a draft coming from the wings, to which he will respond with a cry of "Shut that door!". Another master of this punctured style of delivery was Frankie Howerd and with both, it has the effect of bringing you closer to the comic.
For the DVD, Network has gone to great lengths to gather the majority of surviving material from the peak of Larry's career in the 1970s, and squeeze in as a wealth of extras as well that give a greater insight into his life.
The set includes both series of London Weekend Television's The Larry Grayson Show, from 1975-77, and the sole surviving edition of its predecessor, Shut That Door! ('72-73). The latter is a strange mix of stand-up and chat show, with Larry nattering away with old friend Diana Dors, while the former is a variety show featuring stand-up, a few sketches, a guest act, and a song routine at the end with pianist Dennis Plowright. Over the run of the series, there are appearances from the likes of Dad's Army's Bill Pertwee, Rod Hull and Emu, and a whole host of magicians, acrobats and other variety acts that are now as rare on TV as intelligent ITV documentaries.
The first thing that came into my mind while watching the shows was the phrase "they don't make them like that any more", and honestly, it's a shame, because it's great entertainment. Larry is always on top form and had me giggling with the slightest gesture – the mark of a true professional.
Also included is The Larry Grayson Hour of Stars (1974), a Saturday Variety compilation, At Home With Larry Grayson documentary (1983), Larry Grayson at the London Palladium (his last performance, from 1994), The Unforgettable… Larry Grayson documentary (2000), and an Anglia news interview from 1973 featuring two stars – Larry, and his outrageous cravat. The set is rounded off nicely with a photo gallery.
I had such a gay day watching Larry in action, so to speak, and would highly recommend this DVD to anyone who values good, amiable comedy. As soon as he starts talking about Everard's latest escapades, you'll be sucked in and won't want to leave.
Shows:
Disc:
Shut That Door: Larry Grayson At ITV is available now.