News
Shrek Reboot in the Works, Overseen by Illumination Boss
The Shrek franchise is returning, with reboot efforts planned for not only the green ogre, but Puss in Boots.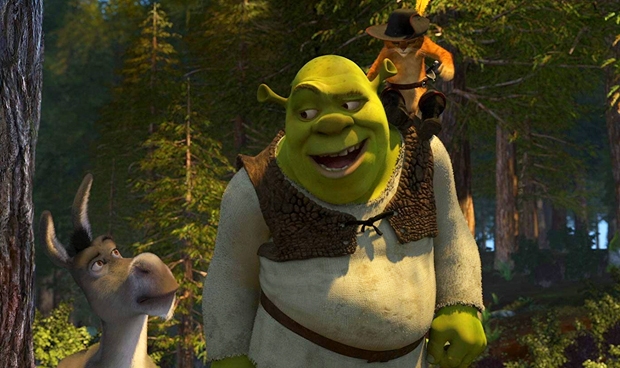 Shrek has been in a bit of a slumber for the better part of a decade, hard as it might be to believe. The ultra-successful animated film franchise, which later became the platform for a multimedia pop culture blitz, notably spawning spinoff Puss in Boots, last focused on its main character in the fourth film, 2010's Shrek Forever After. Yet, an untitled Shrek 5 was planned as recently as last year, until it wasn't – and now we know why. A franchise reboot is nigh!
Both Shrek and Puss in Boots are getting reboot treatments, reports Variety. Universal Pictures – whose parent company, Comcast, purchased the franchise's original studio, DreamWorks, for 3.8 billion back in June of 2016 – has spearheaded this reboot push. The task of overseeing the efforts fall to someone who knows a bit about the animated feature game in Chris Meledandri, the founder and CEO of Illumination Entertainment, the studio that forged its own franchises, starting in 2010 with the Despicable Me series, which led to spinoff Minions, as well as Dr. Seuss' The Lorax and this week's release of the modernized Seuss adaptation, The Grinch.  
The nomenclature of a "reboot" might lead one to believe that the 2001-launched Shrek film franchise (which originally adapted William Steig's 1990 children's picture book), beloved to millions around the world, is ready to be tossed aside. However, that won't likely be the case. Meledandri's initial comments on the reboots seem to convey an "if ain't broke, don't fix it" ethos, since he seems to believe that the voice performances of Mike Meyers's Shrek, Eddie Murphy's Donkey, Antonio Banderas's Puss in Boots and Cameron Diaz's Princess Fiona are elements that need to remain. Thus, the task at hand is to find a story-based justification for the reboot efforts. As Meledandri explains:
"When you look back on those vocal performances they're awesome, and while you certainly could make a case for a complete reinvention, I find myself responding to my own nostalgic feelings of wanting to go back to those characterizations. The challenge for us has been to find something that really does feel like it's not simply yet another film in a series of sequels."
Interestingly, while the presence of Meledandri – whose company Illumination is co-owned by Universal, which now owns DreamWorks – might lead to speculation implying intriguing studio synergy that would see the Shrek characters in the same universe as Gru and the Minions, it's unclear if Meledandri is acting here on behalf of Illumination. Speculation, upon the acquisition of DreamWorks, pointed to Meledandri taking over the Shrek studio; a notion that he shot down, explaining that the burden of running two studios would detract from the quality of his more hands-on approach to his animation teams. As he explains of his aspirations for the reboots:
"There's a tremendous amount of fun to be had in that world, but it's a high bar to find a story that's truly world. You want to find something in the narrative that really feels like a departure."
For now, details about the Shrek and Puss in Boots reboots are… well, non-existent, since Meledandri and company are still in the early stages of developing the revivals.
Joseph Baxter is a contributor for Den of Geek and Syfy Wire. You can find his work here. Follow him on Twitter @josbaxter.