News
Shorter 15-certificate version of Bruno heading to UK cinemas
Universal is releasing a shorter version Bruno to get a friendlier certificate "to prevent growing disappointment". We did not make this up.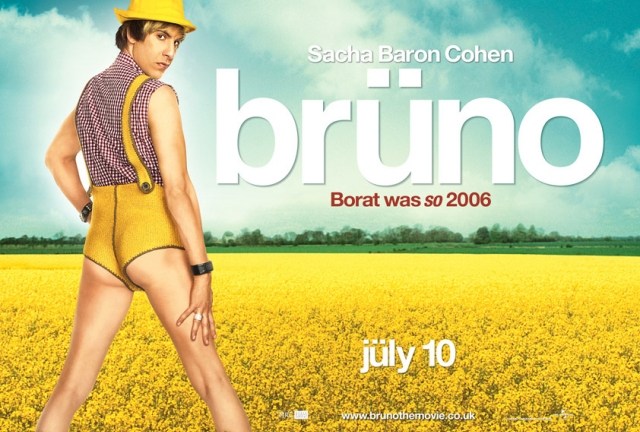 Universal Pictures has announced here in the UK that, "due to demand from younger fans", a shorter version of the movie Bruno will be heading to cinemas from 24th July. This will play alongside the current cut of the film, the difference being that the shorter version will have a 15 certificate, and the longer version will retain its 18 (a move not a million miles away from chopping an R-movie down to PG-13 for our Stateside chums).
To get Bruno from an 18 to a 15 – which Universal is doing in spite of a massive opening weekend – the studio is reassuring people that "the '15′ version is only 1 minute 50 seconds shorter than the original '18′ film". The running time of the 18-edition cut is only 83 minutes to start with, though, so it's hardly lopping a spare minute or two out of a three hour 'epic'.
Were we to pick a favourite phrase from the press release Universal has sent round about this, it's where the studio states that "Cinemas across the UK have reported turning away large numbers of under 18's (sic) keen to see the new film. To prevent growing disappointment among younger fans who have not been able to see Brüno in its opening weekend, we're really pleased to be able to offer a '15' certificate version.  Both of these versions will allow many more of Brüno's fans in the UK to enjoy the film"
I don't buy for a minute that that's been happening.
I might be going out on a limb here, but a 15-year-old who wants to see the film isn't likely to walk up to the box office and say, "I'm only 15, but I'd really like to see this 18 certificate film. Can I?" At the point when they're refused entry, I'm going to go double or quits and suggest that said 15-year-old's next line wouldn't be "Hmmmm. Can you relay my dissatisfaction to Universal Studios and ask them if they would consider toning the film down a bit so I can get in and see it?"
Instead, I'd suggest – and clearly we're not condoning this because it's very naughty – that any 15-17-year-old who wanted to see the film at the cinema has tried to do so. Cinemas have thus realised that a few of the naughty little tykes have wangled their way in, and told Universal that lots of younger viewers are trying to see their film, and can they help, because the armed guard at the door of Odeon 4 is having a hell of a time. Just a guess.
It's that or one feck-off Facebook protest group that we've yet to find.
I think Universal is missing a trick here, too. Why doesn't it produce a version of the film with a PG certificate, just in case all of those screenings of Ice Age 3 are still full? Or what about an animated version with cute animals replacing Sacha Baron Cohen? It might even get a U or a G for that. If enough five-year-olds complain, is that what's going to happen?
Universal notes in its press release that "This is the first time ever in the UK that two different versions of a single film have been released at the same time." You can't help wondering if there might be a reason for that.
You can check out our review of the 18-certificate version of Bruno here.