News
Shin Godzilla Set to Crush More U.S. Theaters
Shin Godzilla theatrical release expands and extends, like an atomic dinosaur's tail, throughout America.
The Mayor of Tokyo tried to warn us. The most fearsome monster of the Atomic Age made landfall on American shores and is now getting set to move inland. Godzilla, King of the Monsters, is on its way to take over North America. Shin Godzilla grossed $1,537,190 in seven days in a limited run at only 490 U.S. theaters and FUNimation is ready to unleash the beast nationwide, according to Dread Central.
Shin Godzilla's limited  engagement was scheduled to close tonight, but it will now be extended. Funimation added a special Saturday matinee screening that will happen in more than 200 theaters across the U.S. and Canada on October 22. They also announced that multiple national theater chains will screen the film in select locations through October 27.
"We're thrilled with the tremendous response to Shin Godzilla from the press, audiences, and our theatrical partners," Gen Fukunaga, CEO and President of Funimation, said in a statement. "Fans have been asking, and we're pleased to confirm that the movie will extend its run with this Saturday's matinee as well as more than a week of daily screenings."
Shin Godzilla is the 29th film in the iconic science-fiction monster franchise produced by Toho Co., It was co-directed by Hideaki Anno (who created Evangelion) and Shinji Higuchi (who directed of Toho's 2015 Attack on Titan live action movies).
"We were confident that Shin Godzilla would be a hit with audiences, and we're excited to extend its theatrical run to keep up with fan demand," Mike DuBoise, EVP and COO of Funimation, said in a statement. "If you haven't seen Shin Godzilla yet or want to catch an encore before it leaves theaters – now is the time."
The cast includes Hiroki Hasegawa, Yutaka Takenouchi, Satomi Ishihara, Rando Yaguchi, and Ren Osugi. Godzilla Resurgence is co-directed by the screenwriter, Hideaki Anno, who made Evangelion, and Shinji Higuchi, who brought us Attack on Titan, who helmed the special effects. The Godzilla design was created by Mahiro Maeda (Mad Max: Fury Road, The Animatrix) and Takayuki Takeya (Kamen Rider Drive, Attack on Titan). The based the designs on the concepts by Maeda and Anno.
Shin Godzilla Release Date
The movie opened in theaters in Japan back in July. Funimation screened Shin Godzilla as a limited release in U.S. theaters from October 11-18.
"Funimation is extremely pleased to be working with Toho to bring Shin Godzilla to audiences across the Americas," Gen Fukunaga, CEO and President of Funimation, announced in a press release announced around SDCC. "Godzilla became a science fiction icon from the moment Toho brought it to the big screen in 1954. We're honored to be a part of its rich history."
"Shin Godzilla represents a brand new chapter in the 62-year history of this iconic science fiction monster," Funimation Executive Vice President and Chief Operating Officer Mike DuBoise said in a statement. "We're excited to bring audiences this new vision of Godzilla from Toho as reimagined by directors Hideaki Anno and Shinji Higuchi."
Shin Godzilla Story
Shin Godzilla is a reboot, not a sequel to any previous Godzilla films. The upcoming film will tell "…a story in which Godzilla appears in Japan for the first time." That means the actors can't reference old Godzilla movies, like the 1954 classic that started it all. This will be the third time in the Godzilla franchise that the creature has attacked Japan "for the first time." The monster also had an origin story in Godzilla 2000.
"An unknown accident occurs in Tokyo Bay's Aqua Line, which causes an emergency cabinet to assemble," reads the official synopsis. "All of the sudden, a giant creature immediately appears, destroying town after town with its landing reaching the capital. This mysterious giant monster is named 'Godzilla.'"
Shin Godzilla Trailers
The trailer for the American release of Shin Godzilla (sometimes known as Godzilla: Resurgence)is impressive and moody, if a little bit short on any actual Godzilla action. Luckily, if you scroll down you can check out a stack of other trailers for the Japanese release that should help get you through any lingering giant lizard withdrawals.
But check this one out first…
Here's some trailers for the Japanese release, as well.
You can also check out two 15-second spots for its upcoming Godzilla: Resurgence (Shin Godzilla).
Besides the trailers, Japanese rock band Katokutai also uploaded what looks like an offiical music video for the new Godzilla movie to their YouTube page. The poster imagines Katokutai as oversized mutant rockers treating the city like their own personal concert stage.
Godzilla Resurgence Images
Godzilla isn't quite ready for his close-up, but he's showing off a toothy grin in these leaked photos from the set of Toho's upcoming Godzilla Resurgence movie.
Low resolution images of private photos that were taken at Toho Studios were uploaded to Twitter and Facebook this morning. The shots feature the "monster suit" at the center of the new Godzilla movie.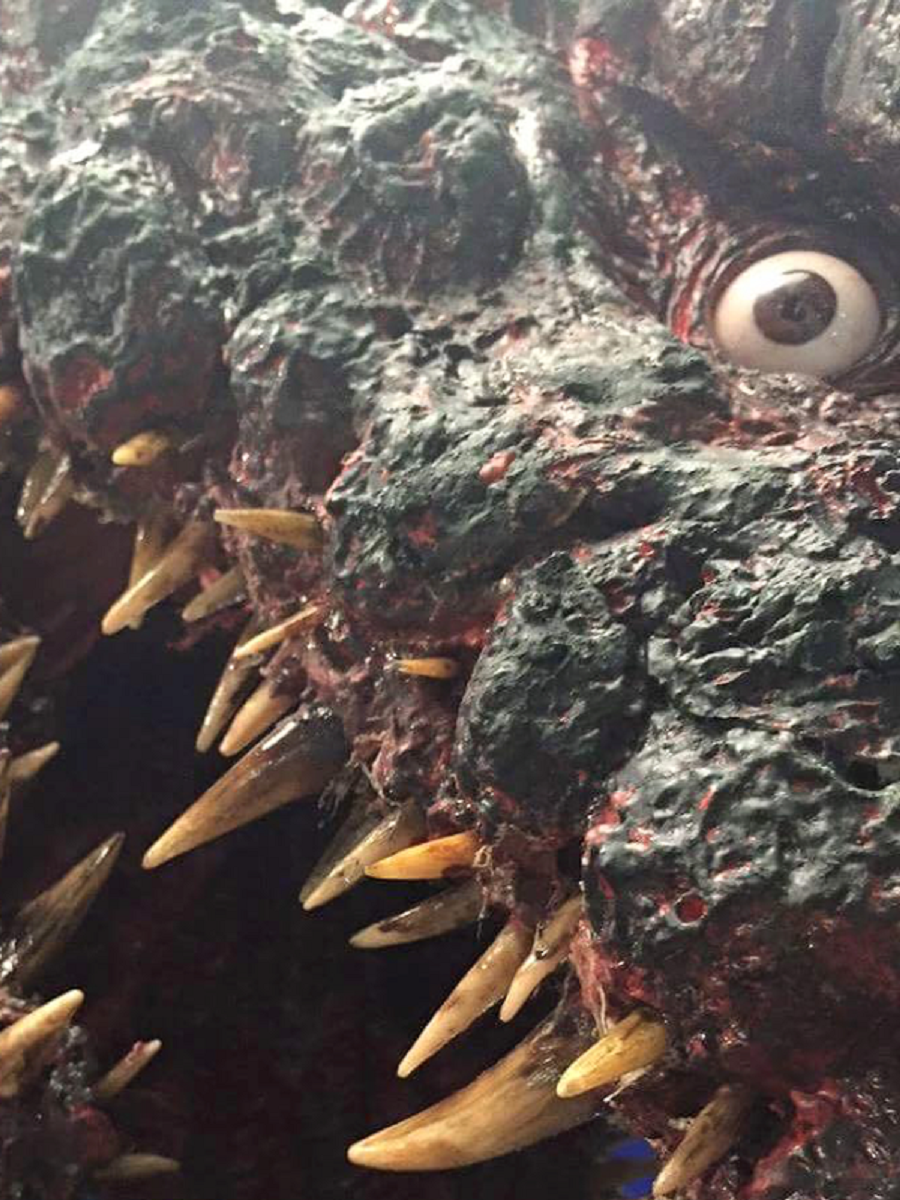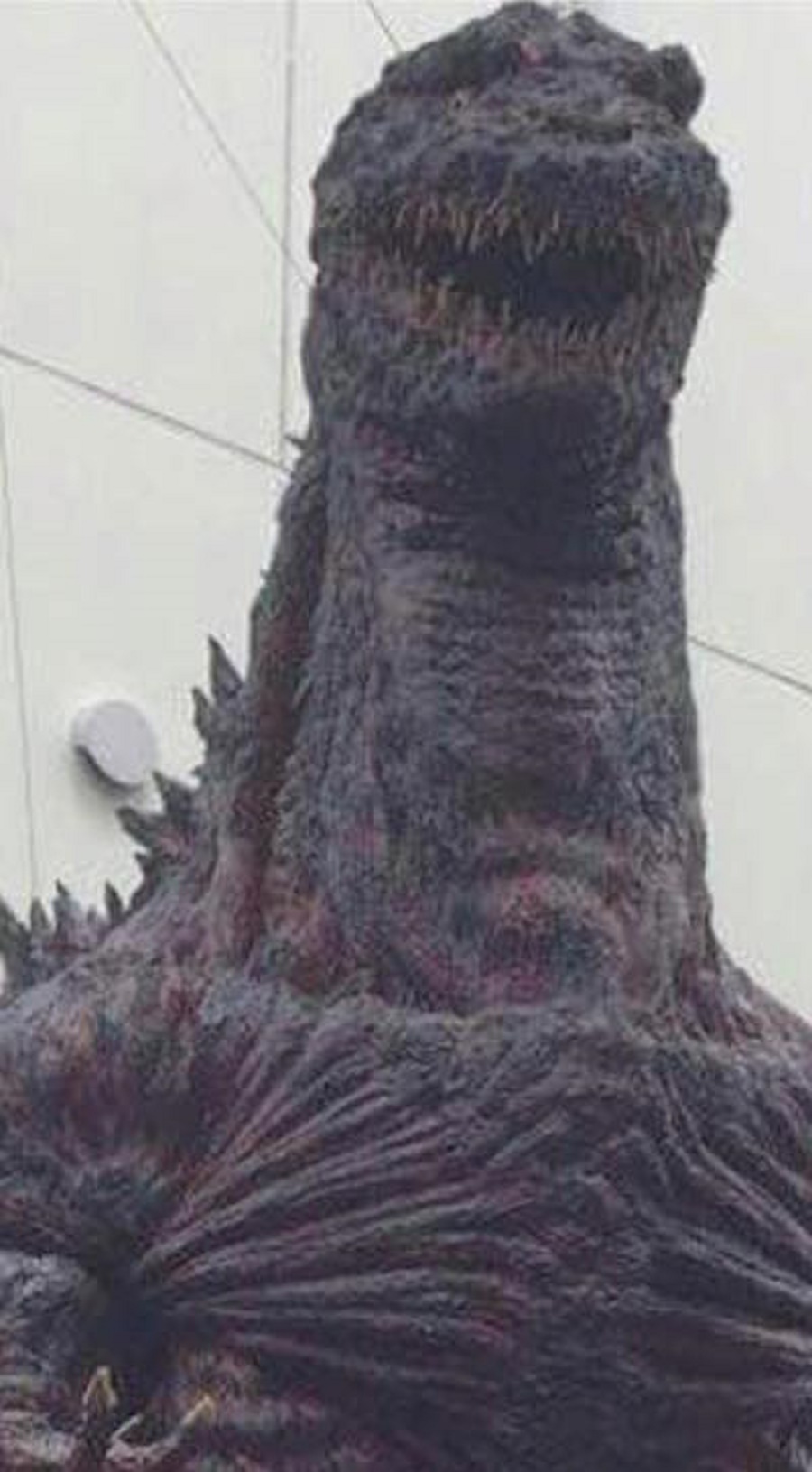 You can see more images and get more official information over at SciFi Japan.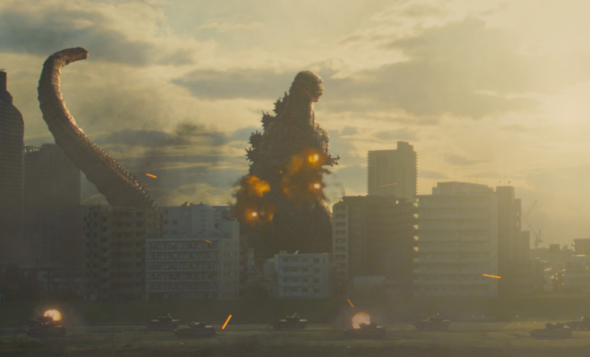 The upcoming Godzilla: Resurgence will be the first Godzilla film by Toho since 2004's Godzilla: Final Wars. That movie wasn't final enough. What started as a science fiction allegory of the atomic bombing of Hiroshima and Nagasaki has become an unstoppable cinematic force.
Toho also released the first poster for the upcoming thriller.