News
Sherlock Gnomes Trailer: Johnny Depp Headlines Gnomeo & Juliet Sequel
The Sherlock Gnomes trailer showcases the Gnomeo & Juliet sequel's reinvention as a mystery, starring Johnny Depp.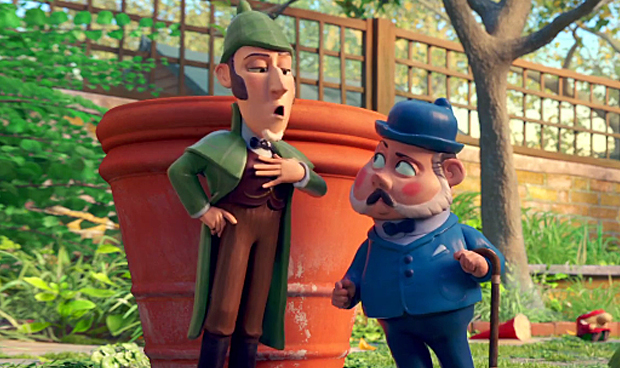 It's been a while since animated feature Gnomeo & Juliet arrived back in 2011, showcasing a Shakespearean-inspired forbidden romance through the creative prism of ceramic lawn ornaments. However, it made some money ($194 million worldwide), apparently enough to warrant a sequel seven years later, brandishing the similarly pun-happy title, Sherlock Gnomes.
Now, the added literary element of Sir Arthur Conan Doyle's oft-adapted Sherlock Holmes turns the animated adventure into a mystery, with star Johnny Depp voicing the titular diminutive detective of Sherlock Gnomes.
Sherlock Gnomes Trailer
The Sherlock Gnomes trailer shows that Gnomeo (James McAvoy) and Juliet (Emily Blunt) have been moved away from their proverbial Verona into a new garden setting. However, their idyllic new life filled with fart gags and ambiguous curse words gets disrupted when their new gnome neighbors start disappearing, with portentous possibilities of a smashing destruction in the air. Consequently, a new hero arrives in Sherlock Gnomes (Johnny Depp), joined by cohort Gnome Watson (Chiwetel Ejifor), who helps the star-crossed lawn ornaments solve the mystery. Thus, a new adventure begins, including a particularly beastly encounter with a hound that's not quite of the Baskervilles.
Sherlock Gnomes Crew
John Stevenson steps in to direct Sherlock Gnomes, picking up the franchise after Gnomeo & Juliet director Kelly Ashbury. The sequel is in good hands, since Stevenson directed 2008's original franchise-starting smash, Kung-Fu Panda, having previously worked in the animation department on the Shrek films. His next directorial work will be the biblically-inspired animated feature The Ark and the Aardvark, which will feature the voices of Miles Teller and Aubrey Plaza.
Sherlock Gnomes is a co-production of MGM, Paramount Animation and Rocket Pictures. However, while Disney had a hand in distributing the original Gnomeo & Juliet, Paramount has taken up that duty on its own for the U.S. release, with Entertainment One distributing in the U.K. and Canada.   
Sherlock Gnomes Release Date
Sherlock Gnomes will turn a theater near you into its own 221B Baker Street when it arrives on March 23, 2018.