News
Shazam Release Date, Cast, Trailer, News, Story, Villain, Photos
Here's everything you need to know about the Shazam movie, coming to the DCEU in 2019.
The Shazam movie is finally becoming a reality. David Sandberg (Lights Out, Annabelle: Creation) is directing. Henry Gayden and Darren Lemke penned the script. Peter Safran, who worked with Sandberg on the Annabelle sequel, will produce. Dwayne Johnson, who has his own Shazam-related project in the works with the Black Adam movie, is serving as one of the film's executive producers, alongside Christopher Godsick, Jeffrey Chernov, Dany Garcia, and Hiram Garcia.
Here's everything else we know:
Shazam Release Date
Shazam will arrive on April 5, 2019, but Fandango VIP members can see the movie two weeks early on March 23, at roughly 1,200 participating US theaters nationwide. More details on how to join Fandango VIP and purchase tickets to these early screenings can be found here.
"We're thrilled to work with Warner Bros. on our early access screening program, helping eventize movies and generate buzz before opening weekend," Fandango President Paul Yanover offered in a statement. "Shazam! is a film that appeals to the whole family, and we're delighted that Fandango VIP fans will be among the first to see the film two weeks before it officially hits theaters."
The full DC superhero movie calendar can be found here. 
Shazam Trailer
There's a brand new Shazam! trailer. This one gives you a little more action, but still leans heavily on the comedy. 
And that shot of Billy leaping off the roof and transforming will never get old.
There's also an international trailer with plenty of new footage…
The first Shazam trailer arrived back in July! Check it out below:
We broke down all the DC Comics lore in this trailer right here.
Shazam Review
"In a strange way, Shazam! feels and looks like the kind of superhero movie that Steven Spielberg might have directed in his heyday, or at least produced through his Amblin banner. That makes it not only completely different from most of its own company's own recent offerings (it's far superior to the overstuffed, sloppy, headache-inducing Aquaman), but lets it stand apart from the movies of the competing Marvel universe as well (although Tom Holland's Spider-Man and Billy/Shazam share some common ground)."
Shazam Cast
Zachary Levi, already a geek icon in his own right, will play Shazam, the grown, powers-imbued manifestation of child Billy Batson.
Levi made a name for himself as the star of NBC's wish-fulfillment spy dramedy series Chuck, which ran from 2007 to 2012. After that came to a conclusion, he boosted his geek cred with numerous voice roles in animated comic features, later ending up on NBC's short-lived people-with-powers franchise revival, Heroes Reborn. He also banked his share of film roles, notably picking up the part of companion Fandral in 2013's Thor: The Dark World and 2017's Thor: Ragnarok.
Asher Angel has been cast in the Shazam movie for the crucial role of Billy Batson. The role is essentially a co-starring one, since Billy is the child alter-ego of Zachary Levi's titular titan. In the comic book lore, young Billy Batson was granted the magical ability to transform into an imposing, fully-grown superhero, summoning a cocktail of Greek-mythological powers, by saying the magic phrase, "Shazam" (an acronym for Solomon, Hercules, Atlas, Zeus, Achilles and Mercury).
Shazam is the story of Billy Batson, a young orphan boy chosen by an ancient wizard to embody the powers of mythological gods and heroes when he speaks one magic word. Saying "Shazam" grants Billy the wisdom of Solomon, the strength of Hercules, the stamina of Atlas, the power of Zeus, the courage of Achilles, and the speed of Mercury. He doesn't just gain super powers, he turns into an adult version of himself, complete with snappy superhero costume.
Djimon Hounsou will play the ancient wizard who bestows superhero powers to young Billy Batson, reports EW. It also contradicts a long-held belief, since, back in January, The Wrap reported that Ron Cephas Jones (Luke Cage, This is Us) landed the role. Apparently it was scheduling conflicts that changed that.
Adam Brody, Ross Butler, and DJ Cotrona have roles. We have some details on who they might be playing right here.
Michelle Borth (Hawaii Five-0) and Ross Butler (13 Reasons Why) also have roles.
Mark Strong will play the villainous Dr. Thaddeus Sivana in the film. This would be Strong's second turn as a DC villain, having played Sinestro in the ill-fated Green Lantern movie in 2011.
Grace Fulton (Annabelle: Creation) will play "one of Billy Batson's friends," but she's almost certainly playing Billy's long lost sister, Mary, who has a superheroic future of her own as Mary Marvel.
Jack Dylan Grazer will play Freddy Freeman. Comic fans may recognize Freddy as not only Billy's best friend, but the kid who eventually becomes a superhero himself.
Ian Chen (Fresh Off The Boat) and Jovan Armand (Bella and the Bulldogs) will play Eugene and Pedro respectively. Eugene and Pedro were both created by Geoff Johns and Gary Frank for their retelling of the Shazam origin story in 2012, and this would seem to indicate that we're getting a version of the character that hews a little closer to that.
Marta Milans will play Rosa Vasquez while Cooper Andrews will play Victor Vasquez. As Jerry, a loyalist to the Kingdom on The Walking Dead, Andrews knows his way around a comic book adaptations with fierce fan followings. 
Shazam Story
Here's the official synopsis:
We all have a superhero inside us, it just takes a bit of magic to bring it out. In Billy Batson's (Angel) case, by shouting out one word—SHAZAM!—this streetwise 14-year-old foster kid can turn into the adult Super Hero Shazam (Levi), courtesy of an ancient wizard. Still a kid at heart—inside a ripped, godlike body—Shazam revels in this adult version of himself by doing what any teen would do with superpowers: have fun with them! Can he fly? Does he have X-ray vision? Can he shoot lightning out of his hands? Can he skip his social studies test? Shazam sets out to test the limits of his abilities with the joyful recklessness of a child. But he'll need to master these powers quickly in order to fight the deadly forces of evil controlled by Dr. Thaddeus Sivana (Strong).
And yes, of course Shazam will have a post-credits scene.
Shazam Villains
Despite earlier drafts that features Dwayne Johnson as Black Adam, this movie will have one villain, and that's Mark Strong as Dr. Thaddeus Sivana. Maybe we'll get a Black Adam cameo in a post-credits scene or something, but for the moment, they're saving Dwayne Johnson and Black Adam for his solo movie, which is expected to begin filming in 2019.
Mark Strong and others involved with the movie told us more about what to expect from the villain right here.
Shazam Movie Photos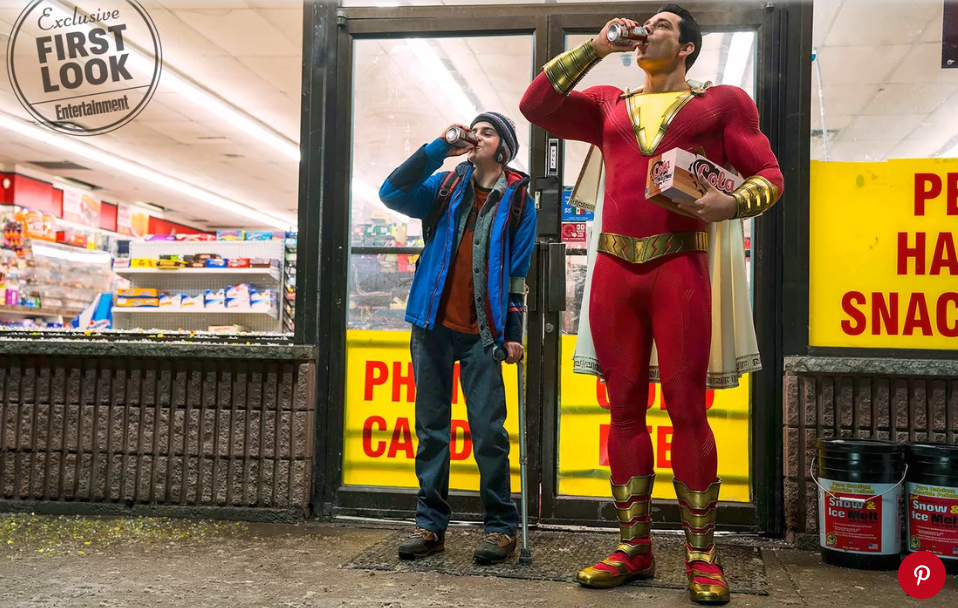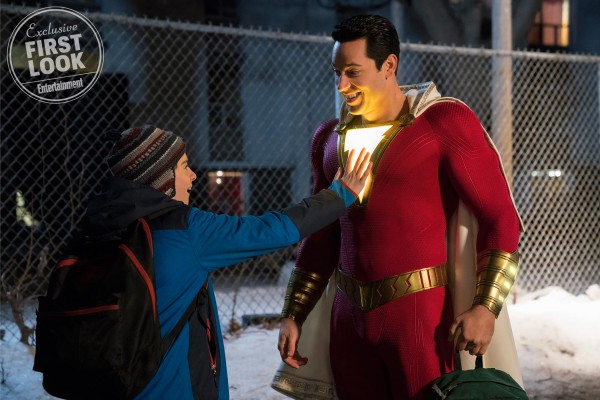 We wrote more about the costume details right here.
Shazam Poster
Check out the Shazam movie poster!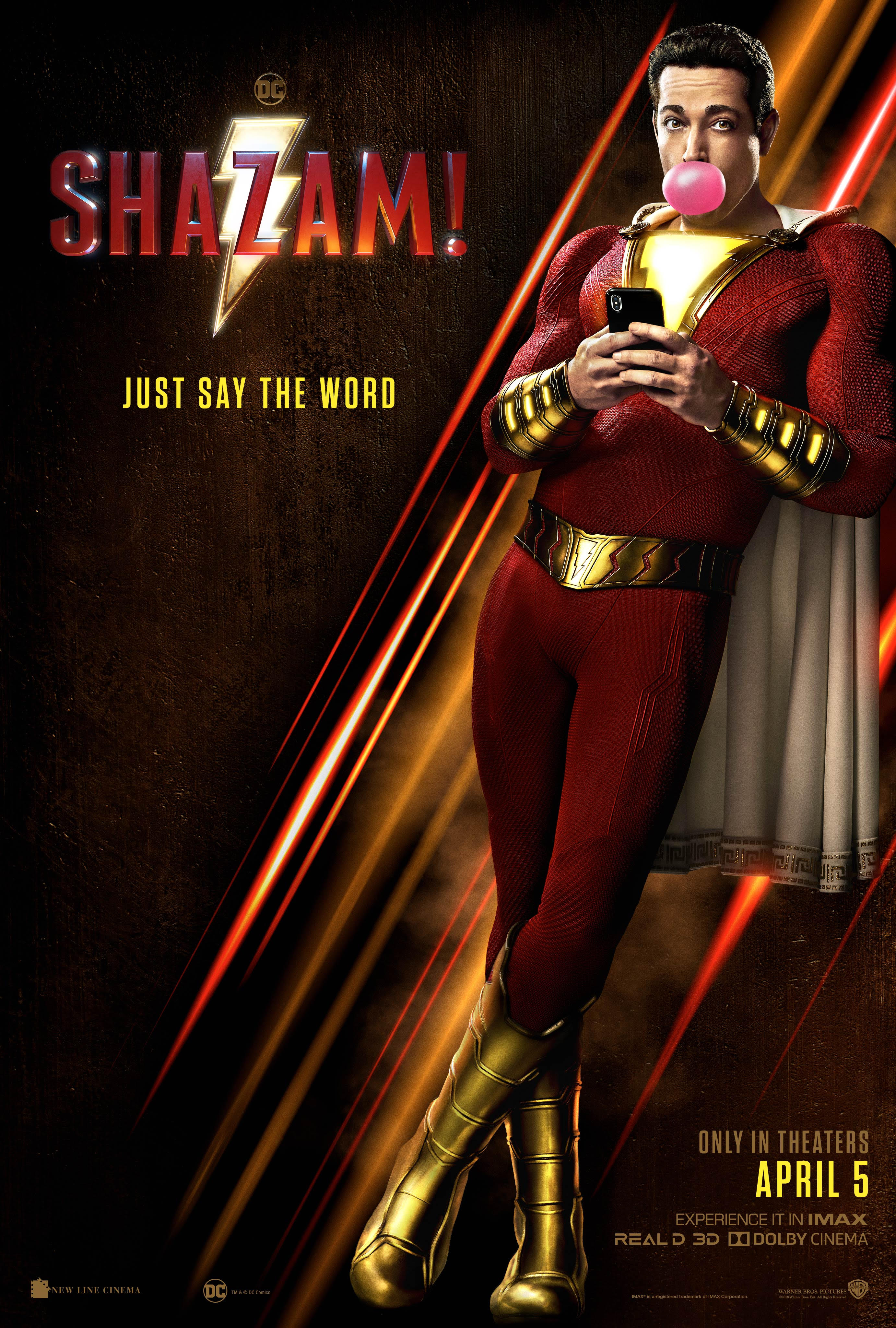 Check out the official logo art for the movie…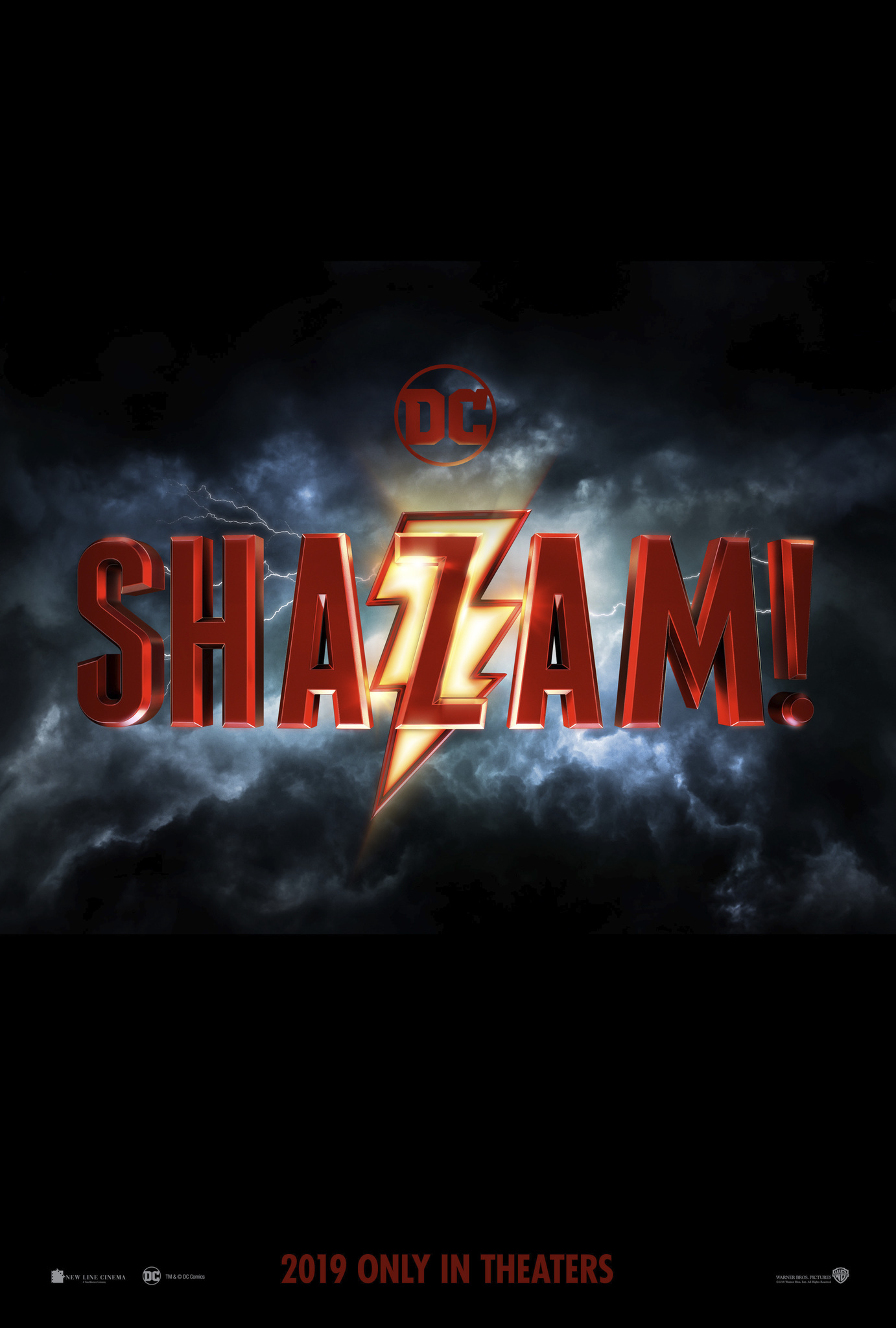 We'll update this with more information as it becomes available.