News
Shazam Movie Costume First Look
We finally have an official look at the Shazam movie costume.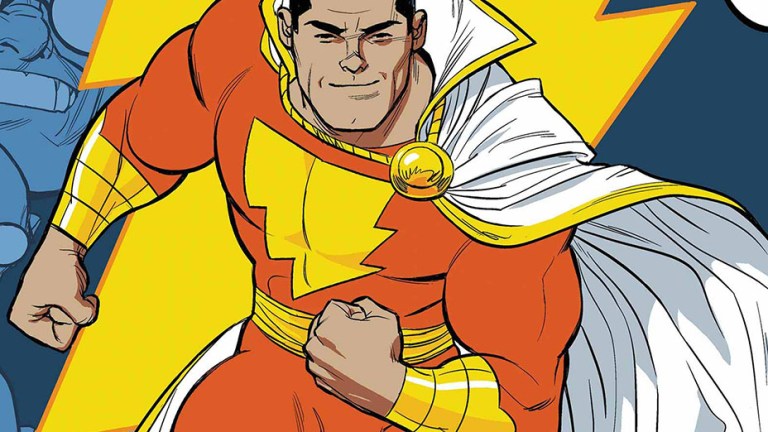 It has been over 40 years since we've seen Shazam in live action, but that's all going to change in 2019, when Zachary Levi puts on the red tights and white cape of the World's Mightiest Mortal. The Shazam movie stars Asher Angel as Billy Batson, a troubled orphan kid who is granted the powers of Solomon (wisdom), Hercules (strength), Atlas (stamina), Zeus (power), Achilles (courage), and Mercury (speed). What does that spell? You know exactly what it spells. And yes, I did that from memory and without looking it up, I know this stuff better than I knew the Pledge of Allegiance when I was in school, stop asking.
Anyway, when Billy speaks the magic word "Shazam" he is transformed into an adult version of himself, and that adult, god-powered version is played by Zachary Levi. And he comes complete with the kind of costume a little kid would dream up.
One of the chief worries about the prospect of Shazam in the DCEU would be whether they would be willing to go along with the sense of humor and whimsy that has always set the character apart from his other caped contemporaries. Enlisting David F. Sandberg, a director know for intense fare like Lights Out and Annabelle: Creation also raised an eyebrow. Judging by this first image revealed by EW, we had nothing to worry about.
Check it out…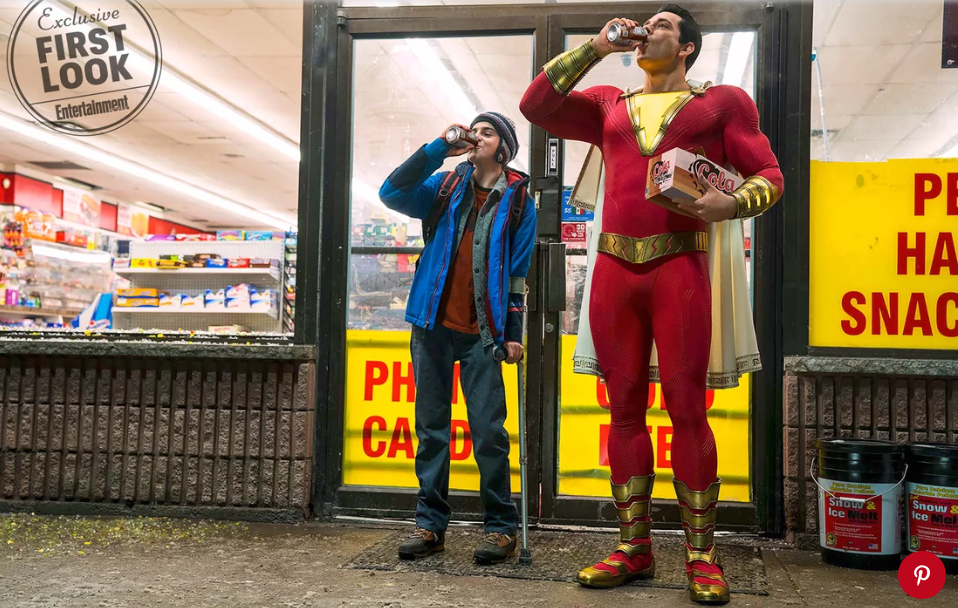 So, let's unpack this, shall we? Bright red costume? Check. Minimal overdesigning? Check. Really, it would have been a mistake to try and modernize or darken the Shazam costume. But just as the other DCEU costumes serve specific story purposes, so does Shazam's. The Man of Steel Superman costume has an ornate design because of its Kryptonian origin. The Aquaman suit is Atlantean armor. Wonder Woman's garb is Themysciran (a recent issue of Justice League by Christopher Priest and Pete Woods described it as having religious significance). There's a functional hi-tech quality to Ezra Miller's Flash suit. Batman is a rich fascist weirdo who likes bats. You get the idea.
In this case, this is definitely a kid's ideal of what a cool superhero costume should look like, with a few little DCEU touches (you can spot some light texturing on the costume). It looks like the lightning bolt will be a kind of special effect, as well, which will glow with its own mystical energy.
The scene of adult Billy/Shazam with his best pal Freddy Freeman (played by Jack Dylan Grazer…not to be confused with Freddie Freeman the baseball player) drinking soda outside a convenience store is a nod to the kind of logic that follows what kids would do if they suddenly turned into adults. In this case, it's buy a case of soda and drink it at will, because who the hell is gonna say no to a jacked dude in a red suit, right?
And not that we needed any more confirmation that this movie is taking a lot of its cues from the Geoff Johns/Gary Frank Shazam origin story from 2012, the addition of a hood to the cape is definitely from that era. The winter setting is a tip off as well, as that story takes place during the holiday season in Philadelphia (Toronto is standing in for Philly in this production).
Shazam! opens on April 5, 2019. The full DC superhero movie release schedule can be found here.