News
Serenity Trailer: Matthew McConaughey and Anne Hathaway Thriller
Serenity, a thriller starring Matthew McConaughey and Anne Hathaway, showcases murderous intrigue.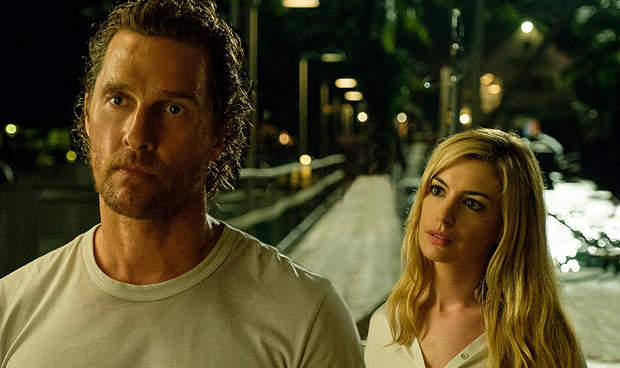 Serenity might just provide a Hollywood breakout moment for Steven Knight, the British writer/director, best known as the creator of television's Peaky Blinders. The crime thriller showcases prominent headliners in reuniting Interstellar stars Matthew McConaughey (The Dark Tower) and Anne Hathaway (Ocean's 8), and an intriguing premise that places its plot-centric murder through the gray lens of moral justification.
Besides headliners McConaughey and Hathaway, the cast includes names like Jason Clarke (Chappaquiddick), Diane Lane (Justice League), Djimon Hounsou (Guardians of the Galaxy) and Jeremy Strong (Molly's Game).
Serenity Trailer
The Serenity trailer (arriving via People,) might just evoke the same kind of maritime moroseness found in the Key West-set hit Netflix series, Bloodline, although set on a tourist destination called Plymouth Island. Here, a woman in an abusive marriage, Karen (Hathaway), makes a plea to her ex-husband, a fishing boat captain named Baker (McConaughey), to kill her hit-happy current husband (Clarke). Yet, the Hitchcockian plan to invite the mark on a fishing trip, with an outcome akin to Fredo's fate in The Godfather: Part II, will be far more consequential than it already seems.
Serenity Details
Here's the official synopsis:
From the creative mind of Oscar nominee Steven Knight comes a daringly original, sexy, stylized thriller. Baker Dill (Academy Award winner Matthew McConaughey) is a fishing boat captain leading tours off a tranquil, tropical enclave called Plymouth Island. His quiet life is shattered, however, when his ex-wife Karen (Academy Award winner Anne Hathaway) tracks him down with a desperate plea for help. She begs Dill to save her – and their young son – from her new, violent husband (Jason Clarke) by taking him out to sea on a fishing excursion, only to throw him to the sharks and leave him for dead. Karen's appearance thrusts Dill back into a life he'd tried to forget, and as he struggles between right and wrong, his world is plunged into a new reality that may not be all that it seems.
Serenity is a major movie for Steven Knight, who serves as writer and director. Knight, who was nominated for Best Original Screenplay Oscar back in 2004 for Dirty Pretty Things, has a hefty screenwriting CV, with films such as Eastern Promises, Closed Circuit, Burnt, Seventh Son and Allied. However, he's still somewhat of a journeyman as a film director, having last written/directed the 2013 Tom Hardy-starring crime drama, Locke, and the 2013 Jason Statham-starring crime drama, Redemption.
Of course, Knight's screenwriting work will continue to be showcased, notably with the upcoming Millennium sequel, The Girl in the Spider's Web, and World War Z 2. Plus, his acclaimed television work on Peaky Blinders and Taboo will continue with new seasons, along with an adaptation of A Christmas Carol.
Serenity Release Date
Serenity is scheduled to set sail for its murderous voyage on October 19.