News
Scream 5 Reportedly in the Works
Ghostface might be coming back for one last scare, as Scream 5 is reportedly in the works.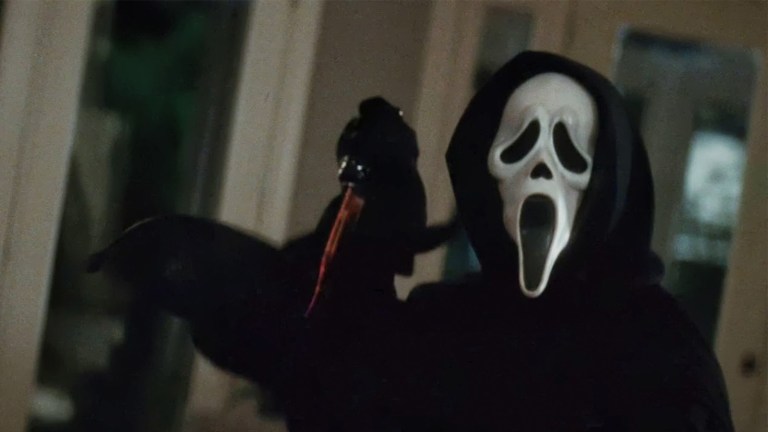 A new Scream movie is in development at Spyglass Media Group, according to a new report. Spyglass is the outfit that teamed up with Lantern Entertainment a while back when Lantern bought The Weinstein Company and Dimension's IP at a favorable rate after sexual assault allegations against Harvey Weinstein threw his company into bankruptcy.
Spyglass recently announced that it planned to reboot Hellraiser with David S. Goyer, and now Bloody Disgusting says that a Scream revival is also in the works. Kevin Williamson, who wrote three of the original four films, is apparently not involved with this fifth outing.
Though Scream's instantly recognizable killer Ghostface did return for an MTV TV series, which put out a reduced third season this past summer, the Scream film franchise retired after Scream 4, which didn't do particularly well at the box office. Horror maestro Wes Craven directed all the Scream movies and sadly passed away in 2015.
The first Scream debuted in cinemas in 1996, instantly transforming the horror landscape with a meta, tongue-in-cheek plot that blessed its characters with extensive knowledge of scary movies, but had many of them fall victim to their tropes anyway. The series' main stars – David Arquette, Neve Campbell, and Courteney Cox – starred in each installment, along with a gaggle of fresh meat, with the audience acutely aware that they probably woudn't survive to see the credits.
Every film attempted to put a different spin on the concept, with someone else donning the Ghostface mask to terrorize a group of new victims. Plenty of subsequent genre offerings have been inspired by the franchise since, including The Faculty, Urban Legend, and 2015's The Final Girls (definitely check this last one out if you've not had the chance yet!)
No further information about the new Scream film is available yet, as the project is clearly very much in the early stages. We'll keep you updated as we hear more.