News
Sam Raimi Plans Evil Dead Crossover Movie with Bruce Campbell & Jane Levy
Sam Raimi lets slip at San Diego Comic-Con that he wants Bruce Campbell's Ash to team up with Jane Levy's Mia in next Evil Dead movie.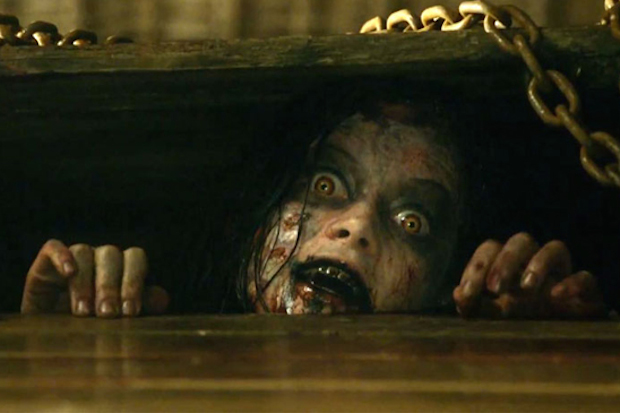 The definition of a showstopper, the Ash vs. Evil Dead panel at San Diego Comic-Con moved with the energy of 40 years of friendship—and almost as much antagonism—between that of star Bruce Campbell and fellow Evil Dead creator Sam Raimi (Rob Tapert sadly was not present). Rarely missing a chance to cut the other down to size, they were pushing each's buttons as much as the audience's. In fact, it was so entertaining that it's easy to overlook the longtime collaborators dropped a number of significant details about both the future of Ash vs. Evil Dead, as well as the destiny of the whole Evil Dead franchise.
In addition to unveiling the first full trailer for Ash vs. Evil Dead, plus letting a room full of 1,000 primitive screwheads be the first to know that the series will premiere exclusively on Starz on Oct. 31st—that's Halloween, baby—Sam Raimi and Bruce Campbell let drop a major possibility for what the next Evil Dead movie will look like.
When asked whether Raimi, who is an executive producer on Ash vs. Evil Dead and director of its first episode, would ever like to make another Evil Dead film, Raimi at first played coy before saying "since you all have the time…"
Says Raimi, "After working with Fede Alvarez, who did a terrific job on the Evil Dead remake…we loved that movie and we [are] thinking we should do a team-up eventually of his great heroine and our hero for a joint-Evil Dead reality."
For those in the know, the heroine of the Evil Dead remake was Mia played by Jane Levy. Subsequently, what Raimi seemed to be suggesting was a crossover between the original Evil Dead films' star and that of its remake—a team-up infinitely groovier than anything those caped and cowled franchises could ever come up with. Unfortunately, Campbell almost blew a hole in the plan when he added to Raimi's comments that it'd be "like a father-daughter kind of thing."
Raimi was not impressed.
"No, that isn't what I meant at all. They're teammates; they're buddies-in-arms—action heroes and not a 'father-daughter thing.' Now that I hear that, the plan is off. That's what you were thinking?You're out! We're looking for a new Ash!"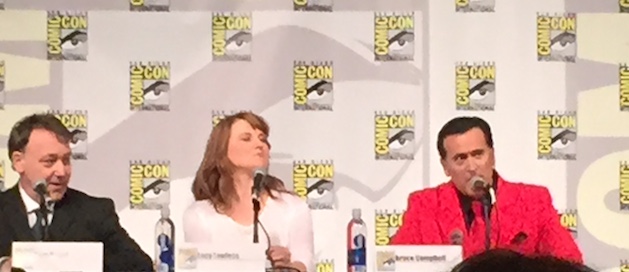 And continuing that faux-antagonism, Campbell happily complied by spontaneously inviting any and all cosplayers dressed as Ashley Williams in the ballroom to the stage. When four brave souls climbed the steps, Campbell had audiences cheer their favorites before heavily implying they should all pick the woman who dressed up as his fictional alter-ego.
"That was straight out of the 1950s," remarked Lucy Lawless, who also is in the series as Ruby Knowby (relative of the original Evil Dead Trilogy's Professor Knowby). But that was nothing as to when a fan later propositioned Bruce Campbell to come to her car after the show. His response?
"Just keep the engine running, baby. You won't need the heat."
If the series is as good as their banter, it should be a cheesy blast. Or as Campbell surmised:
[Ash vs. Evil Dead] will be like putting on that old comfortable slipper. 'Ahhh, it feels good!' It's a little ratty but it fits really well!"
Here's to hoping we get a pair of them when Ash vs. Evil Dead premieres on Saturday, Oct. 31st.
We have more on Ash vs. Evil Dead in our podcast…