News
New Evil Dead Movie Could Happen, According to Sam Raimi
The Evil Dead franchise may just rise again, with Sam Raimi now teasing plans for a new movie.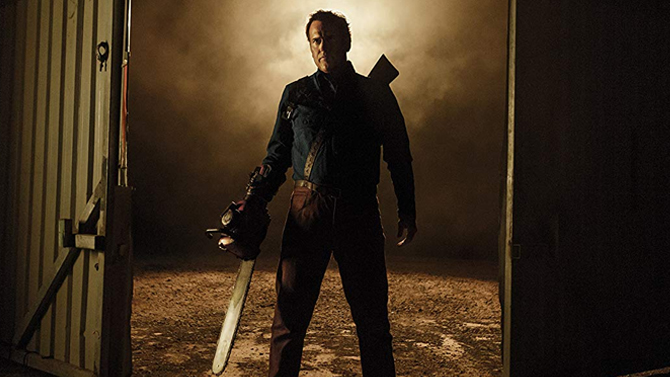 Evil Dead might just rise from its shallow showbiz grave. The cult hit horror film franchise was essentially, well, dead after its fan-embraced TV series Ash vs. Evil Dead, was cancelled in 2018 after three seasons on Starz, and star Bruce Campbell's announced retirement of his chainsaw-hand-wielding ghoul-gutter, Ash Williams. However, apropos to its premise, creator Sam Raimi is now teasing a quick rise from said grave in the form of a new movie.
A new Evil Dead project of some kind is in the works, confirms Raimi – the writer/director/producer of the franchise's film trilogy and executive producer on Ash vs. Evil Dead – in an interview with Bloody Disgusting. Upon confirming Evil Dead movie revival plans with repertory creative partner, Robert Tapert, Raimi tells the outlet:
"I'd love to make another one. I don't think TV is in its future but we're talking about – Bruce [Campbell], Rob [Tapert] and myself – one or two different ways to go for the next movie."
Of course, the concept of "another one," is a uniquely complicated proposal for the Evil Dead franchise, since it has two very unique iterations from which to choose. One version, director Fede Álvarez's 2013 reboot film Evil Dead, put the original cabin-in-the-woods premise though an updated (truly terrifying,) aesthetic, with a straightforward (non-comedic) horror focus through the eyes of new protagonist Mia (Jane Levy). Just a few years later, Ash vs. Evil Dead returned to the crimson-soaked cheeky continuity of the original film trilogy – 1981's The Evil Dead, 1987's Evil Dead II and 1992's Army of Darkness – with Campbell back in his role as hero Ash, depicted as a brash aging man-child who, once again, must combat invading Deadite forces, this time joined by companions Pablo (Ray Santiago) and Kelly (Dana DeLorenzo).
Further Reading: Army of Darkness: The Weirdness of Sam Raimi's Medieval Dead
Raimi, however, seems to lament Campbell's retirement, possibly indicating his desire to continue the original continuity. Though it does seem like he wouldn't say no to another collaboration with reboot helmer Álvarez. As he states:
"I would be thrilled if Bruce Campbell changed his mind about retirement, would come back for the original Evil Dead line. But if not, I'm very happy to work with, if Fede [Álvarez] would come back and make the sequel… but he's such a big shot now. He's so successful, an artist in demand, that I don't think he'd want to do that."
However, despite the tonal disparity between the original films and the 2013 reboot, a potential continuity-conjoining lifeline was thrown at the end of that film in the form of a post-credits scene, in which a silhouetted Bruce Campbell's Ash shows up in the aftermath, uttering his catchphrase, "groovy." Consequently, a prospective new film could be a continuation of both versions, perhaps led by Jane Levy's Mia and possibly (after an obligatory retirement-renege,) Bruce Campbell's Ash. Indeed, Raimi does reaffirm the idea of the reboot's canonical place, stating:
"I think that's a part of the Evil Dead universe but not part of the Bruce Campbell storyline." However, he also cannily adds without any elaboration, "But there's also a third possibility we're talking about."
This is certainly an intriguing – albeit vague – revelation on Raimi's part, but fans were clearly far from sated after the heartbreaking cancellation of Ash vs. Evil Dead. However, should the continuity of that show get integrated into the new film, there would be a lot of loose threads to be addressed, seeing as the series ended on a spectacular cliffhanger that – flipping the premise of Army of Darkness – had Ash waking up in a post-apocalyptic future in which the world is overrun by Deadites. – It's a cool idea, but it might make for an unfeasible premise on which a standalone movie should start, even if Army of Darkness kind of did just that, remaking (and drastically revamping) the Evil Dead II end scene in which Ash was, as the Necronomicon prophesized, stranded in medieval times.
Regardless, we'll keep you updated on the prospective new Evil Dead movie as the news arrives!
Joseph Baxter is a contributor for Den of Geek and Syfy Wire. You can find his work here. Follow him on Twitter @josbaxter.