News
Ryan Reynolds to Team with John Krasinski for Imaginary Friends Movie
Ryan Reynolds and John Krasinski will co-star in a fantasy comedy about a man who can see and talk to peoples' imaginary friends.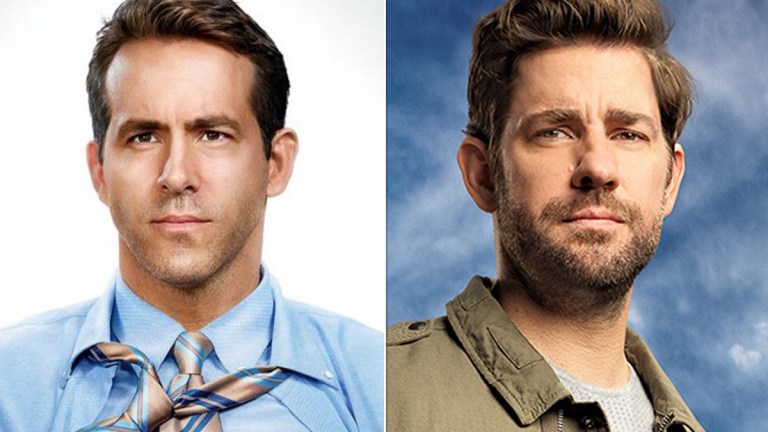 Deadpool star Ryan Reynolds has accrued an enviable project backlog, and former The Office regular John Krasinski isn't doing too bad himself with his (sequel-set) horror movie, A Quiet Place, and imminently returning Amazon TV series, Tom Clancy's Jack Ryan. However, it appears that the two high-profile actors are set to collaborate for a yet-to-be-titled fantasy comedy movie centered around the concept of imaginary friends.
The untitled Imaginary Friends movie project is the brainchild of John Krasinski, who's set to write, direct and co-star alongside megastar Ryan Reynolds, who would prospectively produce, reports THR. The project is reportedly being shopped around to studios as we speak, and, should it move forward, would be produced by Krasinski as well as Reynolds, via his Maximum Effort company.
The premise of the film will depict the story of a man (Reynolds) who discovers that he has the uncanny ability to see, hear and interact with the imaginary friends of other people. It seems that in this world, imaginary friends tend to be discarded, obviously as their creators evolve as they enter adulthood; a process that is increasingly leading the imaginary friends – due to a lack of love and friendship – to embrace evil. Consequently, the protagonist takes it upon himself to save those on the verge of turning to the dark side.
Further Reading: Deadpool 3 Waiting on Marvel Studios Green Light
Sure, this project's premise may sound a bit like Syfy's recently-canceled crass comic book adaptation series, Happy! (in which Christopher Meloni played a crude ex-cop who is joined by his daughter's imaginary friend, an ebullient miniature unicorn,) but with Reynolds and Krasinski onboard, we're probably looking at something that resides on a different end of the levity spectrum.
Reynolds, as implied earlier, has a lot on his plate, next set to unveil his starring role in Netflix's Michael Bay-directed actioner, 6 Underground on December 13. The year 2020 will see him in films Free Guy, sequel The Hitman's Wife's Bodyguard, a voice role in The Croods 2, and an appearance in Rawson Marshall Thurber comedy Red Notice. Additionally, while Disney's acquisition of Fox may have put Deadpool on ice, the Mouse regime seems intent on keeping Reynolds in the Merc with a Mouth role – we'll just have to see how he'll manifest in the Marvel Cinematic Universe.
Krasinski, the maestro of this proverbial Imaginary Friends movie symphony, will premiere the second season of his starring role in Amazon Prime Video's Tom Clancy TV series adaptation, Jack Ryan, on November 1. Of course, he recently showed a completely different side of his creative palette to tremendous acclaim and box office bounty with his directorial/starring turn in 2018 horror film A Quiet Place, with sequel A Quiet Place 2 set to hit theaters on March 20, 2020.
We'll keep you updated on this intriguing movie collaboration as things develop!
Joseph Baxter is a contributor for Den of Geek and Syfy Wire. You can find his work here. Follow him on Twitter @josbaxter.