Reviews
Russell Howard: Live at the Bloomsbury Theatre DVD review
Russell Howard's debut DVD doesn't disappoint, reckons James. Even if it is quite short...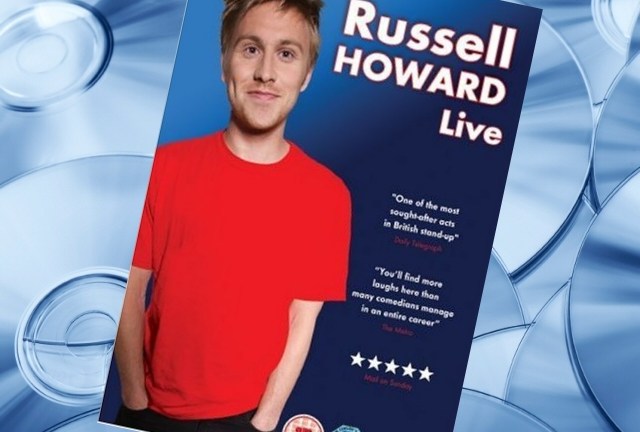 Russell Howard is one of comedy's rising stars, having made a name for himself as a regular on such shows as BBC 2's Mock the Week, Radio 4's Banter and his own BBC 6 music show. Russell Howard Live is his first DVD and features a recording of his 2007 stand-up show, "Adventures", as performed at the Bloomsbury Theatre in London.
Howard's stand-up is delivered in a relentlessly energetic fashion, running and leaping around the stage, his material infused with a sense of child-like wonder and a unique brand of anti-cynicism. Howard's shtick, as much as he has one, is to isolate life's uniquely absurd moments and then revel in the sublime nature of them, encouraging everyone to see the ridiculous beauty in otherwise mundane experiences. It works well, giving a street-level commonality to his work without ever making it feel patronising. Even though he's the focus of the room, there's no sense of superiority or ego, and he instantly ingratiates himself with the audience as a result.
Because he draws on shared experience, Howard is a comedian anyone of his generation can relate to. Whether that appeal extends beyond those roughly in his age range is hard to predict, but certainly his youthful outlook is a definite advantage, allowing him a free pass to slip into occasional puerility even as he dissects his experiences in adult life. The show is, at times, openly personal, but Howard always manages to defuse any emotional tension within seconds, whether talking about a break-up with a girlfriend or his brother's epilepsy, by keeping the focus on the sheer ridiculousness of the scene as viewed by an outsider.
For all its apparent honesty, Howard's stand-up is fairly traditional in nature – you won't find yourself bombarded by trendy non-sequiturs, or going on any Dave Gorman-esque emotional journeys. Any narrative is loose, defined more by his attitudes and conclusions than a specific theme or yarn – the focus remains always on the jokes first, and himself second.
If Howard can be accused of anything, it's of being a fairly "safe" performer – rather than do anything especially new with stand-up, he simply attacks the job with all the enthusiasm he can muster, revelling in his role as an entertainer and doing a brilliant job at it. The odd bout of crowd-based improvisation aside, he stays in the same gear throughout the performance, never once lagging and cramming as many jokes into an hour as seems humanly possible.
If Howard's stand-up seems to be firing on all cylinders, the DVD package itself could do with a little improvement. The production is good, if not perfect – although the editing could've perhaps made some parts of the show a little slicker, it instead gives the impression of a live performance captured in its entirety, retaining a genuine feel. The roughly hour-long show utterly flies by, even accounting for an extra Q&A segment recorded especially for the DVD, and an RRP of £19.99 does seem a little steep for such a quick watch. The only extra is the aforementioned Q&A, which is disappointingly short.
However, when you consider that it can be picked up new for closer to £10 online, that feels like a much more appropriate price point. Howard's first DVD is an above average debut and proof that good comedy doesn't need any victims.
Feature:
Extras:
Check out our interview with Russell right here.
---