News
Rush Hour 4 Moving Forward, According to Jackie Chan
Jackie Chan confirms that, after a decade of false starts, Rush Hour 4 is happening. Now, it's up to Chris Tucker.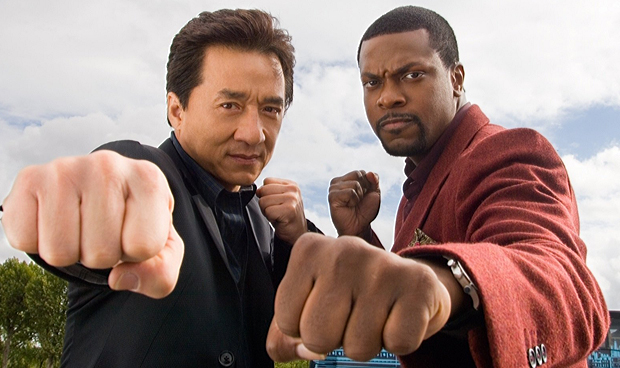 Fans of the Rush Hour film trilogy will certainly understand the words that are coming out of Jackie Chan's mouth, with his recent confirmation that the long-teased fourth film in the franchise is finally happening.
In a Thursday radio interview with L.A.'s Power 106's The Cruz Show, Jackie Chan – promoting this month's dark dramatic turn in The Foreigner – faced a question he's undoubtedly been asked countless times for a solid decade regarding the status of a possible Rush Hour 4. However, this time, the Hong Kong action icon offered an auspiciously unambiguous answer. Acknowledging the years of false starts and unfruitful negotiations that the Rush Hour 4 project has undergone since things were left hanging with the 2007 release of Rush Hour 3, Chan updates, stating:
"Next year." Adding, "For the last seven years, we've been turning down the script, turning down the script. Yesterday, we just agreed."
Chan also revealed that the script – apprently on its second draft – should be done by the end of the month. Filming should start next year, at least, he "hopes" it will, since it all depends on whether Chris Tucker agrees to return. There lies the rub.
Cementing himself as a comedic sidekick, Tucker's star surged from his co-starring role in 1995's Friday and took off into the space with 1997's The Fifth Element, before bottling buddy cop lightning alongside Chan in 1998's original Rush Hour and its two sequels. Yet, Tucker's post-stardom onscreen appearances were notably sporadic, with only a supporting role in director Quentin Tarantino's (generally underrated) 1997 film Jackie Brown serving as his last non-Rush Hour film appearance for 15 years.
However, Tucker abruptly made a 2012 comeback in director David O. Russell's drama Silver Linings Playbook (which won Jennifer Lawrence a Best Lead Actress Oscar), followed four years later with a supporting role in director Ang Lee's Billy Lynn's Long Halftime Walk. Tucker's been inactive ever since, with only a rumored role in Rush Hour 4 and even hazier prospects for a return to the Friday franchise floating about. Indeed, Chan (now at age 63,) having abused his body with stunts for several decades, emphasizes in the interview that he wants to make this fourth Rush Hour while he and Tucker (at age 46,) are still physically capable, before they become too old to feasibly carry the action/comedy franchise.
1998's original Rush Hour was a smash hit, earning $141.1 million domestic and $104 million foreign. It not only created a legendary onscreen teamup, but elevated the directorial career of the franchise's repertory helmer, Brett Ratner. While 2001's Rush Hour 2 nearly doubled the original's take with $226.1 million domestic, $121.1 million foreign, the critically tepid 2007 threequel Rush Hour 3 struck well after the franchise iron was hot, only earning $140.1 million domestic, $117.9 million foreign. Barring the short-lived 2016 CBS Rush Hour television series adaptation, the franchise has been in hibernation for over decade.
For now, Rush Hour 4 is expected to shoot sometime in 2018.