News
Running With the Devil Trailer Finds Nicolas Cage in Hot Water
Nicolas Cage is coming up on 100 feature film credits. Here's the trailer for Running With the Devil.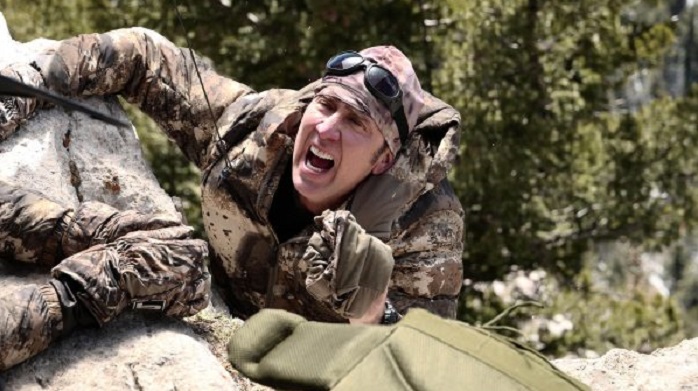 Everyone's talking about Nicolas Cage at the moment. Not that he's ever far from the public consciousness, but the iconic actor just did an absolutely sublime interview with The New York Times which, if you haven't had chance to read it yet, is well worth your time.
It's very much one of those interviews where it's extremely tough to cherry-pick a favorite quote, but we're a bit fond of this one, which we've taken completely out of context here:
"If you go to Glastonbury and go to the Chalice Well, there's a spring that does taste like blood. I guess it's really because there's a lot of iron in the water. But legend had it that in that place was a grail chalice, or two cruets rather, one of blood and one of sweat."
Anyway, where were we? Ah yeah, Cage has a new film coming out next month, and a first trailer has arrived to preview what we're in for. The movie is entitled Running With the Devil, and Cage's co-stars in this one are Laurence Fishburne, Adam Goldberg, Leslie Bibb, Clifton Collins Jr., Peter Facinelli and Cole Hauser. It's been helmed by actor-turned-director Jason Cabell.
Here's an official overview of the plot for you…
"When a cocaine shipment is compromised to the dismay of a drug cartel's CEO, known simply as The Boss, he orders his most trusted henchman, The Cook, and his partner, another master drug trafficker known as The Man, on a dangerous journey to audit the company's supply chain. As the drugs make their perilous trek across international borders, past gangsters, refiners, and couriers, they are also being tracked by Federal Agents. When The Cook realises where the network is breaking down, it may be too late to keep the cartel satisfied."
Running With The Devil will be released on Sept. 20, and will be available to stream on the same day. 
Read and download the Den of Geek SDCC 2019 Special Edition Magazine right here!