News
Rubbish movies Sarah's looking forward to
Sarah watches lots of films. Simon generally mocks her for her choices. Hence this article...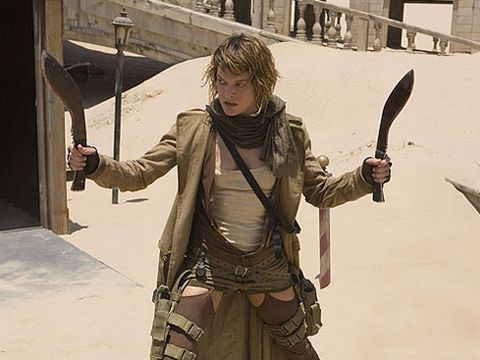 Okay, first of all, I should take some exception to the Simon-penned title of this article. Obviously, I don't think the movies I want to see are going to be rubbish, or I wouldn't go to see them. However, you lot are probably going to entirely disagree with me and my reasoning. Anyway, here's the list:
Fantastic Four 2: Rise of the Silver SurferI liked the first Fantastic Four movie. It wasn't great, but it was okay; I quite enjoyed it, though I didn't bother with the DVD. And the trailers for this sequel look awesome. I don't care what anyone says, I think I'm going to like this movie.
I Know Who Killed MeThere isn't a release date for this yet; it's still in post-production, and I don't even really know what it's about. But it's got Lindsay Lohan in it, and, more importantly, Jessica Rose from LonelyGirl15. So I'll watch it.
PostalI want to see this. It's an Uwe Boll movie, for one thing; I was in it, for another. Yay!
Resident Evil: ExtinctionI'm never sure what I think of the Resi movies. There are some quite enjoyable bits in them, but they're a bit rubbish overall. In a trashy way. I don't know, I'm feeling quite affectionate towards them, and will definitely see this third one. Probably on opening night.
Hostel 2I both am, and am not, looking forward to this. I loved Hostel, loved Cabin Fever, thought Eli Roth really knew what he was doing and really loved the horror genre (unlike some hacks out there who purport to, but really just want to make horrible torture flicks). Er, but Hostel really didn't need a sequel, sequels are very often rubbish, and the things Roth's been saying about it… oh dear.
Sweeney ToddYeah, yeah, Tim Burton's lost the plot, but you can't tell me you're not just a little bit excited about this one too…