News
Rosemary's Baby Album Celebrates An Unblessed Event
Ira Levin found fear in a fetus 50 years ago. Rosemary's Baby Album brings the post-partum horror online.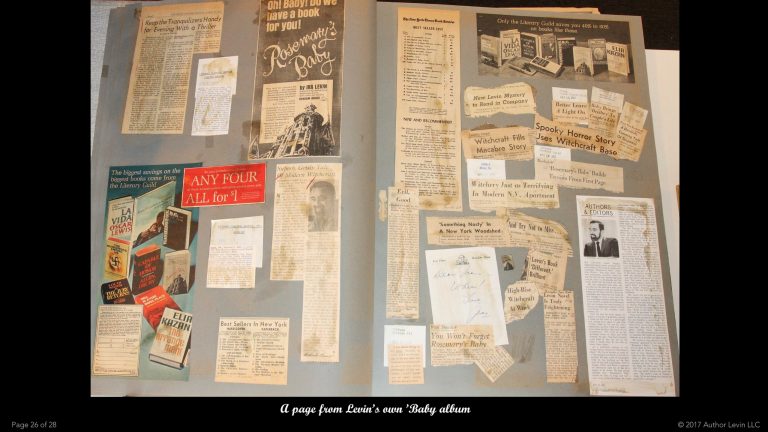 Babies were never as scary as when imagined through the eyes of Ira Levin. His 1967 book Rosemary's Baby hid the monster inside the mother, let the horror incubate for nine months, and changed the horror genre. After taking a chance to sit quietly, IraLevin.org released "Rosemary's Baby Album," which has everything about its genesis but the sonogram. 
Stephen King declared Levin "the Swiss watchmaker of the suspense novel." Rosemary's Baby turned 50 in 2017. The new 28-page online feature traces the novel's development through high-resolution scans of the author's notes, drafts and "related ephemera from its writing, starting with the first known setting-down of its premise on a single notepad page, in 1960," according to the press statement.
#RosemarysBabyAlbum provides readers an unprecedented opportunity to "peek over Levin's shoulder" as he "conceives and structures his iconic tale – considering, tweaking, or outright rejecting alternate titles, character names and plot trajectories." It has drawings of the Castevets apartment, 7A, and reveals connections between real life, and the world of the novel.
One particular page of interest is on Levin's short story "The Underground Gourmet," which was published by Ladies Home Journal in 1954. It is about a woman who is so well known for her delicious devil's food cake the Devil himself wants a taste. The story was adapted for TV by G.E. Theater. Hosted by Ronald Reagan, it starred Sid Caesar as the devil who tricks actress Patricia Barry into baking exclusively for him while her husband is at work.
The movie Rosemary's Baby was directed by Roman Polansky, and starred Mia Farrow as Rosemary Woodhouse, and John Cassavetes as her husband Guy.
IraLevin.org is the official Ira Levin website, created and maintained by his estate to serve as a comprehensive source of information about his works. "Rosemary's Baby Album" was created by Nicholas Levin.
"Rosemary's Baby Album" can be viewed online now at IraLevin.org/album.