News
Roma Wins Big with Online Film Critics Society
The Online Film Critics Society has announced its winners which saw top prizes for Roma, First Reformed, Hereditary, and Black Panther.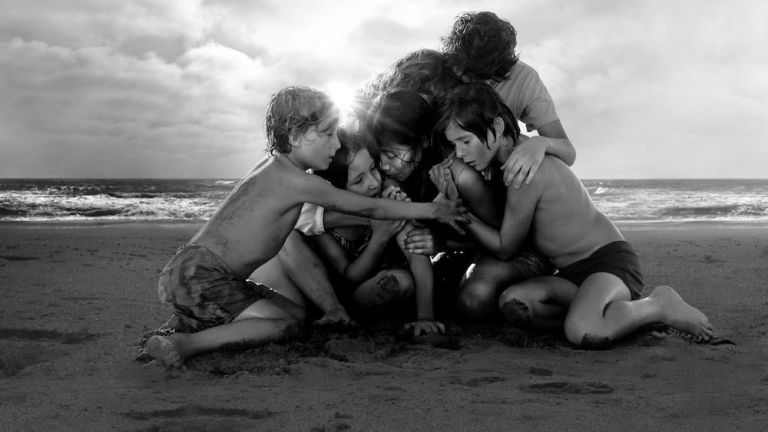 The Online Film Critics Society has announced its winners and preferred films of 2018, and Roma, perhaps not all that surprisingly, continues to be the critical favorite. After awarding the more mainstream Get Out its Best Picture prize last year, the OFCS rang in its 22nd annual awards by anointing Alfonso Cuarón's cinematic memento with several major awards including Best Picture, Best Director, and Best Cinematography, the latter two were both Cuarón, as well as Best Foreign Language Film. First Reformed also proved somewhat more unexpectedly to be a strong rallying point among online critics, who recognized Ethan Hawke for Best Actor and Paul Schrader for Best Original Screenplay. Ari Aster, meanwhile, received Best Debut Feature in addition to his Hereditary making it on the final Top 11 list. But the real crowd pleaser to genre fans would be Toni Collette winning Best Actress for a horror movie.
Other winners included If Beale Street Could Talk's Regina King winning Best Supporting Actress, Nicholas Britell taking Best Original Score for the film, and also Beale Street writer-director Barry Jenkins taking up a deserved Best Adapated Screenplay prize for his lyrical work. and a pair of superheroic wins for Hollywood's favorite genre as Spider-Man: Into the Spider-Verse won for Best Animated Feature and Michael B. Jordan picked up a surprising Best Supporting Actor win.
This announcement continues the trend of Roma being the preferred film for critics' groups, beginning with major wins for Best Picture and Best Director from the New York Film Critics Circle. Since then the Netflix film has won with various critics groups, including the Los Angeles Film Critics Association, Chicago Film Critics Association, the Boston Society of Film Critics, the Boston Online Film Critics Association, the Las Vegas Film Critics Society, and the IndieWire Critics' Poll. It also featured on the National Board of Review's Top 10 films. We've previously anticipated Roma would clean up with critics' groups and then run into greater problems when competing within the Hollywood industry's own awards, including guilds and the Oscars, as a streaming service's alternative to theaters. Time will tell if that is the case.
The Online Film Critics' celebration of Toni Collette and First Reformed should be a boon for both her and Ethan Hawke, who a month ago appeared to be longer shots for Best Actor or Best Actress nominations at the Oscars, yet continue to get deserved recognition by critics groups. This support could prove crucial in having each performance, especially Collette's turn in horror, get sincere consideration by the Academy of Motion Picture Arts and Sciences. Michael B. Jordan's recognition in Best Supporting Actor, meanwhile, continues the narrative that Black Panther is worthy for Best Picture consideration… so maybe it will actually get in?
The complete list of winners and Top 11 list, including this writer's favorite ranked in the fifth spot (full disclosure: the author is a member of the OFCS), can be found below.
Best Picture
Roma
BEST Animated Feature
Spider-Man: Into the Spider-Verse
Best Director
Alfonso Cuarón – Roma
Best Lead Actor
Ethan Hawke – First Reformed
Best Lead Actress
Toni Collette – Hereditary
Best Supporting Actor
Michael B. Jordan – Black Panther
Best Supporting Actress
Regina King – If Beale Street Could Talk
Best Original Screenplay
Paul Schrader – First Reformed
Best Adapted Screenplay
Barry Jenkins – If Beale Street Could Talk
Best Editing
Eddie Hamilton – Mission: Impossible – Fallout
Best Cinematography
Alfonso Cuarón – Roma
Best Original Score
Nicholas Britell – If Beale Street Could Talk
Best Debut Feature
Ari Aster – Hereditary
Best Film Not in the English Language
Roma
Best Documentary
Won't You Be My Neighbor?
Technical Achievement Awards
Annihilation – Best Visual EffectsBlack Panther – Best Costume DesignMission: Impossible – Fallout – Best Stunt CoordinationA Quiet Place – Best Sound DesignA Star Is Born – Best Original Songs
Online Film Critics Society's Best of the Year
1. Roma2. BlacKkKlansman3. If Beale Street Could Talk4. First Reformed5. The Favourite6. You Were Never Really Here7. Annihilation8. Eighth Grade9. Hereditary10. A Star Is Born11. Suspiria
Lifetime Achievement Awards Roger DeakinsSpike LeeRita MorenoRobert RedfordAgnès Varda
Special Achievement Awards
Director Ryan Coogler, for Black Panther's distinctive critical and box office appeal
The city of Oakland, CA, for hosting two of 2018's most socially and artistically compelling films about race relations, "Sorry to Bother You" and "Blindspotting."
David Crow is the Film Section Editor at Den of Geek. He's also a member of the Online Film Critics Society. Read more of his work here. You can follow him on Twitter @DCrowsNest.