News
Roma Wins Best Picture at New York Film Critics Circle
Roma takes home the top two prizes from the New York Film Critics Circle, helping define the Netflix film as an Oscar frontrunner.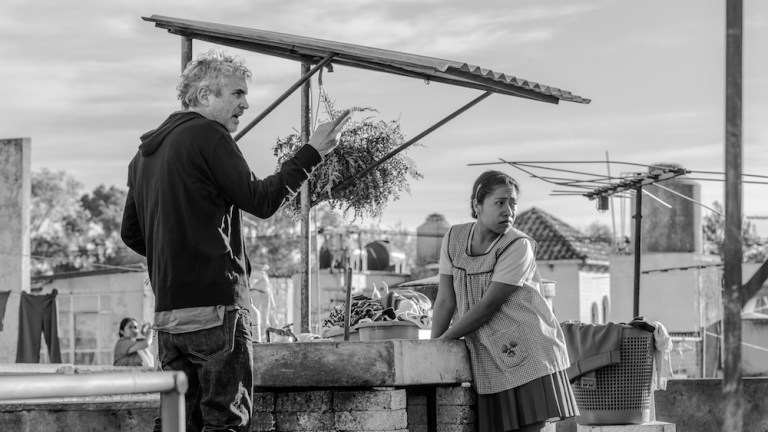 And the battle lines for the 2018 awards season begins to take shape as the New York Film Critics Circle finished revealing its list of winners on Thursday. The storied critics group, which began in 1935 and to this day is mainly comprised of just over 30 newspaper, magazine, and online publication critics and film journalists, announced Alfonso Caurón's Roma to be the Best Film of the year. Additionally, Cuarón was awarded the Best Director prize.
In terms of political standing, this is significant as the NYFCC is one of the oldest and most revered critics groups in the country—and one for whom winners usually attend the awards ceremonies later in the season (it's Jan. 7 for the 2018 selection). Thus their vote of confidence in a Netflix film can only help push the needle for Roma, a beautiful and grandly intimate film that is loosely based on Cuarón's own childhood in Mexico City (he also wrote the picture and acted as his own Director of Photography). However, despite Cuarón winning the Oscar for Best Director for his last feature, Gravity, Roma's status as a Netflix release has led to much hand-wringing in the industry: Is the Academy ready to recognize a streaming service as a distributor of one of the year's best films… even as Netflix stands is arguable opposition to the box office and moviegoing business model the Academy celebrates?
The NYFCC has voted yes due to Roma's undeniably masterful storytelling and filmmaking. This also more starkly puts Roma in the position of a possible frontrunner, especially against the more mainstream-friendly Green Book, which just took home Best Film and Best Actor for Viggo Mortensen from the National Board of Review this week. We've previously speculated the awards season would be a fight between Roma (the critics' likely favorite) and Green Book, with films like A Star is Born, If Beale Street Could Talk, and The Favourite acting as potential dark horse candidates. These early victories reinforce that narrative.
The NYFCC also recognized Regina King as Best Supporting Actress for If Beale Street Could Talk, another of our favorite films this year. That award, as well as Richard E. Grant taking home the Best Supporting Actor title for Can You Ever Forgive Me?, which we discussed with him here last month, also will help give momentum to these two deserving turns from less reliably household names. The critics group also gave some surprise love to less expected fare like Regina Hall for Support the Girls and Ethan Hawke and Paul Schrader for First Reformed, a cerebral and hypnotic film about faith in a seemingly faithless world. We talked with Schrader and Hawke exactly about that out of SXSW earlier this year.
The full list of winners, including Cuarón again for Best Cinematography, can be found below.
Best Film: Roma
Best Director: Alfonso Cuarón / Roma
Best Screenplay: First Reformed (Paul Schrader)
Best Actress: Regina Hall / Support the Girls
Best Actor: Ethan Hawke / First Reformed 
Best Supporting Actress: Regina King / If Beale Street Could Talk
Best Supporting Actor:  Richard E. Grant / Can You Ever Forgive Me?
Best Foreign Language Film:  Cold War (Pawel Pawlikowski)
Best Cinematography: Roma (Alfonso Cuarón)
Best Nonfiction Film: Minding the Gap (Bing Liu)
Best First Film:  Eighth Grade (Bo Burnham)
Best Animated Film: Spider-Man: Into the Spider-Verse (Bob Persichetti, Peter Ramsey, Rodney Rothman)
Special Awards: David Schwartz, stepping down as Chief Film Curator at Museum of the Moving Image after 33 years. Kino Classics Box Set "Pioneers: First Women Filmmakers"
David Crow is the Film Section Editor at Den of Geek. He's also a member of the Online Film Critics Society. Read more of his work here. You can follow him on Twitter @DCrowsNest.