News
Rod Serling's Original Planet of the Apes Gets Adaptation
BOOM! Studios to adapt Rod Serling's unproduced Planet of the Apes screenplay as a graphic novel.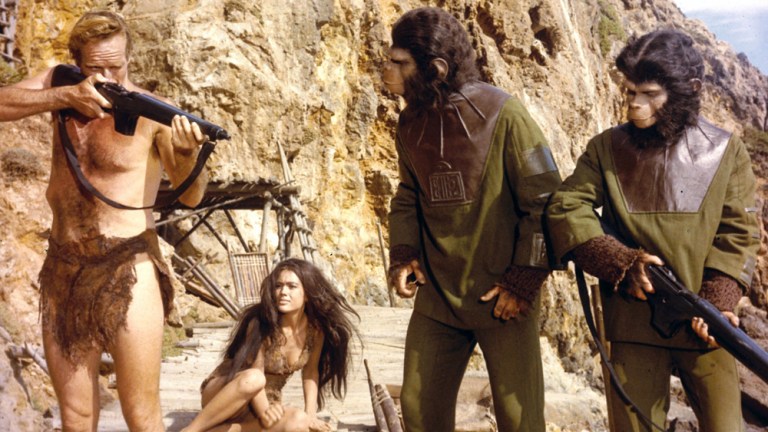 Get your stinking hands off that book, you damned dirty ape. That's a Rod Serling original. The Twilight Zone and Night Gallery creator's original screenplay for Planet of the Apes was never produced, but it will not stay half-buried like the Statue of Liberty. BOOM! Studios and 20th Century Fox Consumer Products will adapt the script into comic book format as Planet Of The Apes: Visionaries.
The graphic novel Planet Of The Apes: Visionaries is written by Dana Gould (The Simpsons) with art by Chad Lewis (Avengers Origins).
"Planet Of The Apes meant as much to me growing up as baseball means to most kids. No lie," Gould said in a statement. "That I'm now able to be involved with this universe in a creative capacity, much less adapting the original Rod Serling script… I mean, Rod Serling! I am incredibly grateful to BOOM! Studios for this once in a lifetime opportunity."
"Planet Of The Apes: Visionaries is a dream project because it combines my love of retro sci-fi fi and anthropomorphic characters," Lewis added. "There's nothing better than drawing human emotions on gorillas and chimps! Dana has deftly translated these great characters and world into the graphic novel format and it's a joy to illustrate every corner of the rich universe."
The new original graphic novel will drop in August 2018 as part of the 20th Century Fox Uncovered collection in celebration of the 50th anniversary celebration of Planet of the Apes.
The science fiction classic starring Charlton Heston is an adaptation of the French novel La Planète des singes by French novelist Pierre Boulle, who also wrote the novel The Bridge over the River Kwai. Serling was commission to adapt the book by  20th Century Fox. Serling's first draft was revised before shooting started. The final version was radically different from what wound up on celluloid.
"For every Planet of the Apes fan that's wanted to see what Rod Serling's original film would've looked like and the team on this graphic novel will blow you away," Dafna Pleban, Editor, BOOM! Studios, said in a statement. "Dana Gould and Chad Lewis having lovingly adapted the ambitious, original plan for Planet of the Apes film into a graphic novel that speaks to the timeless, unflinching themes of the franchise while offering an entirely new vision of familiar faces."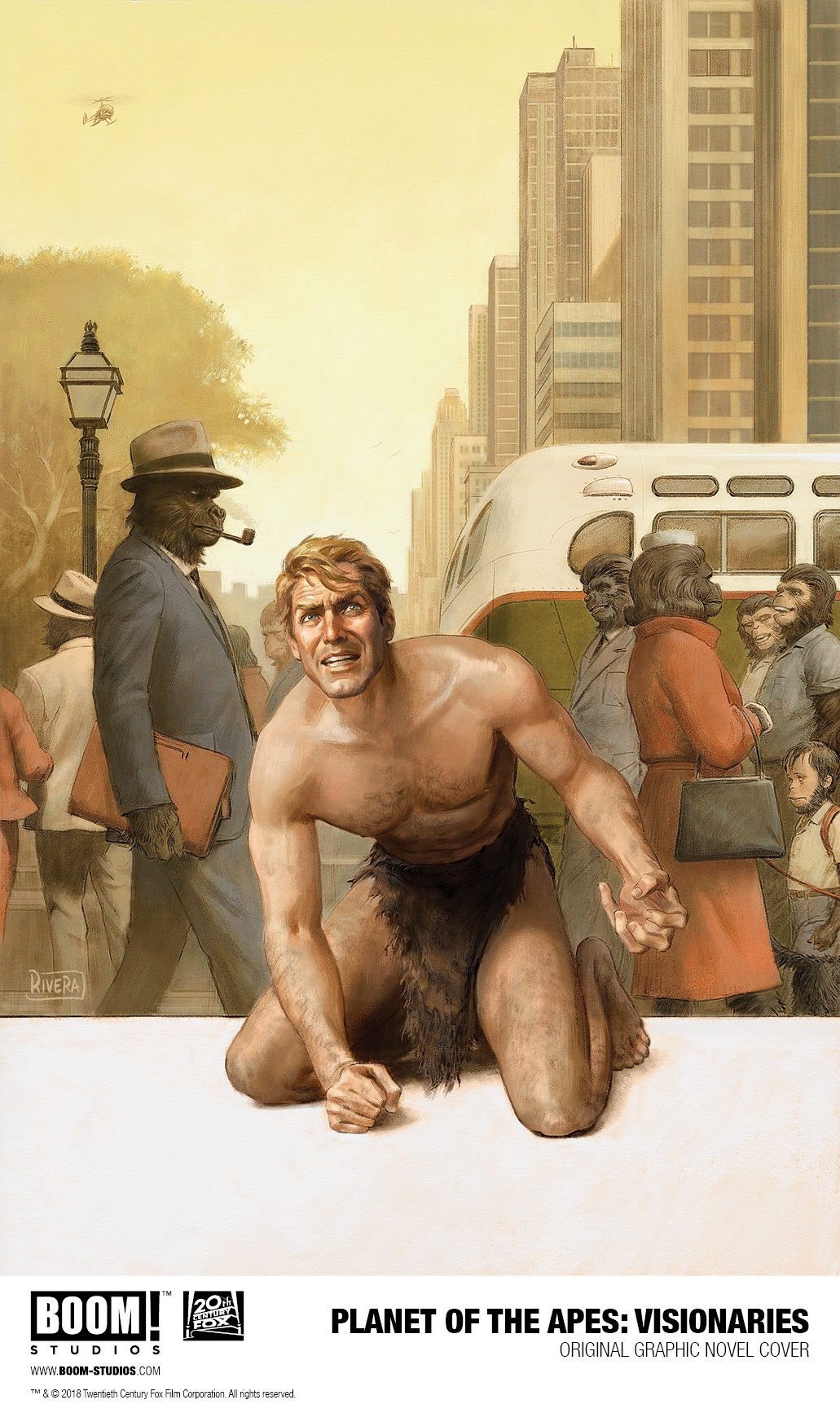 "This is the world you know from the acclaimed Planet of the Apes film series, but with key differences," reads the official synopsis. "Taylor is Thomas, and Ape City isn't a crude, primitive grouping of huts; instead,  it's a bustling and urbane metropolis filled with cars and skyscrapers and a vibrant Ape culture. In a world where Apes wear modern clothes, drive modern cars and rule the late night talk show scene, the arrival of one man will forever change how Apes – and Humans – view themselves."Planet Of The Apes: Visionaries used the original 1966 makeup test and concept art as a jumping off point. The cover art was designed by Paolo Rivera, the Eisner award-winning artist behind Daredevil.
Print copies of Planet Of The Apes: Visionaries will be available for sale in August 2018 at local comic book shops. Digital copies can be purchased from content providers, including comiXology, iBooks, Google Play, and the BOOM! Studios app.