Features
RoboCop: where are they now?
Ever wondered what the cast and crew of 1987's RoboCop got up to after filming wrapped? Well, wonder no more...
Next year, the new take/remake/reboot/Excel-spreadsheet-generated RoboCop movie hits our screens. In fairness to it, it's a project with some promise, primarily thanks to the decision to appoint Elite Squad's Jose Padilha to direct the movie. But it's got an awful, awful lot to live up to. And with the 1987 original rightly regarded as a science fiction masterpiece, we thought it was long overdue that we found out what the key players on the original film were up to now. Get ready for no shortage of 24, Star Trek and Twin Peaks…
PETER WELLER
RoboCop/Murphy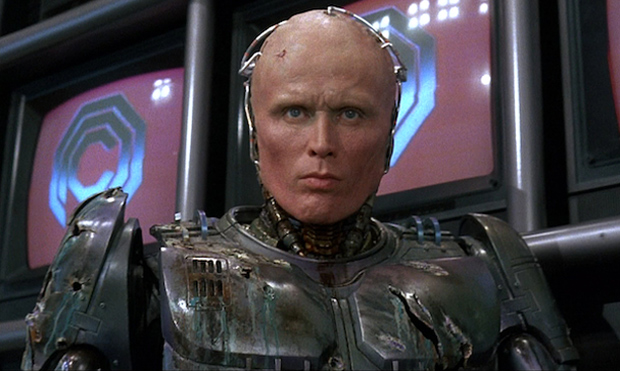 Filming RoboCop was no easy task for Peter Weller, who on the first film in particular had to wear a suit that would test the strength and patience of an action movie nun. On RoboCop 2, the suit was lighter, more rubberised, and tinged a strange shade of blue. In RoboCop 3, Weller was probably the one you heard cackling from the back row of the Odeon, joyful that he'd ducked out of such a compromised debacle.
But what's Weller been doing in the 26 years since RoboCop? Well, acting. If RoboCop remains his highest profile role, it doesn't mean that Weller hasn't taken significant parts in other high profile projects. This summer, for instance, he popped up in a pivotal role in Star Trek Into Darkness, and he's also recently been lending his voice to the dual role of Batman and Bruce Wayne in both parts of the animated opus, The Dark Knight Returns.
Television has given him no shortage of interesting projects. Currently in Sons Of Anarchy, Weller has taken on significant parts in the likes of 24, Dexter, Star Trek: Enterprise and Odyssey 5.
But perhaps the most interesting roles were the lead in David Cronenberg's 1991 take on William S Burroughs' Naked Lunch, and the gleeful joy of 1995's Leviathan. Ivansxtc is worth a quick butchers too.
Outside of film, Weller is apparently on the verge of completing a PhD in Italian renaissance art history. He would be a good man to have as phone a friend on Who Wants To Be A Millionaire.
NANCY ALLEN
Anne Lewis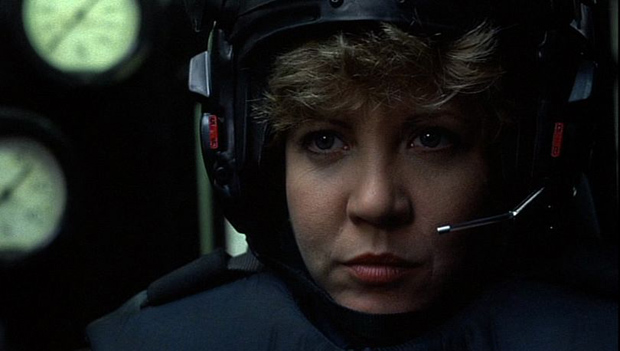 A regular Twitterer – you can find her here – Nancy Allen's character, Lewis, died alongside with the brain cells of most of the audience in RoboCop 3. But in the original RoboCop, she was the human counterpart to the conflicted Murphy, and a quality chewer of gum.
Allen stuck the franchise out, but by the time she was cast, she'd proven herself as a Brian De Palma regular (she was married to him for five years), courtesy of her work in the likes of Carrie, Dressed To Kill and Blow Out.
Post-RoboCop? A mix of generally low profile roles, really. Poltergeist III popped up in the gap between RoboCop and RoboCop 2, and she took a small role in Steven Soderbergh's Out Of Sight. She spends a large chunk of her time now as a breast cancer activist, having being named executive director of the weSPARK Cancer Support Centre, about which you can read more here. 
KURTWOOD SMITH
Clarence Boddicker
We've written about the mighty Kurtwood Smith before, right here, and his performance of Clarence Boddicker is one of the most iconic and nasty villains of 80s cinema. The sneering, cutting delivery of his "bitches leave" line still remains chilling. And in an era when movie villains tended to shoot and miss, Boddicker was all the more convincing because he took every opportunity he had to do damage.
As for Kurtwood Smith, his acting career has barely let up since a wrap was called on the original RoboCop. On the big screen alone, he's had roles of varying sizes in the likes of Rambo III, Deep Impact, Star Trek VI: The Undiscovered Country, Boxing Helena (yay!), A Time To Kill, Broken Arrow and Hitchcock.
But the film parts he's best remembered for include his complex work in Dead Poets Society, and his recent comedic (and naked) turn in Cedar Rapids.
Smith's work on TV has been of equal, if not higher profile, mainly thanks to That 70s Show, where he played Red Forman for the best part of a decade (after original choice, Chuck Norris, had to drop out). But he also took on work in shows such as 24, Family Guy, The X-Files, two strands of Star Trek (Deep Space Nine and Voyager) and House MD. His voice has been lent to a fair few videogames as well.
Currently, he's landed a role on the upcoming fantasy TV series Resurrection, due on our screens in 2014. Brad Pitt is amongst those who developed the project.
RONNY COX
Dick Jones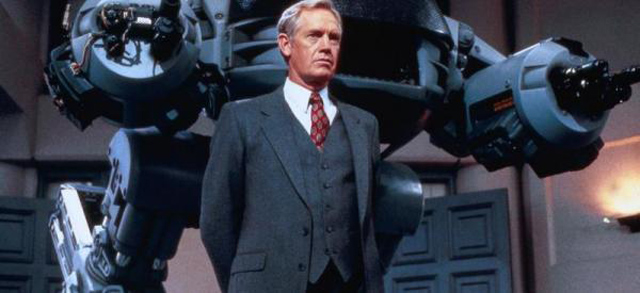 A singer, songwriter and actor, Ronny Cox first came to the mainstream eye in the popular party movie, Deliverance. By the time he came to encapsulate 80s boardroom badassery in RoboCop, he also had a bunch of television work under his belt, and had wrapped on Beverly Hills Cop II. He had Taps and The Onion Field to his name, too.
RoboCop was the first of two villainous roles Cox provided for director Paul Verhoeven, and the pair would reteam a couple of years later for 1990's Total Recall. At one stage, Cox got to take over the bridge of the Starship Enterprise, when he replaced Jean-Luc Picard for two episodes of Star Trek: The Next Generation.
Since his Verhoeven double bill though, Cox has gradually edged more and more towards his love of music, although not without taking up decent parts in productions such as Murder At 1600, Captain America (er, the 1990 one), the tremendous mini-series From The Earth To The Moon, and a quick appearance in the mighty Deep Blue Sea.
More significantly, though, Cox became known as Robert Kinsey across a prolonged run on Stargate SG-1. He's got an active list of projects to this day, but as his growing number of CD releases attests, and now, in his mid-70s, that's where most of his creative energies go. Pity the music executive who stands in a boardroom and says no to him…
DAN O'HERLIHY
The Old Man
By the time he took on the small but pivotal role of The Old Man in RoboCop, the late Dan O'Herlihy was already in the latter stages of his career. And a solid career it was, with a 1954 Best Actor Oscar nomination under his belt for Adventures Of Robinson Crusoe, and a host of credits in prominent TV shows, too. Examples? How about The Bionic Woman, the original Battlestar Galactica, Colditz, The Long Hot Summer, The Man From U.N.C.L.E., Dr Kildare and The Travels Of Jaimie McPheeters.
On the big screen, you'll find Dan O'Herlihy in 80s sci-fi joy The Last Starfighter, and post RoboCop, he appeared in RoboCop 2, and took on a solid role in Twin Peaks season two.
O'Herlihy died, of natural causes, in 2005. He was 85.
MIGUEL FERRER
Bob Morton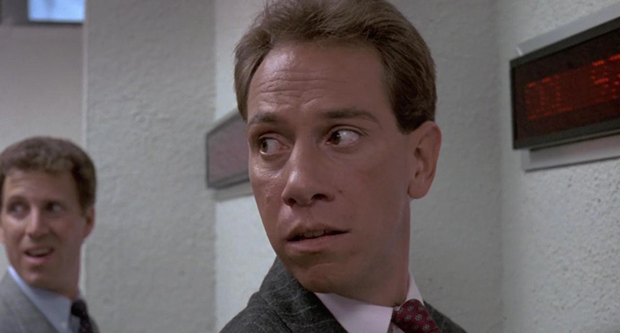 The man who shepherded the RoboCop project through (to the chagrin of Dick Jones) was Bob Morton, played by Miguel Ferrer. The coke-snorting executive ultimately paid with his life, but his contribution to sci-fi cinema means a grenade-fuelled death at the hands of Clarence Boddicker is a small price to pay. We're sure Bob Morton, who by his demise was literally pissing with the big boys, would agree.
Miguel Ferrer is, unlike everyone else here, involved in the new RoboCop movie, having filmed a small part in the 2014 reboot. And you may well have spotted him earlier in the summer in Iron Man 3, where he played the Vice President in the movie. He's also appeared in the remake of The Manchurian Candidate, the excellent Silver City and Sunshine State (both for director John Sayles), Twin Peaks: Fire Walk With Me, and Hot Shots: Part Deux. He lent his voice to Disney's Mulan, and games such as Halo 2 and BioShock. As with most of the RoboCop cast, he also has a Star Trek link, having made his big screen debut in Star Trek III: The Search For Spock.
Ferrer has really struck gold on the small screen though, with big roles in shows such as Twin Peaks, Jackie Chan Adventures, Bionic Woman and particularly Crossing Jordan.
An avid comic book collector, Ferrer can regularly be seen on NCIS: Los Angeles, and is a cousin of George Clooney. He was also apparently one of Brandon Lee's pallbearers (according assorted internet trivia sites).
RAY WISE
Leon Nash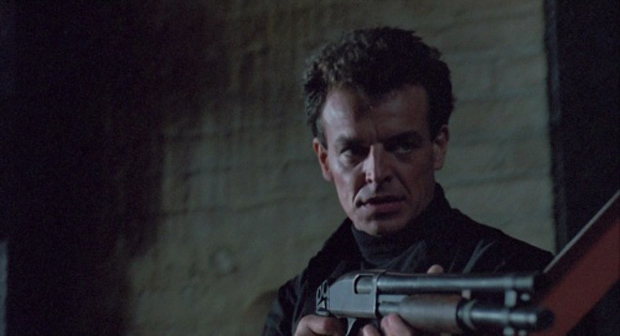 Amongst Clarence Boddicker's bunch of henchman is the ill-fated Leon Nash. Less ill-fated though is the man who played him, as chances are you'll have seen Ray Wise in lots of things. His most high profile work of late has been recurring roles on How I Met Your Mother and Mad Men, and he's notched up an exhaustive list of screen credits since his time on RoboCop.
On the big screen, Wise played the Secretary Of State, for instance, in X-Men: First Class, and worked too on the likes of George Clooney's Good Night And Good Luck and Rising Sun.
If by now you're wondering if the Twin Peaks casting director was a RoboCop fan, let us put your mind at rest, because on the small screen, Wise played Leland Palmer across both seasons of the show, as well as in Twin Peaks: Fire Walk With Me. His obligatory Star Trek role came in a single episode of Voyager. And 24 you say? He popped up in the wonderful season five of the show, as Vice President Gardner.
Lest we forget too, Wise played the Devil himself in the enjoyable but relatively short-lived Reaper.
Just past his mid-60s, Wise is arguably the most active actor of the RoboCop ensemble right now. He's got a bunch of complete features awaiting release, including Out West (with Sean Astin), Away From Here (with Nick Stahl and Alicia Witt), Jurassic Block, Claire Cambodia, Guardian Angel and Land Of Leopold. Not all of those are going to trouble your local multiplex, yet they're testament to just how busy Wise is keeping.
PAUL MCCRANE
Emil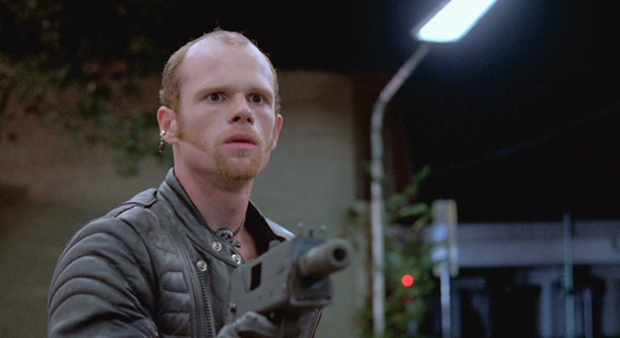 Paul McCrane gave a heart-melting performance as Emil in 1987's RoboCop. In fact, it wasn't just his heart. By the time he'd been covered in acidic gunk, his whole body was melting, before it was slimed over the bonnet of a car. Primarily for this reason, McCrane did not get the call for RoboCop 2.
But RoboCop did provide the springboard for an active acting career. He was cast in the film having notched up small credits in the likes of Fame, Hill Street Blues and Rocky II ('Young Patient', fact fans). And post-RoboCop, the roles took their time. Sure, his immediate follow up was The Blob, but McCrane didn't really hit paydirt again until the mid-90s. You may have spotted him as a guard in The Shawshank Redemption, although he got a lot more screen time across his two years on the show Under Suspicion. But for over a decade, he was part of the E.R. cast, as Doctor Robert Romano. Emil aside, it's the role for which he's best known. It's certainly paid the lion's share of his bills.
Scandalously, McCrane neither appeared in Star Trek nor Twin Peaks. But rest easy: he got his 24 stripes in seasons five and six, as Jack Bauer's brother no less.
Picking up an Emmy in 2011 for David E Kelley's Harry's Law, McCrane is in his early 50s, and keeps busy acting, whilst bringing up his children in Los Angeles. Wonder if he's let them watch RoboCop yet?
ROBERT DOQUI
Sergeant Warren Reed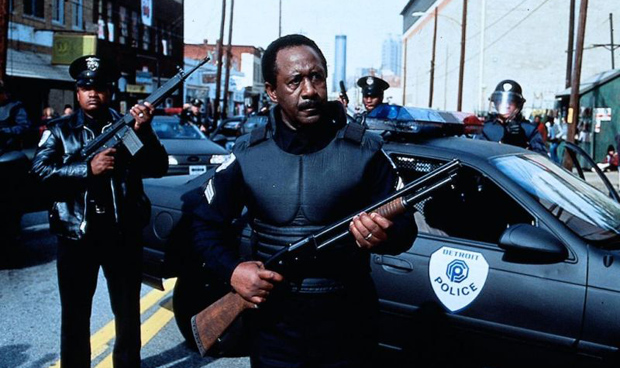 Let's do the basics first. Star Trek? Yep, Deep Space Nine, back in 1996. Twin Peaks? No. 24? No.
Robert DoQui played the seen-it-all-before-and-none-the-happier-for-it Sergeant Reed across all three RoboCop films, with his strong, controlling sense of authority hiding a genuine kinship with his fellow officers.
By the time he was cast in RoboCop, he was best known for Coffy, where he played King George opposite Pam Grier. He was part of Robert Altman's Nashville ensemble, and post-RoboCop, Altman would invite him to join the cast of Short Cuts as well.
DoQui kept himself mainly busy in television work though, across a five decade career that followed his stint in the US Air Force. He was also a board member of the Screen Actors Guild for a decade, known for his pushing of minority groups and women in the media.
DoQui died of natural causes back in 2008, at the age of 73.
PAUL VERHOEVEN
Director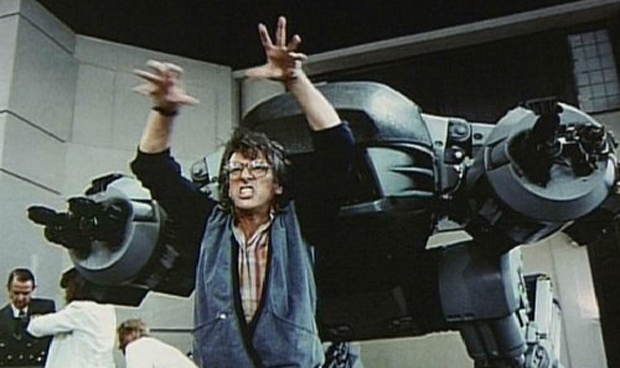 Paul Verhoeven's three most notable science fiction films, each excellent, have all attracted remake treatment. RoboCop arrives early next year, whilst a tamer Total Recall struggled at the box office last summer. As a consequence of that, the planned fresh take on Starship Troopers has been impacted, and may not now see the light of day. We can but hope.
RoboCop was Verhoeven's first big English language project (although he made the earlier Flesh & Blood in the States), following an acclaimed career in his native Holland, which included films such as Soldier Of Orange, Turkish Delight and Spetters. Off the back of RoboCop's success, he landed the job of directing what would prove to be the huge Arnold Schwarzenegger sci-fi blockbuster Total Recall, and he cemented his big movie credentials by combining quality knitwear with ruthless bonking in Basic Instinct.
His directing career stumbled after that, though, courtesy of the Razzie-winning Showgirls (Verhoeven being the first person ever to pick up a Golden Raspberry gong in person). Whilst regarded a flop on its original release, Showgirls has earned over $100m and counting on video and disc releases. Yikes. He was on surer ground with the wonderful Starship Troopers, one of the most subversive blockbusters that came out of Hollywood in the 1990s, although again, it took home video and disc releases to make a big hit out of it.
His final English language movie to date was the poorly-received Hollow Man, back in 2000, which earns particular irritant points thanks to the Kevin Bacon commercials currently playing in the UK.
Verhoeven did nearly direct The Thomas Crown Affair in 1999, and toyed with a RoboCop sequel himself. Furthermore, his planned $150m Arnold Schwarzenegger vehicle Crusade is considered one of Hollywood's most intriguing lost blockbusters.
So what happened post-2000? Rumours of ill-health surrounded Verhoeven, and he didn't make another film until 2006's widely-acclaimed Black Book, back in his native Holland. And there he's stayed, having wrapped up Tricked last year (a crowd sourced project), and now linked to a new film, Hidden Force, that again will be made in Holland.
Verhoeven, now in his mid-70s, is a relatively active Tweeter, in two languages, and you can find him here. 
JON DAVISON
Producer
Schooled by Roger Corman, producer Jon Davison worked with him on a series of features in the 1970s, most notably Piranha and Grand Theft Auto. He first hit box office gold thanks to his collaboration with David Zucker, Jim Abrahams and Jerry Zucker on Airplane! in 1980, joining them again for the wonderful Top Secret! four years later. But it was after doing some work on that, and on the Twilight Zone movie, that he moved onto RoboCop.
Davison also produced the first sequel, and would join forces again with Paul Verhoeven for 1997's Starship Troopers. Oddly, he produced Starship Troopers 2 as well, but not Starship Troopers 3. He also squeezed in the 2000 Arnold Schwarzenegger box office disappointment The 6th Day.
He's not been so active in the movie of late, but Davison will have his place in film history for providing the voice of ED-209 in that first Robo movie. That's not a bad thing to tell your mates…
EDWARD NEUMEIER
Co-writer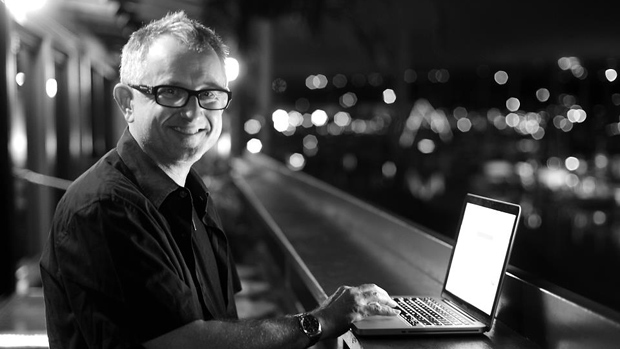 Neumeier was the man who co-wrote RoboCop with Michael Miner, and as a result of that, his IMDB listing is clogged up with 'Characters created by' credits for the numerous Robo-spin offs that he had little to no involvement with. He did have a go at the first draft of RoboCop 2, but his efforts were halted by a writer's strike, and when said strike was over, Orion Pictures hired Frank Miller instead. That did not turn out well.
Still, at least Paul Verheoven treated him better, as the director called Neumeier up when he wanted to adapt Robert A Heinlein's book Starship Troopers for the big screen. He penned the screenplay for that, and would go on to write and direct Starship Troopers 3: Marauder. It was not a good film.
Also no classic was Anacondas: The Hunt For The Blood Orchid, which he penned the screenplay for, and of late, he's been busying himself as a producer on the kids' movie My Lucky Elephant (helmed by longtime Brian De Palma second unit director, Eric Schwab). He continues, as we understand it, to produce and develop material. On top of having written the scripts for two of the best science fiction movies of the last 30 years…
MICHAEL MINER
Co-writer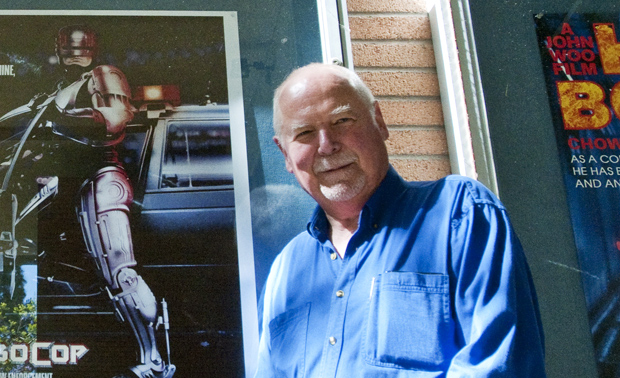 We can't find any recent credits for co-screenwriter Michael Miner, but Michael Miner does have one or two interesting projects in his post-RoboCop career. Notwithstanding getting a 'Characters created by' credit on pretty much anything RoboCop related, Miner wasn't involved in the sequels or television spin-offs (save for an 'executive creative consultant' credit on the show, which doesn't sound like it means a fat lot, sadly), but he did team up with Edward Neumeier again for the aforementioned Anacondas: The Hunt For The Blood Orchid. Miner also got a story credit on Lawnmower Man 2: Beyond Cyberspace.
He directed a couple of features post-RoboCop, namely Deadly Weapon and The Book Of Stars (the latter featuring Mary Stuart Masterson and Delroy Lindo amongst its cast). But neither got much prominence, and since then, he's worked on some documentaries, but the trail runs cold these past few years.
BASIL POLEDOURIS
Music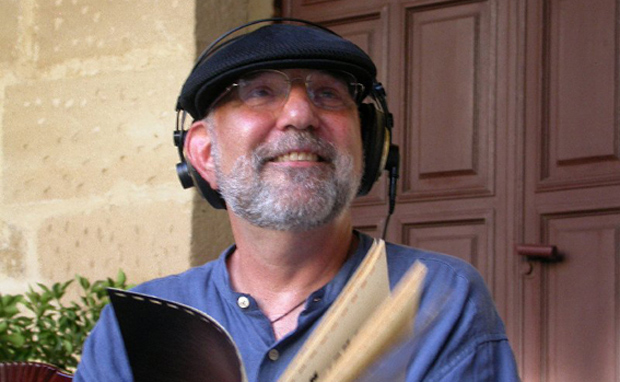 Whether you first met the RoboCop score as part of the film or one of its many video game offshoots, composer Basil Poledouris' work goes hand in hand with Paul Verhoeven's visuals. He'd first worked with the director on Flesh & Blood, and would again on Starship Troopers. But then, by the time of his death in 2006, he'd amassed a varied, fascinating collection of credits, and put together some unmissable movie scores.
After some recommendations? His haunting work on The Hunt For Red October, the terrific scores to the first two Conan movies, the sheer fun of Hot Shots! Part Deux and, of course, his two Verhoeven collaborations. His Emmy-award winning work on Lonesome Dove was no slouch, either, and he would go on to compose music for the 1996 Olympic opening ceremony in Atlanta.
Those films aside, his scores were often a lot better than the movies they accompanied, and he left behind him a collection of work ripe for discovery. He was taken from the world by cancer, at the age of just 61. The world misses him.
ORION PICTURES
By the time RoboCop 2 rolled around, Orion Pictures was hanging onto the film as its ticket out of financial meltdown. Sadly, when the Robo sequel disappointed, the end was nigh for Orion, ultimately holding up the release of RoboCop 3.
That Orion ended up in such financial straits remains staggering, not least because it had two massive hits and Best Picture Oscar winners in a row: 1990's Dances With Wolves and 1991's The Silence Of The Lambs (it already had previous Best Picture winners Amadeus and Platoon to its name). Bankruptcy beckoned in 1991 though, with the studio selling The Addams Family to Paramount as it struggled for cash. It limped on until the end of the 90s before finally disappearing, albeit reappearing as a television production company earlier this year.
Amongst the other films that hit big for Orion throughout its life were Arthur, The Terminator (which it had a hand in), Bill & Ted's Excellent Adventure and Throw Momma From The Train. RoboCop arrived in the middle of its purple patch, and it remains staggering that the studio was all but dead just five years later.
Follow our Twitter feed for faster news and bad jokes right here. And be our Facebook chum here.