News
RoboCop Returns Lands Little Monsters Director Abe Forsythe
After the exit of Neill Blomkamp, classic franchise revival RoboCop Returns has procured in a director in Little Monsters' Abe Forsythe.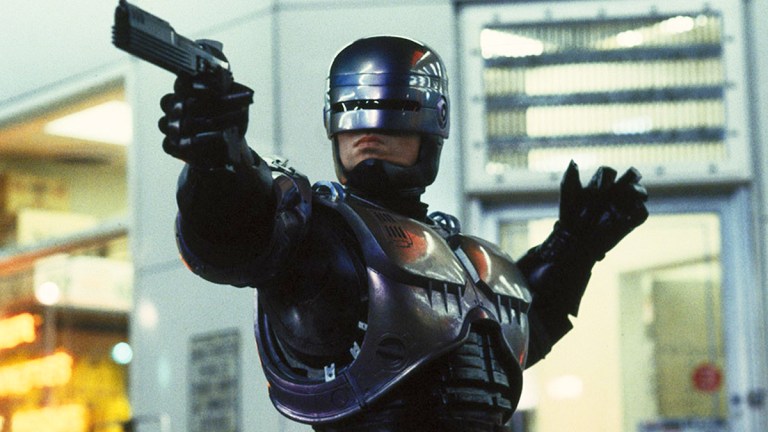 RoboCop Returns has received yet another lease on life in the form of a new director in Abe Forsythe!
The film, planned as a direct follow-up to the continuity of the classic cinematic RoboCop Trilogy, will move forward at studio MGM with Abe Forsythe, who's been tapped to occupy the director's chair and rewrite the existing script penned by Justin Rhodes, reports THR. The appointment of Forsythe occurs after the developing revival film endured the exit of its previous director, Neill Blomkamp, back in August after being attached to the picture for a year.
Forsythe, an up-and-coming Australian helmer, made recent impact stateside as the writer/director of Little Monsters, an irreverent zombie-outbreak-themed rom-com movie starring 12 Years a Slave Oscar winner Lupita Nyong'o – a film that, after a Sundance Film Festival premiere, manifested back in October as a streaming offering on Netflix. Before that he fielded 2016 Australian crime comedy Down Under, along with episodes of Aussie small screen serial offerings Mr. & Mrs. Murder and Laid. – Of course, RoboCop Returns represents a career-trajectory-altering gig.
Further Reading: Little Monsters: How Zombies Can Teach Us Kindness
It will be interesting to see how RoboCop Returns manifests under the creative purview of Forsythe. After all, he's replacing Neill Blomkamp, a visionary whose leanings toward future-dystopic epics like District 9, Elysium and Chappie, seemingly made him a perfect choice to make this follow-up movie, which is to be an adaptation of a nixed 1988 sequel script by franchise creators Ed Neumeier and Michael Miner, titled RoboCop: The Corporate Wars. Set decades after the first film, said script was far more allegorical than the version of RoboCop 2 that we got in 1990. Indeed, while Forsythe may end up proving capable of fielding the challenge, he is thus-far untested in that genre. – Blomkamp, on the other hand, moved on to a sci-fi film, titled Inferno.
Regardless, RoboCop Returns is officially back on track, set to arrive as a follow-up to 1987's RoboCop, 1990's RoboCop 2 and 1993's RoboCop 3, and unlike the last film in that trio, there is a possibility that the original actor in the exoskeleton himself, Peter Weller, might just reprise his role as RoboCop. – At least that's what now-former director Neill Blomkamp was teasing last year, after which he revealed plans to present the character in his classic form.
We'll be staying on top of RoboCop Returns as things develop!
Joseph Baxter is a contributor for Den of Geek and Syfy Wire. You can find his work here. Follow him on Twitter @josbaxter.