Reviews
Robin Ince: As Dumb As You DVD review
A strong disc with a good show at the heart of it. Can't be bad...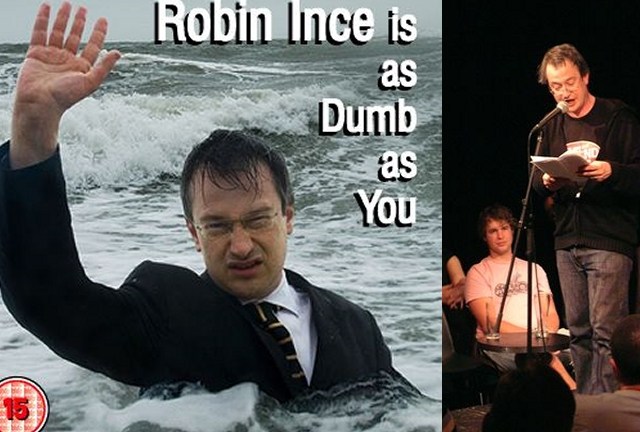 Robin Ince is one of those comedians who regularly pops up on panel shows and stand-up bills everywhere, but who has somehow managed to avoid the gaze of the mainstream. Luckily, Go Faster Stripe specialise in drawing attention to such causes, and have given Ince the full DVD treatment, presenting a retrospective version of his show, As Dumb as You.
Ince's style is akin to a slightly over-enthusiastic schoolteacher, addressing the crowd like his class and throwing a lot of passion into his material, which largely deals with how his perception of the collapse of society says more about his inability to properly deal with the aging process. Ince's targets are quite often (and very self-awarely) middle-aged in nature, but that doesn't stop them being universally understood.
While Ince's humour is fairly direct and victimless, he reaches his best only when he allows himself to slip into darker, edgier territory and allows his cynicism to truly take over – it only happens once or twice during the show, but those moments clearly stand out as the most hilarious. Indeed, it becomes clear from the cut material included as extras that there was apparently a deliberate attempt to keep this show a bit more "palatable" than it might've been, and it seems that the feature slightly suffers from that.
The DVD extras, as a whole, are surprisingly substantial. After reviewing several stand-up DVDs with virtually no interest in offering additional value for money, it's a real bonus to come across one which does. Available alongside the feature presentation is an interview, a set of deleted scenes, and a photo gallery. The interview is by far the best of these, 20 minutes long and really just an excuse for Ince to riff off various subjects. It includes a not-to-be-missed impression of Stewart Lee, and itself has an extra after the credits. From this, it seems that Ince's true talent lies in his ability to transform stream-of-consciousness rambling into genuine, cohesive comedy routines.
The deleted scenes and "easter eggs" (actually accessible via a not-very-well-hidden menu option) add further comedy turns, and have a total running time almost as long as the feature itself. If that wasn't enough, there's also a hilariously self-effacing commentary on the main gig where Ince and a friend deconstruct his performance. A more packed stand-up DVD you could not ask for, and for the £10 retail cost, it makes for a fantastic purchase with hours of material.
Ince may not be an immediately recognisable name, but his material is solid and his performance engaging. While the show, As Dumb as You, is laced with intelligence and Ince himself amiable and ingratiating, the show as a whole does seems quite tame, even a little outdated, compared to his current work. Even so, it is nonetheless a nice primer for his particular brand of stand-up and a decent introduction to the comic as a performer.
Combine that with a truly fantastic compilation of extras, and the DVD package actually becomes a really good buy, even if you aren't familiar with him. Those who are already fans, though, should buy it immediately. It might not show Ince at his absolute best, but what little it loses in quality, it more than makes up for in quantity.
Feature:
Extras:
19 December 2008